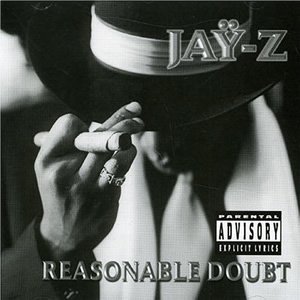 Back in 1996, I was into music, but I really wasn't into Jay-Z's music. To me, Jay-Z was in that second tier rap category: He wasn't as interesting as Tupac, wasn't quite as wise as Nas, and lyrically, he couldn't compete with Biggie. 
Fast forward a couple years later…
I listened to "Reasonable Doubt" again, and realized to myself that this guy put out a classic in 96! As much as I didn't appreciate it in the past, it has become one of my favorite albums. Today, I give you my top 5 songs from the project, and give you my final rating below.
---
TOP 5
 

5. POLITICS AS USUAL  (5/5)

"Politics As Usual" is a very smooth song, yet Jay is talking about killing throughout it (Only Jay can make killing sound smooth).
I love how the random lady on this song is singing on the chorus as Jay continuously adds the line "Politics as Usual" in-between. That s**t is genius, to me!
The beat attached to this song is wildly intriguing. It's cinematic, but not like 'Blockbuster movie' cinematic, more like 'indie/Leonard 6' cinematic.
You can't hate this song at all. It should at least be solid to you.
4. CAN'T KNOCK THE HUSTLE (5/5)

'Can't Knock The Hustle' is Jay-Z bringing to life the idea that a hustler can be sly, slick, and braggadocios. At the time, there wasn't many young black men living this type of lifestyle, so to hear it from one of the few was inspiring.
The track starts off with a fake ass Scarface guy talking about how ruthless Jay-Z is, then goes to Mary J. Blige passionately singing about Jay's hustling ways. You know what's scary about Mary J. Blige? She sounds exactly the same since 1996!
Of course Jay-Z kills each of his verses thoroughly. With the beat being smooth, he flows even smoother. It almost sounds like he isn't trying at all.
3. D'EVILS (5/5)
I love Jesus Christ my Lord and savior! With that being said, "D'Evils" is a HOT track (no pun intended)!
We all have evils, and we are all ashamed of something that we've done that is evil, but Jay seems to embrace his evils with the mentality of "it is what it is" on this track. How gangsta is that?
"D'Evils" has this whole wicked feel to it, and Jay is OK with providing a wicked voice over it.
2. FEELIN' IT
Just like in 'Dead Presidents', Jay-Z hits us with one of the greatest flows of all time in "Feelin' It." Matter of fact, it was so good that he reused it on 'So Ambitious from Blueprint 3.
The chorus to this song is excellent, as some young lady is talking about feelin' good over a fast paced beat.  As for Jay-Z, he has nothing but fun on his verses, as he raps with a fast tempo and talks about the luxurious life of an up and coming rapper. I feel like the song has this whole rags to riches feel that is inspiring.
1. DEAD PRESIDENTS
The production on 'Dead Presidents' is phenomenal, as it combines this smooth/up-tempo sound with the classic dead presidents line by Nas. Jay-Z enters the fray with a sly flow that is a candidate for one of the best of all time.
With the topic of living life luxuriously, Jay shines, threatening challengers, swimming in women and spending recklessly. It's everything young black men hope for, sans a Big Mac with bacon in it.
This song in general is an all timer, to me.
---
SONG BY SONG BREAKDOWN
1. CAN'T KNOCK THE HUSTLE (5/5)
2. POLITICS AS USUAL (5/5)
3. BROOKLYN'S FINEST (5/5)
4. DEAD PRESIDENTS (5/5)
5. FEELIN' IT (4.9/5)
6. D'EVILS (5/5)
7. 22 TWO's (5/5)
8. CAN I LIVE (4.8/5)
9. AIN'T NO NIGGA (5/5)
10.COMING OF AGE (5/5)
11. CASHMERE THOUGHTS (5/5)
12. BRING IT ON (4.8/5)
13. REGRETS (5/5)
---
OVERALL RATING
'Reasonable Doubt' isn't an album, it's a soundtrack. It's Jay-Z making you vision a mafioso life style track by track.
While the instrumentals on this album are certainly classics, Jay's lyrics are probably just as classic, too! Jay-Z understands how to bring you into his world using vivid detail, and as a listener, you will appreciate that.
As the years go by, the more you will appreciate where the Brooklyn rapper was mentally on this album. Jay wasn't talkin' about vacationing with Maybachs on this album, he was talking about drug dealing and lots of it! It was his life at the time, so that's what makes this album feel so authentic.
I feel like rappers cannot make an album like this anymore… Not because of their talents/ability, but because of the media nowadays. In order to understand Jay-Z's lifestyle, you had to listen to the album; there wasn't any YouTube or Wikipedia at your convenience, just songs that described what he was doing in his life at the time.
MAKE SURE YOU LET ME KNOW WHAT YOUR TOP 5 SONGS ARE IN THE COMMENT SECTION!