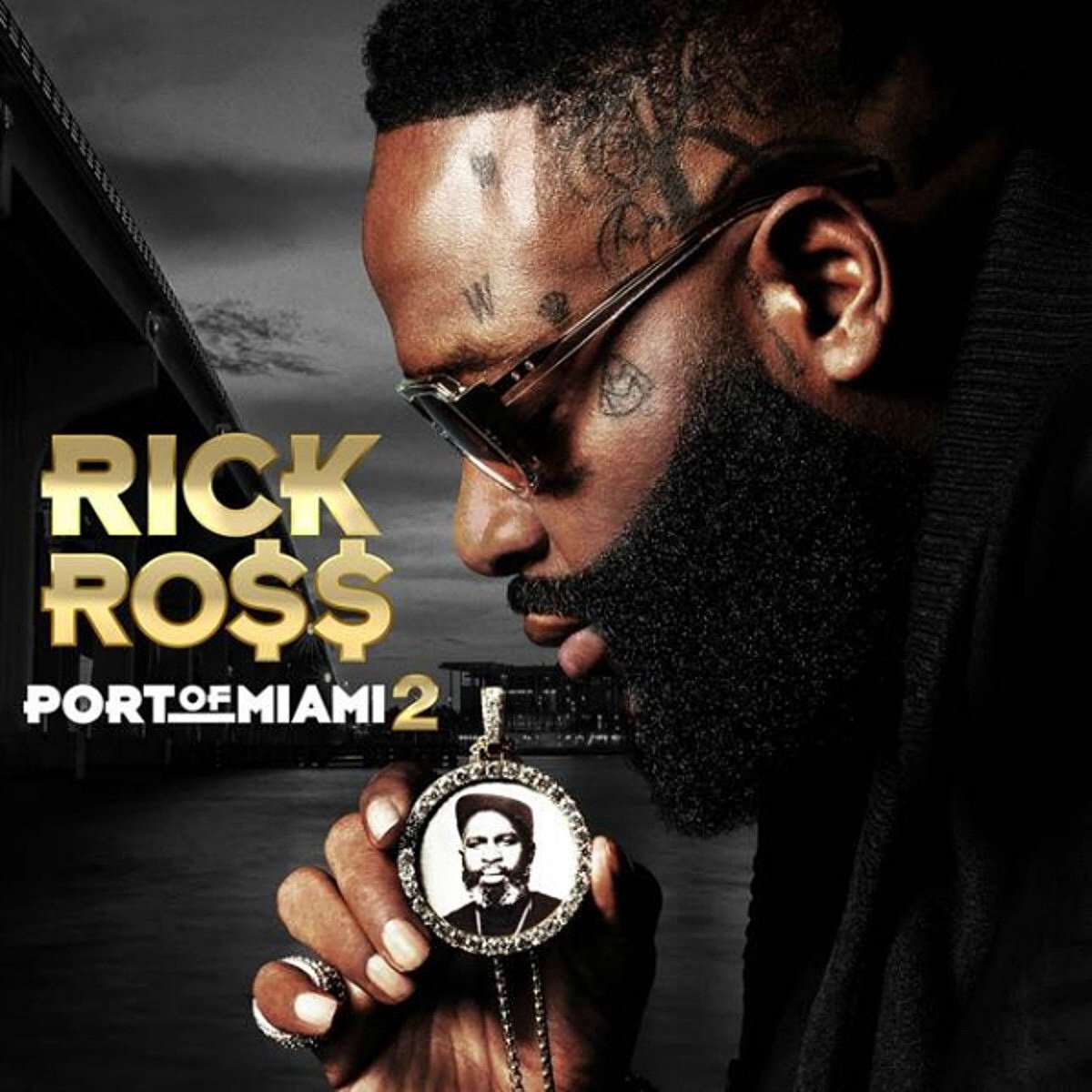 Rick Ross gives listeners flashbacks to his heyday in the highly-anticipated "Port Of Miami 2."
---
STREAM
---
TOP 5
5. VEGAS RESIDENCY
In "Vegas Residency," Rick Ross simply spits hard as s**t! With the track being powered by this soulful instrumental, over it, the Miami rapper touches on his health issues, his knack for balling effortlessly, and most importantly, his motivation to stay trill.
On the real, I love how relentlessly Ross raps on this song, as he bum-rushes his way through the finish line of it sounding like he's performing an acceptance speech that features a few f**k yous and a few thank yous.
When will this n***a Rick Ross drop an official how-to-guide on how to boss up?
4. MAYBACH MUSIC VI
Oh s**t, "Maybach Music VI" got me excited for Ross' "Maybach Music" series again!
"Maybach Music VI" is powered by this mob-inspired instrumental that I believe Tony Montana would f**k with if he was alive today. Over this instrumental, John Legend blesses us with a Shaft-like hook, while Rick Ross and Lil Wayne trade verses about moving like ultimate g's.
What I love about "Maybach Music VI" is that there is this veteran presence attached to it. Throughout both Ross and Wayne's verses on the track, they never stress a single bar; instead, they glide their way to the finish-line slicker than Usain Bolt.
Hold on, wasn't Pusha-T supposed to be on this song? Please don't tell me Pusha got salty about ending up on the same song with Wayne…
3. BOGUS CHARM
Whenever Rick Ross and Meek Mill collaborate for a song, expect the humblest version of both rappers. In "Bogus Charm," my prediction turns out to be true, as both Maybach music legends gift us with this powerful track that features a holy instrumental and plenty of real ass lyrics revolving around fake friends, real money, and most importantly, providing for fam. While Ross' grungy voice makes his verse sound as divine as it gets, it's the urgency in Meek's voice that gives me the chills.
2. GOLD ROSES
This is one of the few collaborations between Rick Ross and Drake that is not sappy as s**t.
When you hear a song like "Gold Roses," no need to talk about it,  just listen and take notes. On it, both Drake and Rick Ross spit serious bars over this emotional instrumental, never holding back when it comes to real n***a sentiments.
While Drake's verse about everything from increasing his wealth to approaching relationships with caution will catch your attention, I think Ross' vulnerability on his verse is pretty intriguing to listen to, too, especially when he talks about being grammy-less and hustling 'til the lights turn on. Nonetheless, as a rap fan, I loved how both rappers used this song as an opportunity to vent about their lives.
I guess Ross' diss of Drake on "Color Money" was nothing after all..
1. RICH NIGGA LIFESTYLE
To me, Nipsey Hussle and Rick Ross are cut from the same cloth. Not only do they preach bossing up in and out of the booth, but they also rap over similar beats, too. With that being said, "Rich Nigga Lifestyle" features both rappers, and as expected, what they give us is something that is grandiose, sacred and extremely lyrical. When you add Teyana Taylor's soulful contributions to the equation, what you get is a song that will give you goosebumps nonstop.
I love that Nipsey was able to call Tekashi a snitch before he left us (That s**t made my year).
---
SONG BY SONG BREAKDOWN
1. ACT A FOOL (3.5/5)
2. TURNPIKE IKE (4/5)
3. NOBODY'S FAVORITE (4/5)
4. SUMMER REIGN (3.5/5)
5. WHITE LINES (4/5)
6. BIG TYME (4/5)
7. BOGUS CHARM (4/5)
8. RICH NIGGA LIFESTYLE (5/5)
9. BORN TO KILL (4/5)
10. FASCINATED (3.5/5)
11. I STILL PRAY (4/5)
12. RUNNING THE STREETS (3.5/5)
13. VEGAS RESIDENCY (4.5/5)
14. MAYBACH MUSIC VI (4.5/5)
15. GOLD ROSES (4.5/5)
---
OVERALL RATING
(B-)
Rick Ross never creates a body of work that lacks in quality. In "Port Of Miami 2," the beats you hear are cinematic, while Ross' subject-matters and lyrics are well throughout, intricate and grandiose. On the real, the album is hard to hate, even though Ross at times comes across as a very hatable figure.
So I am one of those people that thinks Rick Ross rambles a bit when he raps. That doesn't change on this album, as you get plenty of pointless boasting, and worst of all, shaky hood talk from someone who is rumored to be a former CO. However, once you're able to navigate through Ross' blank lyrics, you'll realize he is talking about some real s**t on this album. On songs like "Gold Roses" and "Vegas Residency," Ross dishes out lyrics about living life to the fullest, while on other songs like "I Still Pray," the boss opens up about his previous health issues. As a listener, we love when musicians come across as human, and more than ever, I thought Ross humanized himself in "Port Of Miami 2."
The best thing about "Port Of Miami 2" is the production. Nearly every beat on this album sounds like it was created through blood, sweat and tears. So if you aren't a fan of Ross' lyrics, just indulge in the beats you get a chance to hear.
Rick Ross' albums has always featured a bunch of artists. Personally, I think he's capable of creating a solid body-of-work by his lonesome, but hey, if he can procure great guest appearances, why not do it? With that being said, I loved Wayne on "Maybach Music VI," Drake on "Gold Roses," Teyana Taylor and Nipsey Hussle on "Rich N***a Lifestyle," and Summer Walker on "Summer Reign." I DIDN'T love Wale on "Act A Fool" (I thought that song was pointless anyway), Dej Loaf on "White Linens," A Boogie Wit Da Hoodie on "Running The Streets," and Swizz Beatz on "Big TYME."
I am one of those individuals that thinks Rick Ross has some really good albums; "Port Of Miami 2" is one them. On it, the bearded legend combines every single thing he's learned on his journey to success to create a polished/powerful body of work that never lets up in timeless vibes. In 2019, Ross' music should be appreciated more than ever.