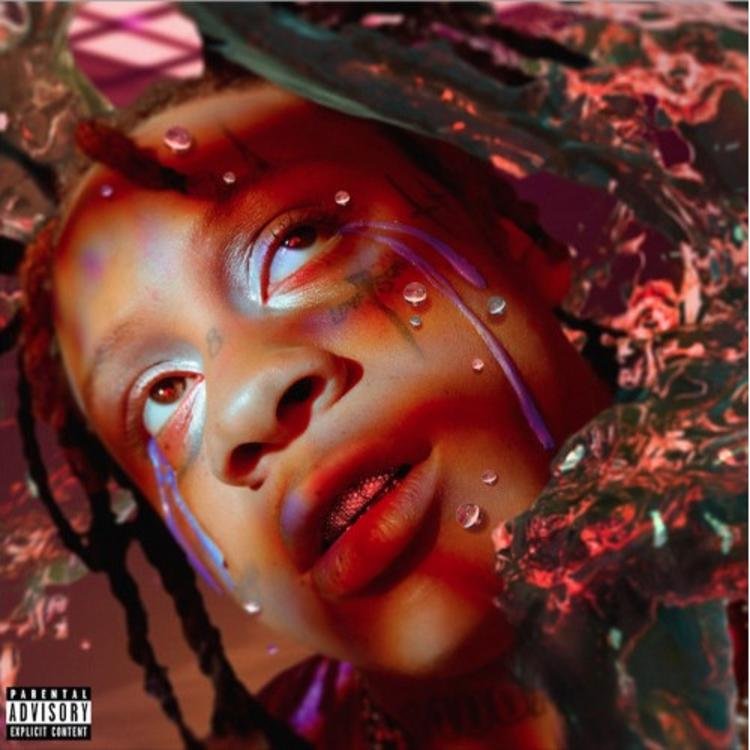 Trippie Redd might just be bi-polar. On any given project he releases, you can either expect to hear him scream like a madman, rap like a deranged killer, or sing like a saint. In "Love Letter To You 4," I expect to hear each side of the rapper that I just mentioned, obviously with a heartbroken cherry on top.
---
STREAM
---
TOP 5
HONORABLE MENTION. LERAY
N***as will hate to admit it, but "Leray" is an amazing track! I know, majority of it is filled with a kiddy ass poem by Trippie Redd, but once the song really gets started, I love how its guitar strings, powerful crooning, and deep ass lyrics does everything in its power to evoke mushiness out of you.
5. DEATH
Sidenote: Trippie Redd is looking more and more like Knuckles from Sonic The Hedgehog, right?
For the most part, Trippie Redd is a versatile singer that doesn't mind getting vulnerable in his music; but at his core, he's a menacing rapper. In "Death," Trippie shows the world his Dennis The Menace side, as both him and featured guest DaBaby trade verses about smoking n***as and stealing chicks over this extremely trippy (No pun intended) instrumental.
Is music meant to be this violent?
4. TIL THE END OF TIME
I love when Trippie dabbles in alternative music!
"Til The End Of Time" is an alternative track that features an instrumental that is so white, its favorite show is probably "Cheers." Over this instrumental, Trippie Redd sings shockingly refrained, as he relies mainly on an infectious melody and catchy hook/verses to let his girl know that he's trying to love on her until Jesus comes back.
Trippie always has that one song that is hella bubbly on his albums.
3. REAL FEEL
I love it when Trippie Redd's little ass tries to play bully on a song!
In "Real Feel," you get a version of Trippie Redd that is erratic, violent, carefree, emotional, and unchained. In other words, it sounds like the Canton rapper is trying to pull himself together throughout "Real Feel," which leads to disrespectful thoughts, drunk statements, drug abuse, and random violence (Yikes).
2. LOVE ME MORE
I love it when Trippie Redd sings like he's at a Vietnamese Karaoke in his music!
In "Love Me More," we get a version of Trippie Redd that is as fearless as a Waffle House employee who is slated to work a late shift in the hood. On the track, he sings his heart out about finding a love that can hold him tight throughout his good, bad, and ugly moments.
While the topic behind "Love Me More" might make n***as in the bando throw up, I think the song is too infectious to pass up on (Especially when it comes to the melody Trippie gifts us with on the song).
1. WHO NEED LOVE
I love when Trippie Redd rebels against love!
Remember XXXTENTACION and Trippie Redd's hot ass "F**k Love" track from back in the day? Well, "Who Need Love" feels like a remix to it.
In "Who Need Love," Trippie denounces love and screams at the top of his lungs like he does in "F**k Love." When it's all said and done, I enjoy the raw emotions that the twenty-year-old shows us throughout this song. I also love how the serene instrumental that powers this song takes nothing but vocal sledgehammers from Trippie.
Trippie's ex, Coi Leray, probably wants this song to die a slow death.
---
SONG BY SONG BREAKDOWN
1. LERAY (4/5)
2. WHO NEEDS LOVE (4.5/5)
3. LOVESICK (3.5/5)
4. LOVE ME MORE (4/5)
5. REAL FEEL (4/5)
6. THIS AIN'T THAT (3/5)
7. 6 KISS (3.5/5)
8. TIL THE END OF TIME (4/5)
9. U DESERVE IT (3/5)
10. HATE ME (3/5)
11. ALL FOR ME (2.5/5)
12. SICKENING (3/5)
13. THE GRINCH (2.5/5)
14. DEATH (4/5)
15. RMP (2.5/5)
16. M'S (2/5)
17. BUST DOWN DEUX (3.5/5)
18. THE JUNGLE BOOK (3/5)
19. CHOSEN (3.5/5)
20. ABANDONED (3/5)
21. CAN YOU RAP (3/5)
---
OVERALL RATING
(C+)
I enjoyed "Love Letter To You 4," but didn't love it… On it, Trippie Redd sings at the top of his lungs, talks about both love and heartbreak, and continues to remind the world that he's a gun-toting maniac.
No one on this planet will convince me that Trippie Redd is the second coming of Mariah Carey; however, I believe his strongest attributes as a singer is his ability to sing fearlessly and create dynamic melodies. In "Love Letter To You 4," Trippie's singing stands out like a sore thumb, as he mainly lets loose on instrumentals that are calm, trap-r&b-inspired, and emotional. As a result, "Love Letter To You 4" feels like a musical drama.
As I stated earlier, Trippie Redd primarily talks about love, heartbreak, shooting people, and taking drugs in "Love Letter To You 4." Fortunately, Trippie touches on each topic utilizing styles that are riveting, explosive, and carefree; this is why the album never gets boring.
So what did I hate about "Love Letter To You 4?" There were way too many tracks in which Trippie Redd sounded like a bad freestyler (ie. "RMP," "The Grinch," "Ms"). Coincidentally, those same tracks were low in quality and annoying. I also hated the guest appearances on this album (especially SmokePurpp; that n***a sounded God-awful in "All For Me"). I feel like each person that featured on a song (Besides DaBaby) tried to show their fearless side, which, unfortunately, resulted in numerous crash and burns.
"Love Letter To You 4" is intense. I love the album's fearlessness, its vulnerable moments, and how entertaining as a whole it is. Are there moments in which Trippie does too much? Absolutely! But would you enjoy the project if he didn't do too much?