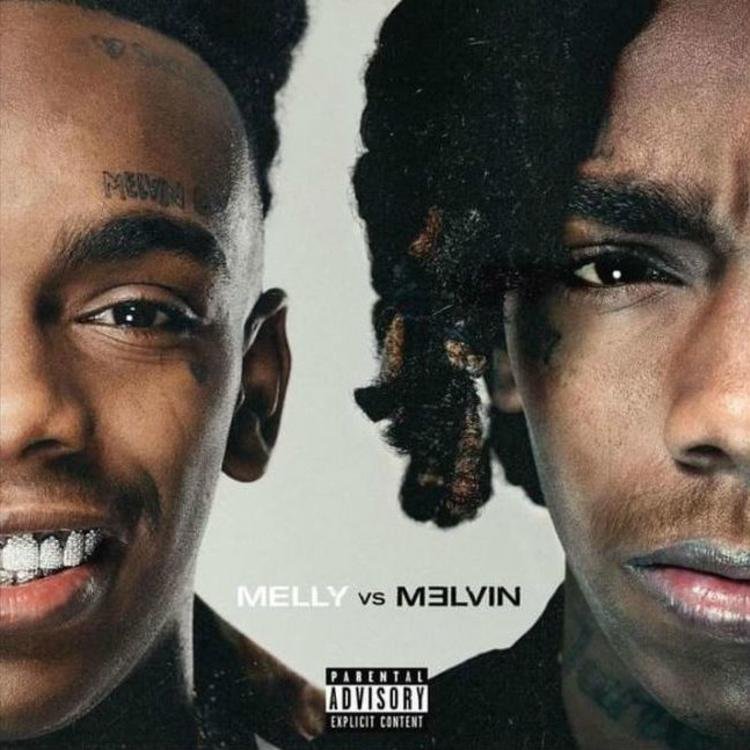 YNW Melly (aka Jamell Demons) plays a deranged, but talented musician in "Melly Vs. Melvin."
---
STREAM
---
TOP 5
5. 223'S
I think YNW Melly is f**ked up in the head. As the Florida rapper fights for his freedom after being charged with murder, he continues to drop music that talks about shooting n***as (SMH). "223s," a song that features Glokknine, is YNW's latest form of incriminating evidence.
In "223s," YNW Melly sings about homicide, homicide, and more homicide. While I am obviously not the biggest fan of the content attached to the song, I do f**k with the 90's R&B-inspired melody YNW was able to deliver on it. I also f**k with GlokkNine's gritty ass verse on the song, too (I'm assuming he is not a real killer, so his part doesn't bother me that much).
If YNW Melly was walking towards me in the streets, I would tuck my wallet.
4. WAITIN ON YOU
"Waitin On You" is absolutely beautiful! On it, YNW Melly sings soulfully about how he's waiting for Jesus to save him from all of his misery (Hold on, an alleged murderer named Jamell Demons made a song about Jesus?).
Tonk Wit Tha Gift (a n***a with one of the most interesting rap names I've ever heard) is featured on "Waitin On You," and on his verse on the track, he gifts us with raw ass bars about changing his drug-dealing/gang-banging ways.
While I love both the serious harmonizing and infectious melody YNW gifts us with on "Waitin On You," it's the song's instrumental that blows me away the most (How the hell was the person that made this beat able to trapify Michael Jackson's "Human Nature" beat?).
3. ADAM SANDLER
YNW Melly does his best impersonation of Young Thug in "Adam Sandler:" On the track, he drops a very Thugger-esque hook, and sings like Thugger over a Thugger-esque instrumental.
So what is "Adam Sandler" about? Unfortunately, it's not about Wedding Singers or bad golfers; instead, it's about putting n***as in their places, living life like a king, and getting dome from chicks that ugly n***as probably don't deserve.
2. TWO FACE
For those that don't know, YNW Melly has three personalities: Melly, Marcus, and Melvin. all three are crazy, but one is crazy crazy (Melvin)! Anywho, in "Two Face," YNW lets the world know that all three of his sides are violent, horny, and vengeful.
"Two Face" is powered by this gentle instrumental that sounds like it has low blood pressure. Over this instrumental, YNW Melly sings serenely, womanly, and grungily. It's your job to figure out which side of Melly is the womanly singer…
1. SUICIDAL
"Suicidal" is special! Matter of fact, on it, I believe YNW Melly reaches his potential as a singer.
In "Suicidal," you get a version of YNW Melly that is pretty f**king heartbroken. Throughout the track, the Florida rapper sings emotionally about a girl doing him wrong, and how that has had an impact on his life. When it's all said and done, I love the melody Melly gifts us with on this song, in addition to the fearless harmonizing he does throughout.
So I guess a girl turned Melly into a cold-blooded n***a?
---
SONG BY SONG BREAKDOWN
1. TWO FACE (4/5)
2. SUICIDAL (5/5)
3. ADAM SANDLER (4/5)
4. BANG BANG (3.5/5)
5. BILLBOARD (4/5)
6. I AINT LYING (3.5/5)
7. I'M A STAR (3/5)
8. MY SLIME (3.5/5)
9. 100K (3.5/5)
10. NOBODY'S AROUND (4/5)
11. KILLUMINATI (4/5)
12. STAY UP (3.5/5)
13. WAITIN ON YOU (4/5)
14. 223s (4/5)
---
OVERALL RATING
(B-)
I hate to say it, but YNW Melly is a talented ass rapper/singer! Not only is he great at creating melodies that are infectious/soul-clinching, but he also has a knack for making ordinary trap songs poke out like Meagan Good's ass at a country club.
Lets be real about a few things regarding this album:
YNW Melly sounds like Young Thug. Don't get me wrong, Thugger is more unpredictable than YNW; however, for the most part, both rappers are erratic ass music-makers. With that being said, in "Melly Vs. Melvin," you get instrumentals that Thugger would rap over, in addition to deranged singing throughout (Young Thug is the king of deranged singing).
It's disturbing as s**t listening toYNW Melly talk about shooting people on this album. As you may know, he's in jail for allegedly murdering two people, so more than likely, what he's talking about in this album is s**t he's done/or wouldn't mind doing. With that being said, do not listen to this album at night.
Real n***as won't admit it, but YNW Melly has a pretty solid voice. No, he's not the second-coming of Lionel Ritchie, but he does know how to hold notes that great singers know how to hold (I know what I said, folks). Taking what I said into consideration, you will love the songs in which YNW opens up about heartbreak and love on this album.
There are moments in which "Melly Vs. Melvin" blows me away, and then there are moments in which the album falls in line with the other s**t I hear on the radio today. With Melly looking at the possibility of being sentenced to death, I find it extremely sad that we may never get to hear him make a full album in which he blows me away… Oh well!