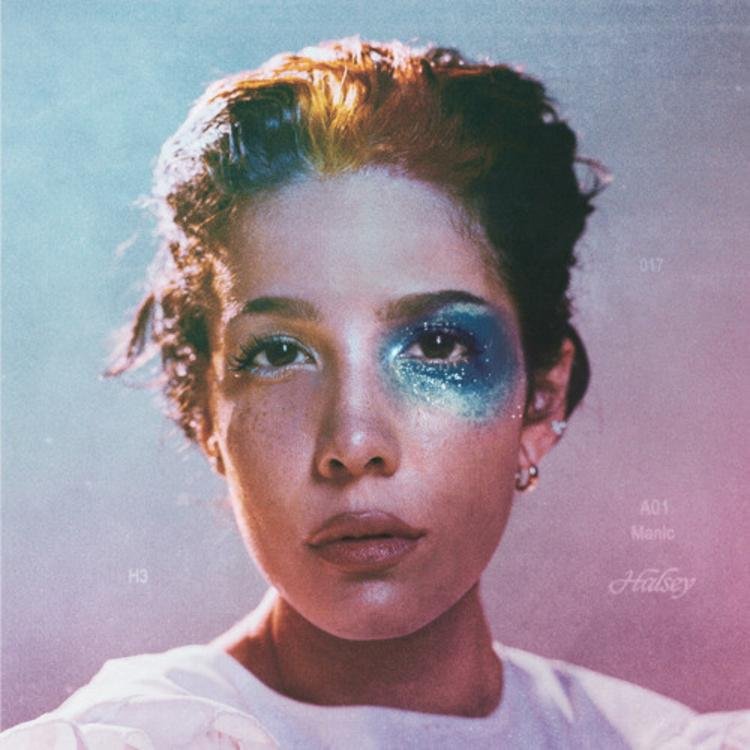 Halsey is an emotional wreck in Manic.
---
STREAM
---
TOP 5
5. STILL LEARNING
I don't quite love "Still Learning," but I really like it. With the track boasting this watered-down Carribean instrumental, Halsey opens up about her desires to start loving herself so she can begin to love her man:
Who I am, what I'm on
Who I've hurt and where they've gone
I know that I've done some wrong
But I'm tryna make it right
To the one I love, bring me 'round
Get me out right now (And the ones I love)
And the ones I love
"Still Learning" sounds like an Ed Sheeran song, to me. (Everything from the song's subject-matter to the song's melodies reminds me of some Ed Sheeran s**t)
4. YOU SHOULD BE SAD
"You Should Be Sad" isn't a sexy top 5 pick, but in my opinion, the track is damn-there flawless. Not only is Halsey's vocal performance on the track absolutely stunning, but the track's lyrics are intricate, the track's melodies are complex, and the track's vibes are fiery.
3. KILLING BOYS
Even though I am a boy, I love "killing boys!" The track's interlude is dope, I love how exhilarating its instrumental is, I think the melody Halsey gifts us with on the track is outstanding, and content-wise, I enjoy how Halsey brashly lets her ex know that she's prepared to do some dirty s**t to him (Something about a destructive vengeful girl is sexy, to me).
2. WITHOUT ME
In "Without Me," Halsey reminds us that she was that one good friend/partner that had our back through thick and thin, light and dark, and M&M and no peanut M&M. Now she doesn't give a f**k about us (Way to mess things up for us, Gerald).
I love the explosive energy attached to "Without Me." I also f**k with Halsey's bold lyrics and daring vocals on the track.
1. GRAVEYARD
"Graveyard" is emotional as hell, but not somber. With the track boasting this vibrant instrumental, Halsey lets loose, discussing her initial intentions to walk with us if we ever reached a dark moment in our lives:
They say I may be making a mistake
I would've followed all the way, no matter how far
I know when you go down all your darkest roads
I would've followed all the way to the graveyard

Kudos to Genius
As expected, you will enjoy the soulful/passionate vocal performance Halsey puts up in this song; however, I think you will ABSOLUTELY love how the New Jersey native holds nothing back when it comes to showing her vulnerable side lyrically.
Halsey was going to walk with us during our dark moments, too? Goddamnit, Gerald, way to f**k things up for us!
---
SONG BY SONG BREAKDOWN
1. ASHLEY (4/5)
2. CLEMENTINE (3.5/5)
3. GRAVEYARD (5/5)
4. YOU SHOULD BE SAD (3.5/5)
5. FOREVER … (IS A LONG TIME) (3.5/5)
6. DOMINIC'S INTERLUDE (3.5/5)
7. I HATE EVERYBODY (4.5/5)
8. 3AM (4/5)
9. WITHOUT ME (5/5)
10. FINALLY/BEAUTIFUL STRANGER (4/5)
11. ALANIS INTERLUDE (4/5)
12. KILLING BOYS (4.5/5)
13. SUGAS INTERLUDE (4/5)
14. MORE (4/5)
15. STILL LEARNING (4/5)
16. 929 (3.5/5)
---
OVERALL RATING
(B+)
Halsey is somewhere in-between Summer Walker, Selena Gomez, and Lorena Bobbitt: She has Summer's bitterness, Selena's forward-thinking ways, and Lorena's craziness! In Manic, each side I just mentioned shows its face, and fortunately for us, they are all great at making music!
First and foremost, this needs to be understood: Halsey is an amazing singer! Can she hit notes like Mariah? Not quite, but she does know how to puncture souls with truly emotional vocal performances. With that being said, in Manic, Halsey finds ways to perfectly illustrate what it sounds like to have a broken heart, a fractured soul, and complicated feelings towards relationships. She also knows how to layout a song magically, despite sounding disheveled, defeated and demoralized.
While a good chunk of Manic features traditional pop music, Halsey does find ways to insert a bit of country, hip-hop, and alternative vibes into a few of the songs on the album. On the real, this aspect of the album makes it unpredictable.
Halsey is so great at making music when she's in a  f**ked up state, I may need her to be heartbroken anytime she makes an album…