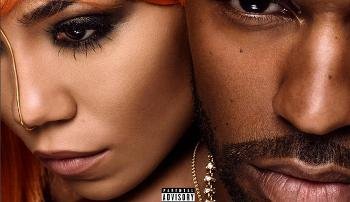 Big Sean and Jhene Aiko just released a (somewhat) surprise album called 'TWENTY88'. They've collaborated a few times in the past, and I've always liked their chemistry. What I find very interesting about this particular collaboration is the perceptions that they're giving off as they promote this album: They have a magazine cover where they look coupled up, an album cover where they look like they're taking a selfie in the shower, and been really touchy feely on performances they've done for their singles. Everything seems very relationshipy to me, and I thought Jhene was engaged to someone else… Well I don't really care if there's something going on between the two that shouldn't be going on,  but I'll tell you who might care though: D'Angelo Russell.
---
TOP 5
5. SELFISH (4.5/5)
Looks like the two are arguing again!
I don't know about you guys, but the number one thing I hate about all the woman I dated is the times that they are being selfish. When a girl is selfish, they take it wayyyyy farther than a guy does, and that's because they put some ramifications on their selfishness. If she don't wanna have sex until you did something for her, then sex will not be had in that house until you do what she tells you to do. If a dude doesn't want to have sex until you do something for him (Which will never happen in this lifetime), his stance will crack faster than you can say Draymond Green.
Back to the song…..
I feel like this song would sound great live. The instruments sound very complex, and the way they continue to go back and forth will make for a entertaining live performance.
4. PUSH IT (4.5/5)
'Push it' has the best chemistry out of all the songs on the album. On this song, Sean and Jhene go back and forth talking about their sexcapades, and quite frankly, s–t doesn't sound believable at all to me. Sean sounds like he's rapping at the DMV as opposed to a damn bedroom with some dime. (He ain't bout that beat the feline up life!) Jhene ain't bout that life either….She sounds nervous to me.
Doesn't the beat sound like something Desiigner (aka down syndrome man or aka Future 0.5) would rap to? It's hard, it's crunk (Remember that word), It's tough! Replace Ludacris with Big Sean, and Jhene with Mya, and this would be a damn mega hit!
3. TALK SHOW (4.6/5)
'Talk Show' is a very unique song. Obviously it's a talk show going on based off the name of the song, but it plays a little more like an interview than a talk show.
I feel like Sean could've done a little more acting/shown a little more changes of emotion in his voice. I also would've liked to hear some interjecting from Jhene while Sean was rapping (Who lets their incompetent partner talk without interrupting them when they are justifying why you suck? ). I'm a talk show expert! That's what happens when you've been unemployed for a long period of time.
Home girl swears a lot! But for whatever reason, I think it sounds sooooo sexy! Call me an asshole again girl, it wakes up my groin area!
Sean definitely kills his verses, as his flow on the song is phenomenal! What I like most about Sean is his wit: He's very sarcastic, and spits
clever bars without sounding like he's trying at all!
This song has a VERY 'Old school Hip hop' sound to it. RIP Phife!
2. DEJA VU (4.9/5)
'Deja Vu' definitely caters to Big Sean: The beat is uptempo, mellow, and has that smooth sound that he usually makes heartfelt songs to.
The chorus is dope, as both Jhene and Big Sean are singing/talking together on it. I think it sounds pretty good when you have a rap dude talking, and an R&B singer singing the same thing on a hook….The scumbags can relate to Sean, and the Jilted lovers can relate to Jhene…..That's how you cover all bases!
Jhene might have the best female R&B swag in the game right now! The way she comes in, the way she's singing, and her content on this song is so G. She's clearly the man of the relationship on this particular track.
Big Sean kills it with his reckless lyrics too. Great chemistry overall.
1. LONDON BRIDGE (5/5)
Jhene really gets to shine on this song! The style of the song is extremely quirky, which I think fits her very well.  Her voice is absolutely beautiful on this track, as she rides the mellow/smooth beat masterfully. On this track, you're taken into cloud 9! (And if Donald Trump is elected President, keep me on cloud 9 forever)
I would've loved Childish Gambino on this track over Big Sean, but I'll live with it. Seans verse is very solid….Not
spectacular, not bad, just 'solid'….He was being Kirk Cousins on this track.
This is definitely the standout track of the album.
---
 SONG BY SONG BREAKDOWN
1. London Bridge (5/5)
2. Deja Vu (4.9/5)
3. Talk Show (4.6/5)
4. Selfish (4.5/5)
5. Push It (4.5/5)
6.  On The Way (4.4/5)
7. 2 Minutes (4.1/5)
8. Memories Faded (4.0/5)
---
OVERALL RATING
(7.5/10)
There is no bad songs on this album.  I do think you would appreciate it a lot more though if you put it in shuffle with the rest of your songs, and every once in a while heard a new cut from it — If you listen to it straight through, it will sound a bit monotonous.
So the big question is "Who shined the most on this album?" I think Jhene was able to do her thing on an album that had a sound that caters a lot to Big Sean's style. Jhene added her own swag, and she played the character of angry/ratchet girlfriend masterfully.
Sean's verses were great as usual, but I think we will all agree that he wins when he's doing a little harder content.
Overall, the album is dope. I feel like it's a cute album that makes you want to argue with your girlfriend about nothing 🙂