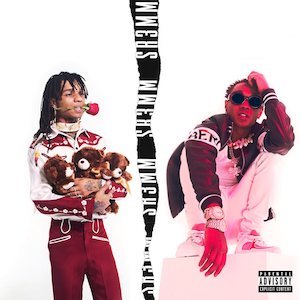 You know what I was guilty of in the past? Thinking Rae Sremmurd would be just another gimmicky duo that wouldn't get past slightly relevant; s**t, they proved me wrong. In present day hip hop, I believe they have been just as influential as any one of their peers, but for some odd reason, it seems like they never get the credit they deserve. With that being said, I believe "SR3MM" is their most anticipated project to date, especially since they've been showing off what they are capable of doing on the solo tip as of late. In part 1 of my 3 part review for this album, I look at their collaborative effort, "SR3MM!"
---
TOP 5
5. UP IN MY COCINA
If I didn't look up the definition of "Cocina" a few second ago, I would've thought it was an island in the Caribbeans … All that s**t means is 'kitchen' in Spanish.
"Up In My Cocina" isn't the most colorful track — some may even call it a bit dull, but it definitely does its job when it comes to being a cold ass record. On it, both Swae and Jxmmi go back and forth about their ice, good food, and bad chicks using this robotic flow. Honestly, it might be their most cohesive effort in a while, because I can't even decipher between the two on their raps.
4. BEDTIME STORIES
The Weeknd and Rae Sremmurd on a song together is bound to be a hit, right? (Rhetorical question)
Based off of the dreamy instrumental, you should've known that you were going to get some sappiness from everyone involved with the making of this song; I'm cool with that, because 2/3 of the people featured strive off of sappiness. Anyway, this track will certainly give you the heebie jeebies in the bedroom, as The Weeknd gives us this confident yet soft hook that has him bragging about what he can do for this skeptical dimepiece. On their verses, Slim and Swae approach their women on some realness s**t, harmonizing these braggadocios lyrics that turn a bit vulnerable at times.
You get all kinds of vocals on this song… S**t actually sounds like American Idol practice, to me.
3. CLOSE
The Rae Sremmurd and Travis Scott collaboration that was in the works for months has finally arrived… Go ahead and s**t your pants, folks!
Rae Sremmurd has been releasing new music year after year, and in my opinion, each song has had its own unique sound. This time around, the duo links up with Travis Scott for this trippy yet hazy tune that has La Flame sounding zoned out, Swae sounding like one of the coldest angels in the history of heaven, and Slim J*mmi ready to put a couple stacks up to recruit his hood Cinderella. I love how catchy the track is, and think people who are drunk at the club when it plays will love it.
Anytime rappers either spell or count on a hook, it's an instant hit.
2. ROCK & ROLL HALL OF FAME
"Rock & Roll Hall Of Fame" is a certified hit! I can already see myself shaking my ass to it in the clubs by this time tomorrow.
"Rock & Roll Hall of Fame" is a banger, but at the same time, it is absolutely charming! How many times can you say that about a song?
I love how Swae Lee & Slim J*mmi get lost in the vibes of the instrumental on their verses. Throughout, it feels like they are trying to salsa with the beat, following its moves flawlessly. Aside from that, their lyrics are very entertaining to listen to, as each member in the duo gives off these smooth yet rebellious feels.
I would love to play "Guitar Hero" or "Parapa The Rappa" to this s**t!
1. PERPLEXING PEGASUS
"Perplexing Pegasus" is perhaps the greatest title in hip hop history.
"Perplexing Pegasus" didn't quite catch the attention of rap fans like I thought it would, but that doesn't mean it isn't fire. First and foremost, Mike-Will Made-It hooked the duo up with this beat that absolutely cranks! Matter of fact, a bunch of pictures fell off the wall while I was listening to it (Mind you, I heard it through some earphones).
Each rapper swags out on their respective verses on this song, bragging about the luxurious things they have in their arsenal through some laid-back bars. I swear, rap is the only genre in which an artist can sound better when they don't try.
---
SONG BY SONG BREAKDOWN
1. UP IN MY COCINA (4.9/5)
2. CLOSE (5/5)
3. BEDTIME STORIES (4.7/5)
4. PERPLEXING PEGASUS (5/5)
5. BUCKETS (BALLING) (4/5)
6. 42 (3.7/5)
7. POWERGLIDE (4.6/5)
8. ROCK N ROLL HALL OF FAME (5/5)
9. T'D UP (4.5/5)
---
OVERALL RATING
(8.4/10)
"Sr3mm" is something special. While very short, the duo was able to accomplish practically everything I wanted them to in only nine tracks. Not only do they give you bangers like "Powerglide," and dynamic tracks like "Rock N Roll Hall Of Fame," but they even give you a couple of trill ass records like "Up In My Concina" that will remind you of their older work. It's clear that this portion of the album is all about hit-making, which I think is something they do really well.
At one point, I thought Rick Ross was laced with the best beats in the game, then I thought Young Thug took that crown, but as of today, I think Rae Sremmurd has the best beats in the game. With the backing of super producer, Mike Will Made It, Swae and Slim were given some of the hardest-hitting/dynamic instrumentals i've heard in a while. The best part of this aspect is that each beat does a perfect job of exuding a myriad of emotions from both artists.
As much as I want to say I would like for both of these dudes to completely go solo, I still think their best work is together. I feel like their chemistry is phenomenal, and I believe each member benefits from their creative minds bouncing off of each other when they collaborate.  If I were to guess, I think people will f**k with this portion of the album more than their two solo efforts.
Categories: Album, Album Rating, Album Ratings, Album Review, Album Reviews, Best Song, Best Songs, Best Tracks, Hot Music, Hot Track, Hottest Songs, New Songs, Rae Sremmurd, Rating, Ratings, Review, Reviews, Sr3mm, Top 5, Top 5 Songs, Top Ratings, Top Reviews, Top Songs, Top Track, Top Tracks