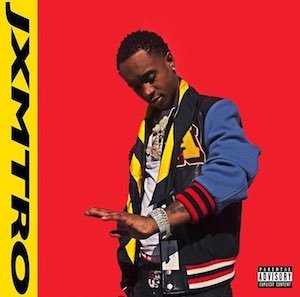 You know what I was guilty of in the past? Thinking Rae Sremmurd would be just another gimmicky duo that wouldn't get past slightly relevant in the rap game; well it looks like they proved me wrong. In present day hip hop, I believe they have been just as influential as any one of their peers, but for some odd reason, it seems like they never get the credit they deserve. With that being said, I expect "SR3MM" to be the album that elevates them to super star status, especially since they've been showing off what they are capable of doing on the solo tip as of late. In part 3 of my 3 part review for this album, I look at Slim Jxmmi's hard hitting "Jxmtro."
---
TOP 5
5. CHANGED UP
Don't worry, "Changed Up" features the same ole Slim Jxmmi that is in love with his watch and is feeling himself more than a porno actress.
I love the numbing tone "Changed Up" presents. I almost want to call it 'bluesy,' but it is a little too bass heavy to call it that. Anyway, I love how Jxmmi doesn't allow the instrumental to dictate his rapping style, as he approaches the track with the same flair that he did on his previous songs. As for the hook, he opens up a bit, letting the world know that it isn't him that has changed these last couple of years — it's the people around him that did.
I always find it comical when people try their hardest to prove they haven't changed. If your life isn't constantly evolving, then you may need some sort of  jump-start.
4. PLAYERS CLUB
This young n***a loves him some strippers!
"Players Club" is simplistic musically, but that doesn't mean it won't catch your attention. First off, I like the frightening trap instrumental that G-LO and TL on the beat decided to create for the song, and love how Jxmmi doesn't hold back in his reckless ways lyrically. The song is a perfect marriage between terrorizing and trill.
For some reason, the clean version of this track sounds better than the explicit version.
3. CHANEL
Rae Sremmurd takes their girls to "Chanel" because they are "fine;" I take my girls to the thrift store because they are 'so-so.'
Slim Jxmmi isn't the member of Rae Sremmurd that focuses on smooth vibes when he makes music, but in "Chanel," he takes a stab at it. Even though the hook is as simple as it gets, there is something about the slick bars that both he and Swae drops that will catch your attention. It almost feels like they are each practicing hollering at this dime piece in the corner of the club and don't want anybody to hear them.
Despite sounding like someone was pinching his ass for half of his verse, Pharrell drops something tough on the third verse! He flows really well, and even plays the role of trapper pretty effectively. I guess this whole Station Wagon P Moniker he's been using lately is actually legit.
2. CAP
It's wishful thinking if you believe Slim Jxmmi can whoop any one of our asses, but that doesn't mean he isn't more than capable of making a tough ass record. In "Cap," the brown skin member of Rae Sremmurd drops this gritty ass track that has both him and Trouble talking their s**t over yet another terrifying instrumental. Much like his other tracks, Slim shows lots of aggression in his raps, throwing lyrical haymakers at the beat like it just made a joke about his mama.
I like Trouble's persona, but I find him a bit boring as a rapper. On this particular song, he does show me something, rapping with this dynamic flow that has him twisting up his words quite a bit. He still sounds a bit ho-hum, though.
The way rappers make you feel like you're broke, I'm surprised there isn't more bank robberies in the urban communities.
1. BRXNK TRUCK
Swae Lee is clearly the star of Rae Sremmurd," but that doesn't mean Slim Jxmmi is a pushover. In "Brxnks Truck," Slim proves this is true, dropping this hyped up track that has him discussing his frame of mind when he walks into the strip clubs of the world. More than anything, Slim shows us his lyrical ability on the track, absolutely spazzing the f–k out over this traditional trap instrumental by Mike Will-Made-It.
I think strip clubs are awkward, but hey, ya'll don't pay me to give opinions on things like that.
---
SONG BY SONG BREAKDOWN
1. BRXNKS TRUCK (5/5)
2. PLAYERS CLUB (4.5/5)
3. ANTI-SOCIAL SMOKERS CLUB (3.9/5)
4. CHANEL (4.5/5)
5. CAP (4.7/5)
6. CHANGED UP (4.6/5)
7. KEEP GOD FIRST (4.3/5)
8. JUGGLING BIDDIES (4/5)
9. GROWED UP (4/5)
---
OVERALL RATING
(8.3/10)
Slim Jxmmi's energy is impeccable. It's clear that he takes no bars off when he raps, making sure listeners feel every single word he spews. I ain't mad at it, because confidence has always translated to wins in the hip hop game. However, his lyrical content is a bit limited, as he opted to rap about your typical s**t that everyone else raps about in hip hop.
Just like the other portions of this album, the production is key to what the artist at hand wanted to accomplish. While Swae decided to focus on this alternative sound production-wise on "Swaecation," Slim took the triller route on "Jxmtro," rapping over a bunch of instrumentals that cranked and gave off strip club inspired vibes. Once again, kudos must go to the producers that took part on this album, as they were able to come up with a bunch of instrumentals that gassed up their artists every step of the way.
There is a place in hip hop for Slim Jxmmi, but it probably isn't at the same dinner table as Swae Lee. He has star appeal, but too many dudes in the game (Random ones at that) sound way too similar to him. In addition to that, I talk so much about being relatable and how listeners love when an artist comes across as human, and unfortunately, Slim doesn't do that here on "Jxmtro." With that being said, don't expect anything even close to experimental with this album — It is simply a body of work by a guy that is living on the fast lane and isn't afraid of crashing. Bodies of work like this typically have a short life span, so enjoy it for what it can do for you today.