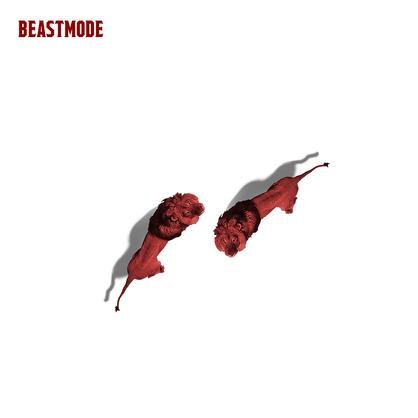 What a pleasant surprise Future Hendrix has decided to give us with the release of "BEASTMODE 2!" It's not like he was away from the music scene for a long time, though, as he just gifted us with a fantastic soundtrack to the "Superfly" movie less than a month ago. But you know what they say, right? Hustler's never sleep, and since music is Future's product these days, I expect something addictive from him on this short project that is capable of giving the songs on my summer playlist a run for its money. 
---
STREAM
TOP 5
5. RACKS BLUE
Can someone please tell me what 'Racks Blue' means? How common is it for someone to have racks that are blue?
"Racks Blue" has such an interesting sound to it production-wise. Correct, it has your typical trap vibes, but at the same time, it has this intimate feel to it, too. At times, I don't know whether I should scrunch my face or cry as I listen to it
Future's contributions to this track are just as moody as the beat. In one sense, he talks about shining and making money, but in another, he opens up about things like loyalty, a rough upbringing and never letting his foes bring him down. How much do you want to bet he was looking at a slideshow of his life while he was laying down his verses? (That's the only thing that makes sense, to me)
4. WIFI LIT
N***as is bragging about their Wifi these days? I have Verizon Fios at my crib, so I think I have a shot in this contest.
Is there anyone else in the game that is better at opening up projects than Future? "Thought It Was a Drought," "Rent Money" and "Digital Dash" were among the intro tracks he's released in the past couple of years. "Wifi Lit" isn't quite on the same level as those other hits, but it should have a similar effect on the people, as it boasts this grungy trap instrumental and a version of our hero that is carefree and focused on getting you to violently bop your head with nothing but infectious bars.
3. DOH DOH
I really like this song's energy.  It features a fast paced instrumental that gives off this action-packed feel, while Future does his part to catch our attention by delivering an exhilarating hook that succeeds in getting your heart rate up.
Young Scooter is featured on this song, and his gritty nature compliments the enthusiastic contributions by Future on the hook. Honestly, I thought his part was going to be forgettable, but he definitely held his own on this s**t.
Doesn't this song sound like a remix to "Get Your Roll On" by the Big Tymers? Matter of fact, I believe Future is using both Mannie Fresh and Birdman's choppy flow from that song on his second verse. Who would've known "Get Your Roll On" would have such a major influence on the music of today.
2. HATE THE REAL ME
Future is clearly trying to win a Grammy with this song.
"Hate The Real Me" is easily the most stirring track on this project. It features this dramatic trap instrumental that makes sure you feel both its heavy-hitting bass and emotional vibes. Because of this dynamic, Future absolutely lets loose, sounding like a hostage that was told he can be let free if he simply sings for all of his captors. No, he doesn't sound like the second coming of Mary J. Blige or anything on the song, but his deep content and serious harmonizing is definitely breath-taking to listen to.
1. WHEN I THINK ABOUT IT
"When I Think About It" is special. It flows really well, has a catchy hook, and contains a version of Future that is willing to straddle the line between hood hero and ruthless trapper. What I like most about the track is that Future simplifies things for us on it, as he opts to gain our attention with tough ass bars as opposed to some audacious singing. It's almost like you get this laid back version of him for the first time on the album, which makes the song feel that much more authentic.
Do you really have one million dollars worth of jewelry on your neck, Future? That's just reckless, bro.
---
SONG BY SONG BREAKDOWN
1. WIFI LIT (4.5/5)
2. CUDDLE MY WRIST (3.8/5)
3. RACKS BLUE (4/5)
4. 31 DAYS (3.9/5)
5. RED LIGHT (4.6/5)
6. DOH DOH (4/5)
7. WHEN I THINK ABOUT IT (4.5/5)
8. SOME MORE (4/5)
9. HATE THE REAL ME (3.9/5)
---
OVERALL RATING
(B-)
You know what I like the most about Future's artistry? It feels like he's in his zone every time he steps into the both. It doesn't matter if a song is about drugs, women, money or luxurious things, he's going to get lost in the topic at hand, and that usually means some daring harmonizing and passionate lyrics from him. With that being said, "BEASTMODE 2" contains 95% passion, as Future gets a chance to discuss some of the things he finds important in life, and much to my surprise, those things revolve around more then just drug talk.
The production on this album is phenomenal. Most beats have this dramatic feel to it that is accompanied by trap roots — a sound that I think is perfect for a passionate artist like Future. I can tell that our hero let Zaytoven (The main producer on this Mixtape) know that he wanted nothing but emotional s**t from him, resulting in a cohesive body of work that almost feels like one big song.
According to Future's Twitter account, this mixtape is simply the start of major things coming from him this summer. If so, I think it was a great idea, as it gives his fans just enough of a taste to keep us wanting bigger and better things from him. But to be honest with you, if I were to make a prediction, I think this project will end up being better than whatever new album he plans on bringing out in the next couple of weeks. It just has this authenticity to it that is hard to ignore, and features a bit of experimenting that actually ended up working. I guess time will tell.
Categories: Album, Album Rating, Album Ratings, Album Review, Album Reviews, BEAST MODE 2, BEASTMODE 2, BEASTMODE2, Best Song, Best Songs, Best Tracks, Future, New Songs, Rating, Ratings, Review, Reviews, Top 5, Top 5 Songs, Top Ratings, Top Reviews, Top Songs, Top Track, Top Tracks