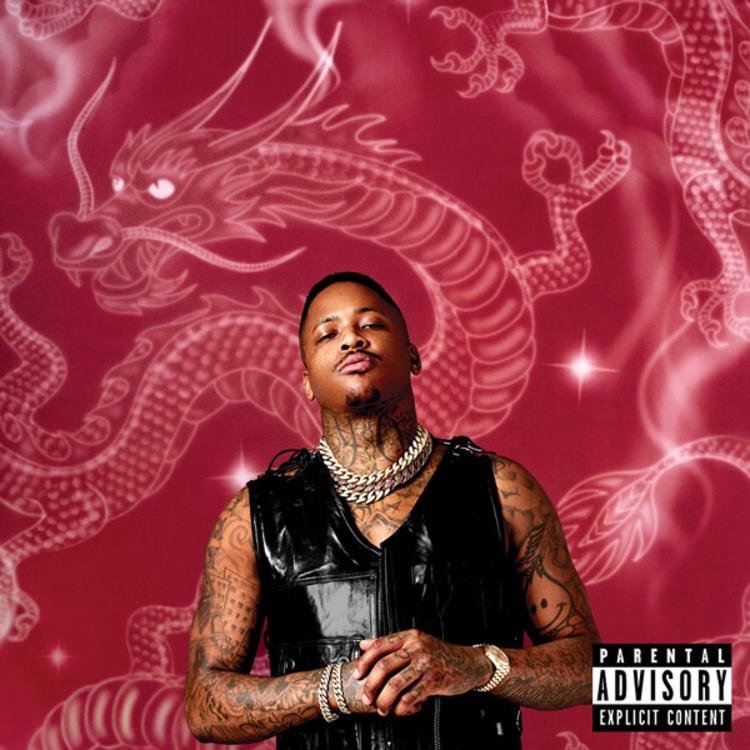 We all know YG reps 'you know what,' doesn't f**k with 'you know who,' and does his best to put on the city of 'you know where' in his raps. Ironically, as he continues to ascend into the A-list tier of rappers, he's stayed pretty constant with this theme. With the release of "Stay Dangerous," do you expect anything to be different? With songs like SUUWOOP," "BOMPTOWN FINEST" and "BULLETPROOF" listed on the track-list, you should expect to be served a body of work that sets a very crooked hip hop game straight.
---
STREAM
---
TOP 5
5. SLAY
"Slay" is chill as f**k. It is powered by this smooth instrumental by DJ Mustard that is heavy on the bass and conservative on the piano notes. The track also features Quavo, and as expected, he absolutely murders the hook and his verse with this infectious melody and slick ass demeanor that can talk a WNBA player out of her jersey.
YG sorta lags behind everyone else on this song, doing his best to sound like a playa, but ultimately sounding like a waterboy. He tries to utilize auto-tune and harmonize like Quavo does, but ends up sounding a bit awkward in the end. I do give him props for leaving the violent content behind for this song, though, opting to dedicate some pretty charming words (At least charming for his standards) to this bad ass chick that he's clearly trying to spoil and smash.
4. 666
Damn, why did I have to like a song called "666?"
"666" features a few verses from YoungBoy Never Broke Again and YG in which they let the world know about their reckless ways. While the hook to this song is more catchy than heinous, and YG's verses are more chill than animated, It's YoungBoy Never Broke Again that causes terror here. On his verse, he relentlessly talks about his hood stripes, threatening to pull his gun out more than a crooked cop. I say we sit him down and give him 400 grams of chill pills.
This track has a bounce to it that is too dope to ignore.
3. BIG BANK
YG recruited the heavyweights for "Big Bank."
Like I said in the intro, slowly but surely, YG has ascended into A-list status in the rap game. That means when he calls on big name artists to feature on one of his songs, it shouldn't surprise you at all. With that being said, "Big Bank" is one of those trill ass club records that has our hero setting the tone with a catchy hook and mailed-in first verse, 2 Chainz dropping a bunch of corny punchlines (I like 2 Chainz when he's corny, though) about gettin' hoes, selling dope and flossing, a sly ass verse by Big Sean in which he drops gaudy wordplay and efficient punchlines, and a competitive verse from Nicki MInaj in which she talks about reclaiming her crown as the top chick in the game. If you ask me, that is quite the line-up.
Can you believe EA sports bleeped out the mention of "Colin Kaepernick" from Big Sean's verse? That's just unbelievably petty.
2. SUU WHOOP
YG decided to let the world know about the gang he's repping in "Suu Whoop."
As of late, there has been lots of gang noise coming out of the music industry (With most of that noise coming from Tekashi's instagram account), resulting in some g-checking from the diehards. YG is one of those diehards, and he felt it was necessary to create an anthem for all the fair-weather members of his gang that aren't quite repping right. As expected, the song sounds terrifying, as YG raps with this hollowing approach throughout. Unlike his other tracks, the Compton rapper doesn't try to experiment with flows or anything, instead, he talks nothing but real s**t, justifying his decision to be apart of a gang, pointing out that his girl's draws are red, and proclaiming that he has no problem with rival gangs.
Can you imagine hearing this song at a gas station? I'll tell you now, I'll more than likely s**t myself.
1. HANDGUN
YG and A$AP Rocky are different artists, but their styles mesh really well on "Handgun."
The production to this song has a sound that is unique for YG, but perfect for A$AP Rocky. YG still kills it, as he navigates through the track with ease, reminding us all that he hasn't swayed an inch away from his gangsta ways from the past. I f**k with the Compton rapper's playful verse, but the hook he dropped was a bit questionable.
As I stated earlier (Like a paragraph ago), the beat to this song fits A$AP perfectly! Because of that, he does his thing, using a myriad of flows that all ride the beat excellently. I also f**k with his lighter-hearted content (At least compared to YG) about his upbringing, clothing style and lack of respect for women.
---
SONG BY SONG BREAKDOWN
1. 10 TIMES (4/5)
2. BULLETPROOF (4/5)
3. HANDGUN (4.5/5)
4. SUU WHOOP (4.5/5)
5. CANT GET INTO KANADA (3.5/5)
6. TOO COCKY (4/5)
7. BIG BANK (4.5/5)
8. POWER (3.5/5)
9. SLAY (4.5/5)
10. 666 (4.5/5)
11. TOO BRAZY (3.5/5)
12.  PUSSY MONEY FAME (3/5)
13. DEEPER THAN RAP (3.5/5)
14. FREE THE HOMIES INTERLUDE (N/A)
15. BOMPTOWN FINEST (4/5)
---
OVERALL RATING
(C+)
YG is really good at dropping solid music; nothing that blows you away, just solid music. With that being said, as a listener, I don't think you can hate "Stay Dangerous," but I also don't think you're going to be in a rush to play it again after you listen to it.
Persona-wise, YG represents what 85% of the rappers we listen to want to be: A respected street n***a. He has all his stamps of approval from the hood he grew up in, gives off this cold-demeanor whenever he speaks, and content-wise, is as unholy as Rudy Giuliani. So when I listen to a song from him, I don't just grade the musicality of it, I grade the authenticity and street vibes too. In this particular album, YG tried to step out of his element a bit, experimenting with different sounds and focusing on the music side of things more. I think he raps with great energy on this album, and also showed me a few different styles that I didn't know he had in his arsenal, but when it's all said and done, when he makes music like "Suu Whoop," a basic track in which he passionately reps his gang, he's at his best. The more he strayed away from this approach, the less I was interested.
Honestly, something was missing from this album. If I were to guess, it was raw emotion. Remember, YG centered his whole second album around being shot, which gave it this dramatic/urgent feel throughout. I just didn't see that emotion from him on this album, which made me a lot less invested. But hey, people grow and so should their artistry, so big-ups to YG, hopefully next time around this new style he's rapping with will sound a lot more intriguing.
Categories: Album, Album Rating, Album Ratings, Album Review, Album Reviews, Best Song, Best Songs, Best Tracks, Hip Hop, Hottest Songs, Rap, Rating, Ratings, Review, Reviews, Stay Dangerous, Stream, Top 5, Top 5 Songs, Top Ratings, Top Reviews, Top Songs, Top Track, Top Tracks, Track by Track, Track by Track Review, YG