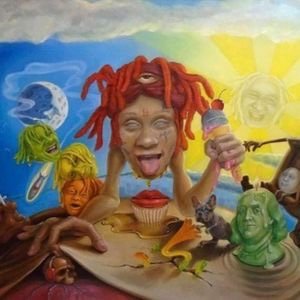 Trippie Redd is an artist that doesn't get enough credit for how unique he is. In an industry where a good chunk of the individuals sound similar, he is one of a kind, boasting a style of music that is raw, daring and impertinently youthful. But you know what they say in the music industry, right? People don't start respecting you until you make a solid body of work… Well, "Life Is A Trip" might just be his chance to impress.
---
STREAM
---
TOP 5
5. FOREVER EVER
Have you ever heard the ratchet blues? Well this is it!
"Forever Ever" is somber sounding, featuring this slow-paced instrumental that should have you deeper in your feelings than Keke. One of the artists featured on the song, Young Thug, falls for the instrumental's lonely feel, opting to dish out some unpleasant pleas for love through some soulful harmonizing.
Things pump up in aggression by the time Trippie hops on the track. Granted, he stays on the topic of seeking love, but snaps out of it halfway through, ultimately dishing out threats to his peers and talking about indulging in some good ole vajayjay. His approach influences a more ruthless Thugger that follows him right after.
Reese La Flair closes the song out with the sobering equivalent of Wayne's "Wobblety Wobblety" s**t from "Back That Azz Up." I think his part is pointless, but I don't want to push him farther into depression, so I'll keep those thoughts to myself.
I love when rapper incorporate elements of the blues into their music, so please forgive my biasness (which is not a word) if you do not think this is a top 5 track.
4. WISH
"Wish" feels like Trippie Redd's formal introduction to the masses.
Production-wise, "Wish" has this very smooth feel to it, almost like something you would hear in the background of a Calvin Klein commercial. But since we're dealing with a n***a in Trippie Redd that does too much all the time, the song isn't all that pleasant. Yes, you get some heartwarming lyrics from Trippie that promotes self-confidence, but you also get lyrics from him that discusses suicide. Nonetheless, you should enjoy watching our lead guy bounce off the walls of the soft cushion that the beat provided him with — it's quite the thrill to listen to!
3. BANG!
"BANG!" is special. Trippie lets all the way loose on it, knocking pictures off the wall and waking up neighbors from their deep sleeps. He also delivers a very solid melody on the track and catches the attention of those with short attention spans by switching between topics that are meaningless and slightly heartfelt. Oh by the way, he does all this over an instrumental that is both soothing and bass boomin'.
2. MISSING MY IDOLS & OOMP'S REVENGE
I personally think Trippie Redd's best song is "Hellboy." Content-wise, it was real, and he dropped nothing but exquisite bars on it. Fortunately for us, he has two songs like "Hellboy" on this album, and they are both fire! "Oomps Revenge" and "Missing My Idols" has our hero living up to his rap potential, provoking you to wipe your eyes to see if you are dreaming. He shows great confidence in his bars, dishes out punchlines, and most importantly, gets real about a myriad of topics such as his fame, disappointment in other music artists and loyalty. Part of me wants him to rap like this all the time, but at the same time, I think I enjoy being treated to this sound every once in a while.
1. TAKE A WALK
"Take A Walk" is definitely a favorite of mines! It features both this laid-back instrumental that gives me unexpected flashbacks to something Pac would rap over, and an equal proportion of smooth and rowdy Trippie Redd. I also like the topic surrounding the track, as it revolves around shining despite the haters wanting you to crumble. While I think the hook Trippie drops is very memorable, his lyrics are a bit sub-par, but at the end of the day, the positive vibes attached to the record as a whole is what carries it to the finish line.
---
SONG BY SONG BREAKDOWN
1. TOGETHER (4/5)
2. TAKE A WALK (5/5)
3. WISH (4.5/5)
4. MISSING MY IDOLS (5/5)
5. FOREVER EVER (4/5)
6. BIRD S**T (3.5/5)
7. BANG! (4.5/5)
8. HOW YOU FEEL (4/5)
9. DARK KNIGHT DUMMO (4.5/5)
10. UKA UKA (3.5/5)
11. SHAKE IT UP (3/5)
12. OOMPS REVENGE (4.5/5)
13. GORE (3.5/5)
14. UNDERWATER FLYZONE (3/5)
---
OVERALL RATING
(B)
I feel like I played exorcist to a n***a that was going in and out of demonic possession while listening to this album (I mean that in a good way). Trippie is outlandish, disrespectful, troubled yet focused on this album, and the concoction will more than likely give you one of those killer hangovers (I mean that in a good way). I say it's an enjoyable roller-coaster ride, but I am also healthy enough to deal with the crazy ass dips it features.
The number one thing that makes Trippie Redd unique is his ability to do the exact opposite of what the tone of a record is asking for. If the instrumental is soothing, he plays agitator to it, trolling it with boisterous harmonizing and vicious words til it cracks (ie. Wish). If it's rough and rugged, he simplifies things a bit, opting to focus on catchiness and savage sentiments (ie. "Shake It Up). I know that has to frustrate producers, but it is quite enjoyable for us listeners.
Speaking of producers, they blessed Trippie with some really good beats on this album. Like I said earlier (like a paragraph ago), you get everything from smooth to heavy-hitting beats on this album, invoking several different feelings of emotion from our Canton hero. While listening to this album, make sure the producer gets some love.
As for the features, on this album, they were kept at a minimum (Travis Scott, Young Thug and Reese La Flair), and I like that, because I believe Trippie can hold his own all by his lonesome.
My one issue with this album was Trippie's inconsistency lyrically. At times, he had some phenomenal verses, touching on some humble s**t about his personal life and gifting us with some pretty solid wisdom. However, his fall back bars revolved around f**king b*tches and talking about his money, and he resorted to the latter way too much. If he's able to polish up his raps a bit, I think he can be one of the hottest artists out.
I think "Life Is A Trip" was a success. It was refreshingly experimental, and I thought it had some legit bangers. Trippie also shows off an array of skills on it that surprised me quite a bit. In my opinion, Trippie has climbed up my favorite rapper chart dramatically with this debut.