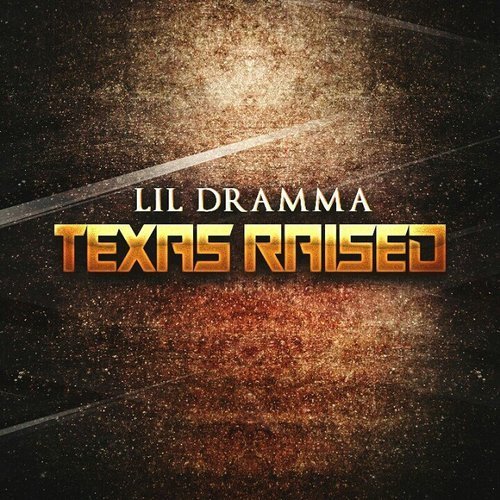 Lil Dramma was the ultimate street rapper From Dallas, Texas that was known to make music that was sure to get the trap jumpin' and the bando rattling every time. In Texas Raised, one of his last gems before his untimely death, he represents his city well, giving us fourteen tracks full of the realest s**t you will hear in the industry today. 
---
STREAM
https://www.datpiff.com/player/mf1eeb76?tid=1
---
TOP 5
5. GET RICH OR DIE TRYIN'
You can never hate on someone's persistence when it comes to getting to the paper.
"Get Rich Or Die Tryin'" speaks volumes in many different ways. First and foremost, it contains a beat that will literally rattle the floor if played on some gigantic speakers, forcing you to nod your head violently. From there, both Lil Dramma and featured guest, Stylez, spit some tenacious bars about hustling, motivating like-minded individuals to get to the coin.
You know what I like most about this song? Throughout it, both artists come across like underdogs, and in the process, their approach feels very relatable. What is a bit superhuman about their contributions, though, is that they are able to play Sargent to the army-like instrumental, pushing it around with some pretty gritty lyrical content. Not many in the game is able to achieve this.
I said it before and I'll say it again: Excuses are for the weak!
4. GET UP
"Get Up" is everything from honorable to motivational. It features this gladiator-like instrumental that is fast in pace, and Dramma accepts the challenge of riding it, ultimately coming up victorious. Not only is he able to dish out bars both quick and relentlessly, but he also raps with great animation, as he gets a chance to discuss his mindset of living life free and wild in honor of the hard work he put in.
3. TEXAS RAISED
Of course "Texas Raised" is going to be one of the most memorable tracks on this mixtape — it's named after it! On it, you get some powerful bars from Lil Dramma in which he represents his state in the toughest of ways, reminding the world that people around his way love mobbin' and don't take s**t from anyone. The beat he raps over is an altered version of Dem Franchise Boyz's "Lean Wit It, Rock Wit it" hit from back in the day, but trust me, his lyrics aren't gimmicky like the ATL trios are.
2. HATAZ GET STOMPED
I might be a bit biased here, but I have a personal connection with "Hataz Get Stomped." The track features one of my favorite instrumentals (Crime Mob's "Stilettos"), and on it, he gives us something that is just as energetic as what the originators of the song was able to bring to it.
Can you believe Dramma freestyled this s**t? It sounds really well put together, and his ability to galvanize the listeners with catchy lyrics and this relentless style of rapping is impressive. I also like how he took the flow Princess and Diamond used on the original song and matched it to his style.
Thank God the fellas have a version of the classic "Stilettos" song that we can relate to now (I know nothing about wearing no damn stilettos).
1. THEY THINK THEY KNOW
"They Think They Know" is the definition of street hip hop. It gets started with this pretty frigid instrumental that has a bit of an army-like feel to it as its root. Dramma hops on that beat sticking his chest out, rapping about f**king with only the trillest, the chicks he has in his arsenal that are down with him due to his fame, and all the foes trying to take him out from up under his feet. I f**k with the confidence he spits with throughout, as he lets the listeners know that he will never be rattled by any challenge thrown his way using this very aggressive tone.
---
SONG BY SONG BREAKDOWN
1. GETTING TO THE MONEY (4/5)
2. PERCENTAGES (3.5/5)
3. THEY THINK THEY KNOW (4/5)
4. HATAZ GET STOMPED (4/5)
5. TEXAS RAISED (4/5)
6. BLACK HOUSE SHOES (3/5)
7. GO TA WORK (3/5)
8. GET UP (4/5)
9. GET RICH OR DIE TRYIN' (4/5)
10. STEP YA GAME UP (4/5)
11. BLOOD ON MY WIFE BEATA (3.5/5)
12. IN DA CLUB (4/5)
13. GETTIN PAPER (3.5/5)
14. BOI! (3.5/5)
---
OVERALL RATING
(B-)
If you are a fan of the following, you will find this mixtape enjoyable: Underdogs, authentic down south music, catchy hooks, explosive bars, and most importantly, passion. From start to finish, Lil Dramma displays each and every one of these characteristics in his music, resulting in a body of work that feels truly stirring. As I stated earlier in this review, our featured artist is from Dallas, Texas, and he makes it a mission to represent his city/hood in the trillest way possible at all times. Sometimes he comes across as defensive of his city, sometimes he comes across as protective of his city, but most of the time, he comes across as proud of his city. This results in bars and hooks that feel like they had their heart and soul poured into them.
Aside from all the things I described in the first paragraph, this mixtape is just flat-out fun to listen to. Lil Dramma and the people involved in the making of it made sure they picked beats to rap over that were nostalgic, upbeat and rowdy enough to entice our hero to be the rawest version of himself. Call me weird, but I also enjoy the random playbacks and DJ scratches throughout; it gives off this old school feel that I grew up on when mixtapes were in its heyday.
"Texas Raised" may not get the recognition it deserves, but it's OK, because the people it is important to will fully appreciate it.