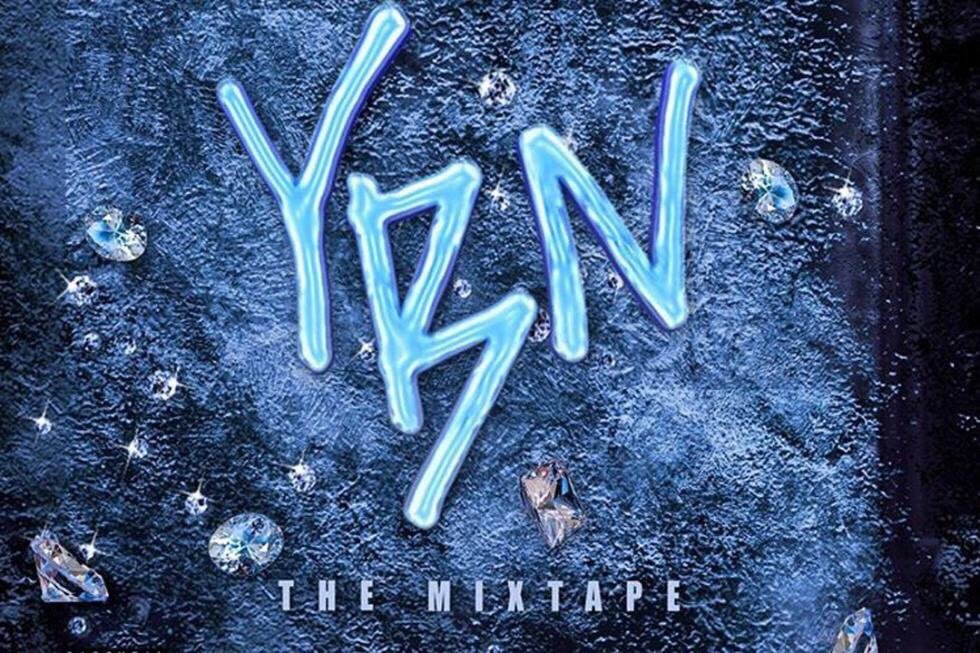 "YBN: The Mixtape" is our first legitimate chance to figure out if we are riding with the YBN crew for the long run or not. It also gives us a chance to weave them out from all the other young rap acts in the game. 
---
STREAM
---
TOP 5
HONORABLE MENTION. CAKE
Ironically, I like YBN Nahmir on strip club sounding joints despite the fact that he's not old enough to go to one. On "Cake," he and Wiz Khalifa make quite the anthem for all the scantly dressed women of the world, and it revolves around spending a couple thousand on them while reminding them who the man is.
While Nahmir's verse is on some sing-along type s**t, Wiz Khalifa goes hard on his part, ruffling his competition's feathers with some cocky lyrics about smoking on KK, running the game and being the ladies first pick in the real n***a draft. In my opinion, he provided the best guest feature on this project.
5. BOUNCE OUT WITH THAT (REMIX)
YBN Nahmir banks on being a ruthless n***a when he spits, and on "Bounce Out With That," he's as ruthless as it gets. From the hook to his long ass verse, the leader of the YBN crew dishes out nothing but savage lyrics centered around stealing n***as b*tches, shooting people in the face and calling shots. I like the relentless style he raps with throughout, but on the real, I feel like he needs to tone s**t down a bit.
Speaking of doing too much, Machine Gun Kelly is featured on this track (Another dude that usually does too much), and he drops a verse just as heinous as YBN Nahmir. The only difference between the two is that his flow is more dynamic, because if you ask me, YBN Nahmir is simply talking on his part.
This song is good, but it will make you feel old as s**t.
4. 2 TONE DRIP
"2 Tone Drip" sounds exactly like something Rich The Kid will make: I'm talking the same flow, same ad-libs and same lyrical content. If you are able to get over the severe swagger-jacking you hear (Which I am usually not), you will realize that this song has some explosive appeal to it, and Almighty Jay's presence/confidence in his bars are top notch. I like rappers that are confident in their bars.
3. TARGET
"Target" is a very intriguing rap tune. On it, YBN Cordae raps about being stopped by the cops, and how several of his minor slip-ups during the unfortuante incident got him into some deep water. What I love about his raps on this song is that he sprinkles in some impressive punchlines and clever lyrics here and there, but for the most part, keeps your attention when it comes to the story at hand. That's very hard to do as a lyricist.
This song was a great switch-up from all the talk of f**king b*tches and shooting people from the other two YBN's in the crew.
2. PORSCHES IN THE RAIN
Chemistry-wise, "Porsches In The Rain" is excellent. On it, YBN Almighty and YBN Nahmir go back-and-forth about basking in their winning ways while still being untouchable figures. I love how the song flows, the different kinds of slyness that you get from both artists, and most importantly, the cold instrumental they rap over.
1. PAIN AWAY
In "Pain Away," both YBN Nahmir and YBN Cordae bask in their recent successes, but at the same time, remind the people that they have their Draco close by if you think they've softened up. I love the grittiness that Nahmir raps with on the hook and his verse, and was pleasantly surprised that Cordae decided to use more of a melodic approach on majority of his verse. All in all, I think the track is the most unique on the project, and really has them tapping into their potential.
I actually felt something listening to this joint.
---
SONG BY SONG BREAKDOWN
1. INTRO (4/5)
2. PORSCHES IN THE RAIN (4.5/5)
3. NAH FOR REAL FOR REAL (3.5/5)
4. TARGET (4.5/5)
5. MAN DOWN (3/5)
6. 2 TONE DRIP (4/5)
7. FEEL LIKE (3/5)
8. CAKE (4/5)
9. WHIP IT UP (4/5)
10. BOUNCE OUT WITH THAT (REMIX) (4/5)
11. THINK TWICE (3/5)
12. FRESH (2.5/5)
13. DOUBLE BACK (3.5/5)
14. KUNG-FU (4/5)
15. UP-TOP BABY (3/5)
16. NEW DRIP (3/5)
17. MAKE ME FEEL (2.5/5)
18. NO RELATIONS (3/5)
19. BREADWINNERS (4/5)
20. PAIN AWAY (4.5/5)
21. CHOPSTICKS (3/5)
22. RUBBIN' OFF THE PAINT (4/5)
23. BOUNCE OUT WIT THAT (4/5)
---
OVERALL RATING
(C+)
If you listen to the old heads of the world, they'll try to convince you that none of these YBN cats are any good. But if you ask me, a semi-old head, I think they are actually pretty decent (Especially Cordae). I feel like the fellas have their rap mechanics down pat, and surprisingly, keep your interest with their boisterous styles despite talking about the same ole s**t these other rappers talk about (Except Cordae). In the next couple of paragraphs, I'll break down each YBN's strengths and weaknesses.
YBN ALMIGHTY
In all honesty, I think it's a damn shame how bad YBN Almighty stole Rich the Kid's swagger. I get it, dude is poppin', but his style is so unique that if it is stolen, it will be obvious to listeners. With that being said, I struggled listening to any song he had a hook on. However, I did like his energy on this project, as he sorta played ODB to the other two YBN's in the crew.
YBN CORDAE
YBN Cordae is the most lyrical rapper in this crew. I think he can go toe to toe with a lot of the top rappers in the game, which is why I think Cole has recruited him on his upcoming Fayetteville tour. On this project, he gives us some pretty unique tracks — ones that mainly has him stepping outside of the box when it comes to content. You can tell he challenges himself every chance he gets, finding unique ways to finish his bars and clever ways to keep us interested in his subject matters. I predict that he's going to have the best career out of the three YBNs.
YBN NAHMIR
YBN Cordae might be the most lyrical rapper in the group, but Nahmir is the most appealing. He's capable of dropping some pretty good bars when he wants to, but I think his strongest suit is his ability to give us something that we can bop to. He craves respect, and on this mixtape, he takes chance after chance at getting it. He's a lot of fun to listen to on this mixtape, but believe he lacks when it comes to actually talking about something of true substance.
Together, I love the crews camaraderie on this mixtape. You can tell they have this genuine love for one another, and truly want each other to succeed. Even though their music is very amateur (At best), their energy is impeccable, and if they can clean-up some of their reckless lyrics and lazy deliveries, I think they can end up doing some damage in the game.
Categories: Best Song, Best Songs, Best Tracks, Hip Hop, Mixtape, Mixtape Rating, Mixtape Ratings, Mixtape Review, Mixtape Reviews, New Music, New Songs, New track, Rap, Rating, Ratings, Review, Reviews, Stream, Top 5, Top 5 Songs, Top Ratings, Top Reviews, Top Songs, Top Track, Top Tracks, Track by Track, Track by Track Review, YBN: The Mixtape