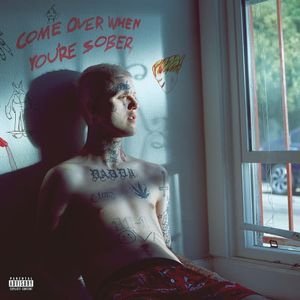 Lil Peep's scary tales of drug abuse and heartbreak resonates quite a bit with me, especially now that he's gone. In the chilling "Come Over When You're Sober, Pt. 2," the fallen rapper discusses some of these tales, gifting us with a body of work that is beyond bittersweet.
---
STREAM
---
TOP 5
5. LIFE IS BEAUTIFUL
Lil Peep's "Life Is Beautiful" is a rude wake-up call to all the s**t going on in the world today.
I think it is fairly obvious that Lil Peep was in a dark place before his passing. In majority of his releases, he talks about abusing drugs and not having a full grip of his life, legitimately sounding like someone who can no longer decipher between fantasy and reality. in "Life is Beautiful," the heavily tattoo'd artist talks about how thin the line is between happiness and despair, giving examples of both in his lyrics. Overall, the soulful track is dark and features a bone-chilling vocal performance by Peep throughout.
When you complain that Chipotle didn't give you enough chicken in your burrito, I'm going to play this song for you.
4 .RUNAWAY
In "Runaway," Peep opens up to the world, letting us know the reasons he took drugs and how fake individuals have been eating at his mental. The song boasts this smooth fusion between hip hop and rock instrumentally, and listeners are blessed with some pretty passionate vocals from our fallen hero throughout. The combination results in some pretty deep music.
3. SEX WITH MY EX
"Sex With My Ex" is Titanic meets Fifty Shades of Gray: It features some intense passion, lots of blunt sex talk, but also some sentimentalism. In my opinion, if my situation with my ex had all of those characteristics, I might consider taking off the restraining order I currently have on my ex and paying her a visit!
Musically, this song has a really good melody, and lyrically, it's as real as it gets.
2. BROKEN SMILE (MY ALL)
"Broken Smile (My All)" is powerful. It starts off somber, featuring a soothing instrumental and some solemn vocals by Peep. From there, things do a complete 360, as it turns into this bass-heavy rock instrumental that does a great job of knocking pictures off the wall and waking computers from their sleep. On it, Peep sings his heart-out, piecing together his feelings after a break-up with the woman of his dreams. I love how Peep doesn't hold back a single bit when it comes to singing, even if that means his vocal chord gets shattered.
1. FALLING DOWN
So much talent gone to waste here…
In the last year and some change, we've lost some talented artists in hip hop, something that doesn't quite sit well with me. Two of our young fallen soldiers, XXXTENTACION and Lil Peep, were some of the more unique ones, and their collaboration together called "Falling Down," you get a chance to see just how unique.
Much like both artists love to do when they make a song, "Falling Down" crosses genres, primarily taking an electrifying rock and roll sound and turning into something more pop-sounding and relatable to the hip hop community. Throughout, you get some daring harmonizing from both of our heroes, and the words they get a chance to deliver will pierce at your soul with its deep and powerful nature. In my opinion, this isn't just some quickly put together song by both of their managers (Something that used to happen back in Pac's days), it's an actual real record.
R.I.P. to both of these dudes.
---
SONG BY SONG BREAKDOWN
1. BROKEN SMILE (MY ALL) (5/5)
2. RUNAWAY (4.5/5)
3. SEX WITH MY EX (3.5/5)
4. CRY ALONE (3/5)
5. LEANIN' (3/5)
6. 16 LINES (3.5/5)
7. LIFE IS BEAUTIFUL (4.5/5)
8. HATE ME (4/5)
9.IDGAF (4/5)
10. WHITE GIRL (3.5/5)
11.FINGERS (3.5/5)
12. FALLING DOWN (5/5)
13.SUNLIGHT ON YOUR SKIN (4/5)
---
OVERALL RATING
(B-)
I thought "Call Me When You're Sober, Pt. 2" was a fascinating listen. It was passionate, chilling, deep, depressing, cold and daring. Peep dove deep into his feelings on it, never caring if he crashed and burned in the process.
You know what I loved about "Call Me When You're Sober, Pt. 2?" The melodies. Every song had some sort of infectiousness to it that made you want to sing-a-long, even if that meant reciting disturbing lyrics. I swear, if we are able to clean-up his lyrics a bit, I have reason to believe that some of his tracks on this album can be perfect for some kidz bop s**t.
I don't know about you, but I felt like I zoned out listening to this album from start to finish. The instrumentals and both Peep's lyrical content + singing made sure to grab your emotions and make it beg for mercy throughout. I was impressed with what I heard, but even more impressed with what I felt.
Ladies and gentlemen, if you have someone that is dealing with depression or drug-abuse, please get them help! Sometimes overcoming pain can't be done by oneself, so if you see where you can barge into the life of someone that is in need, do it!