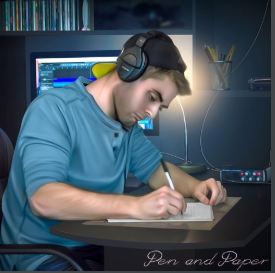 Rkham's dedication to his craft is fairly obvious. You can tell he cares about all the ins and outs that go into delivering a masterful body of work, simply by listening to his phenomenal lyrical content and knack for delivering passionate content. In "Pen & Paper," a project the Rockton, Illinois native considers one of his most important to-date, he shines bright, allowing us an opportunity to dive deep into the mind of a guy who simply wants to let his emotions manifest itself through his music.
---
STREAM
---
TOP 5
5. ANOTHER ROUND
With Pen & Paper featuring some pretty somber music, I thought it was refreshing to hear something uplifting out of Rkham on "Another Round."
With "Another Round" boasting this galvanizing instrumental, Rkham gets aggressive, preparing himself to take on whatever obstacle that gets thrown his way during his road to success. The ferocity in his delivery throughout makes the song feel riveting, while his metaphors, punchlines and spirited hook makes it sound inspiring. Matter of fact, if you aren't motivated to take on a Lion after hearing the track, you must've bumped your head.
4. NOT OKAY
In "Not Okay," you get Rkham's best singing performance. With it featuring this R&B trap instrumental, our hero absolutely lets loose, delivering some daring vocals and opening up about his love life in ways you simply don't get from other artists in the game. Aside from that, the melody he was able to put up on this song is phenomenal, and the way he harmonizes his lyrical content truly forces you to get engulfed in his world of sorrow
3. RELEASE
I personally believe "Release" features Rkham's most impressive bars. On his verses, he utilizes unbelievable wordplay and a myriad of flows, plowing through the emotional instrumental he was served with masterfully. As the song goes on, things gets more and more intense, as our hero shows the world this ferocious side to him that is intent on making you feel his words of being under-appreciated and misunderstood.
2. ALL MY DAYS
For all the so-called hip-hop fans of the world, "All My Days" should move the needle for you. It features an infectious hook that is both smooth and serene, fantastic bars by Rkham, Eric Norman and Kauai, and these vibes that sorta give off this 'chilling on the steps of an apartment complex trading bars with friends' kind of feel. Personally, I love how each artist navigates through the mellow old school instrumental they were greeted with, never stressing a single bar while also sounding like absolute pros at putting together their raps.
1. WHO I AM
I absolutely love "Who I Am!" The song is passionate, valiant and spirited. Aside from that, the song is powered by this colorful trap instrumental that has a great bop to it, and a few melodies by Rkham that are literally impossible to dislike. But with all that being said, my favorite part about this song is the introspective words you get on Rkham's verses — They are powerful, brutally honest, and extremely relatable. In my opinion, if you can't f**k with this song, you may need to be checked for a pulse.
---
SONG BY SONG BREAKDOWN
1. PEN AND PAPER PERCEPTION (N/A)
2. WHO I AM (5/5)
3. RELEASE (4.5/5)
4. FOREVER LOVE (3.5/5)
5. NOT OKAY (4/5)
6. LAST GOODBYE (3/5)
7. ANOTHER ROUND (4/5)
8. ALL MY DAYS (4.5/5)
9. LIFE (4/5)
10. INK (4.5/5)
---
OVERALL RATING
(B)
Music should be felt just as much as heard, and in "Pen & Paper," Rkham made sure he provided us with an album that did just that. From the moment you press play on it, the talented Illinoisan was able to put you in his spell through poetic words, heavy-hitting bars and truly soulful vocal contributions. Aside from that, content-wise, he tackles some truly tough topics in a way that is just as unpredictable as it is honest. I love that about the project, mainly because it keeps you on your toes.
Production-wise, "Pen & Paper" is fantastic! Some songs gave off trap vibes, some gave off old school vibes, and some had a combination of both. As I stated earlier, Rkham has a great ear for music, so he approached each song doing what he needed to do to make it successful: That can mean crooning more than rapping, adding the appropriate guests to compliment him on tracks, or simply letting the instrumentals he was given end up the star of the show. At times, I did think he forced some of his bars, but those bars were mainly real, so you won't really notice.
You know what Rkham reminds me of? a more tamed Logic. He spits hard, is a studier of the game, and is someone who doesn't mind spilling his guts out over whatever beat he's been given. In my opinion, this album of his is a very enjoyable listen, and one that a lot of people will f**k with simply because of its relatability.