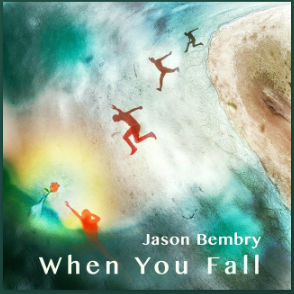 Jason Bembry's "When You Fall" is a gripping EP that does its best to fascinate you every step of the way.
---
STREAM
---
TOP 3
3. SAFE
"Safe" is outstanding! Powered by this piano-heavy instrumental, Jason lets loose, blessing us with his most daring performance on the EP. Not only does he reach vocals higher than a skyscraper, but he also delivers his most personable/vulnerable lyrics, too. Much like Jason, I do believe finding a love you can rely on is important, especially when she's the only one that knows what to do to put a smile on your face.
2. A WALK INSIDE
I love "A Walk Inside!" It's fun-loving, organic and brilliantly put together. With the song revolving around Jason trying to figure out the mindset of this one lover of his, I enjoyed how he did his best to piece things together on his contributions, dealing with the ebbs and flows that not only the situation bestowed on him, but also the radiant/evolving instrumental, too.
1. WHEN YOU FALL
I think it's fitting that "When You Fall" follows "A Walk Inside." With its predecessor being based on the many complications that come with a frazzled love, I found it heartwarming that this song promoted relentlessness, positivity and the benefits of staying the course in a situation that might persuade you not to.
Energy, energy and more energy permeates through this song. I feel like the drums in the instrumental served as appropriate heartbeats, while Jason's singing exuded nothing but joyous feels. He's alive, folks! And as a result, everything feels like one big celebration!
---
SONG BY SONG BREAKDOWN
1. A WALK INSIDE (5/5)
2. WHEN YOU FALL (5/5)
3. WE STAY (4.5/5)
4. SAFE (5/5)
5. NO SLEEP (4/5)
6. WALLS (4.5/5)
---
OVERALL RATING
(A-)
Jason Bembry's knack for creating music that makes you feel something is beyond impressive to me. Also, I love his creativity when it comes to everything from his radiant instrumental selections to his engaging lyrical content. In "When You Fall," Jason does it all, blessing listeners with a short body of work that takes you on quite the emotional roller-coaster ride.
If you want to hear a body of work that is refreshing, give Jason Bembry's "When You Fall" a shot.