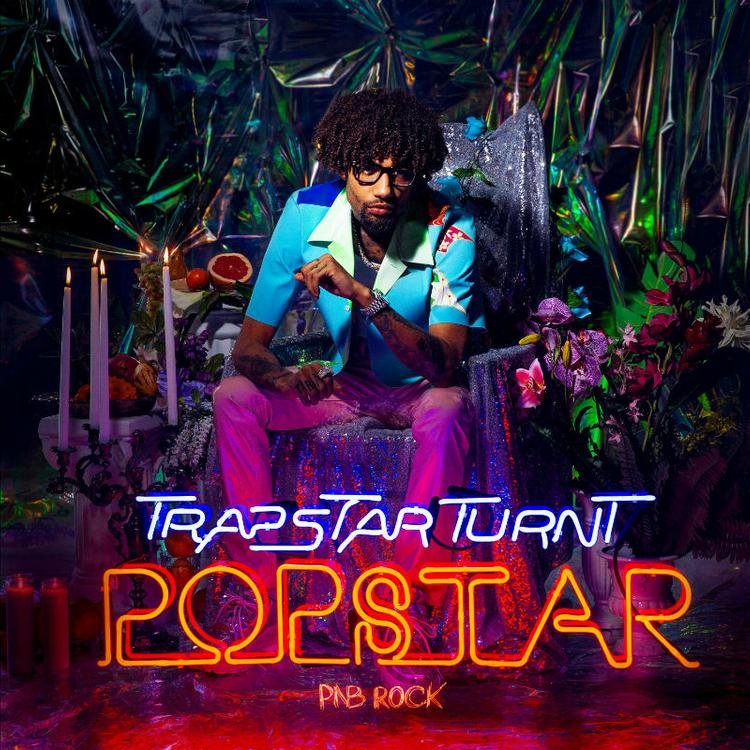 I wouldn't necessarily call PnB Rock a popstar, but I get it, he's come a long way. However, Pnb has yet to release a body of work that has impressed me. In "Trapstar Turnt Popstar," I expect the Pennsylvania singer/rapper to finally find his groove in an industry that is catered for him to dominate (S**t, he sounds like Ty Dolla $ign, so why can't he dominate hip-hop like Ty does, too?).
---
STREAM
---
TOP 5
5. PUT YOU ON
Welcome to 2019 where duets consist of rappers who sing until their vocal chords shatter.
"Put You On" does not consist of the best singing you will hear in music today, however, it is very passionate. First and foremost, the song is powered by this emotional/hard-hitting beat, and over it, both PnB Rock & A Boogie Wit Da Hoodie each sing their hearts out about pursuing this chick they seem to want, but not really want at the same time. As expected, you get a lot of bragging, reckless sex talk and anti-romeo s**t from Pnb and Boogie on their respective contributions, in addition to inebriated-sounding deliveries. If anything, this song is more interesting than it is enjoyable.
5. ALL THESE BANDS
"All These Bands" is pretty high-octane. Matter of fact, the floor was shaking while I was listening to it, despite the fact that I was playing that s**t on some speakers. Anyway, on the track, PnB Rock and Tory Lanez go back and forth on some braggadocios s**t, each talking about everything from their wads of cash to their luxurious cars, all in hopes of getting a couple of bad ass chicks to roll with them on their journey to wherever the hell they are going for the night. On the real, I f**k with the chemistry both artists show on the track, in addition to how raw and carefree their lyrics are on their respective verses.
4. I NEED MORE
"I Need More" feels like a blend between R&B and some gangsta s**t, which means Pnb covers every basis of hip-hop I need in my life right now. Content-wise, the frizzy-haired singer is as raw as he's ever been on this song, as he does his best to flex on some chick he's feeling (and her ex), while also giving himself a pat on the back for the grinding he had to do to get to where he is now. Personally, I love how dynamic the track sounds, especially when it comes the beat and the many different styles Pnb sings with on it (You can keep his weak ass lyrics).
3. HOW IT FEELS
"How It Feels" damn there had me in tears, folks 🙁 . On it, PnB Rock begs for his chick to allow him to love her, ultimately promising he will give her good sex, gifts and protection. Personally, I enjoy everything from the passionate vocals to the vulnerable lyrics PnB gives us on this song, as he practically drags himself to the finish line of it with a broken heart and drool on his shirt.
Is this not the most light skin-sounding song you've ever heard in your life?
2. I LIKE GIRLS
Pnb Rock and Lil Skies are two of Pennsylvania's brightest stars. With that being said, on "I Like Girls," instead of talking about their come-up as artists, the duo touches on fun topics such as diving in bi-sexual chicks and making straight ones do something strange for a piece of change. While PnB sings his ass off on the track, Skies drops something a bit grittier on his contributions, literally coming across like Dennis Menance on lean. Overall, I like what the tandem was able to deliver on this song, even if one of the girls they like is mines.
I had no clue Skies sounded so similar to Swae Lee.
1. ABCD
If you thought PnB Rock sounded like Ty Dolla $ign before, wait 'til you hear "ABCD."
As you may know by now, no man has ever been content with being in the dreaded 'Friend Zone,' so a song like "ABCD" can serve as the perfect anthem for us. What is a bit of a head scratcher about it, though, is that it sounds all gentle and s**t, as PnB Rock sings with his highest pitch/calmest tone possible over this airy ass instrumental. Don't get me wrong, the lyrics PnB delivers on the hook and his verses are trill, but for the most part, the track is cute and adorable-sounding.
---
SONG BY SONG BREAKDOWN
1. DREAMIN' (3.5/5)
2. I NEED MORE (4/5)
3. DEEZ STREETS (3.5/5)
4. GO TO MARS (3/5)
5. PENNY PROUD (2.5/5)
6. MIDDLE CHILD (3/5)
7. F**K UP THE CITY (3/5)
8. NOWADAYS (2.5/5)
9. NOW OR NEVER 2.0 (2.5/5)
1. SWERVIN' (3/5)
2. I LIKE GIRLS (4/5)
3. ALL THESE BANDS (3.5/5)
4. PUT YOU ON (3.5/5)
5. STAGE FRIGHT (3/5)
6. CHOOSIN' (2.5/5)
7. MY EX (3.5/5)
8. ABCD (4.5/5)
9. HOW IT FEELS (3.5/5)
---
OVERALL RATING
(C-)
Here's how I would describe PnB Rock: A pretty decent singer that has rap roots, which in my opinion, means he's a dynamic artist. So why is it I rarely find his music all that dynamic? On way too many songs on "Trapstar Turnt Popstar," Pnb comes across as contrived, flexing on n***as over and over again, and yapping about his street ways in the same tired ass manner. Nothing about his lyrical content felt well though-out, while his random bursts of grittiness was yawn-worthy. In other words, PnB showed us that he has the talent of a superstar musician, but the subject-matters of a high school jock on this album.
I know what you're thinking: Why am I so hard on Pnb Rock in this review? Because he's way too talented to be making the easy ass s**t I heard on this album. How easy is it for an artist to make a song called "I Like Girls?" — A track that has both Pnb and featured guests talking about the same ole s**t that everyone else talks about. How about "All These Bandz?" — A song in which Pnb talks about all the money he has for the 100th time and how for this reason girls should latch onto him. I've come to conclusion that Pnb is the definition of a n***a that dumbs down his music to a decimal, and I think that's a shame, because he has a good feel for both rap and R&B music.
OK, I promised I would say something nice about this album, so I am going to right now: I thought the production on it was pretty decent. From various big name producers such as Diplo to Yung Berg (Hitmakas), PnB was hooked up with instrumentals that were colorful, yet trap; hard-hitting, yet jazzy; clubby, yet serene. While PnB will keep you awake with his boisterous crooning and aggressive content, the instrumentals is the reason you won't be as mad when you find out that you only got two hours of sleep.
I didn't like the features on this album. Everyone seemed like they were thrown into whatever song they were on for no rhyme or reason. With that being said, I liked what Lil Durk and Lil Skies were able to do on their respective appearances, and absolutely hate what Quavo and Tee Grizzley did on theirs.
For a small number of artists in the game, standards should be placed on them; PnB Rock is one of them. His ability to bridge the gap between R&B and rap is both valuable and impressive, yet, whenever he makes a body of work, he comes across as one-dimensional in several different facets. Personally, if you ask me, he doesn't love music as much as he should, because listening to this album, I hear a lack of effort, creativity and growth. I can honestly say, what I heard on this two disc project (Which I don't get why this s**t is split into two) was not better than any of his prior work.