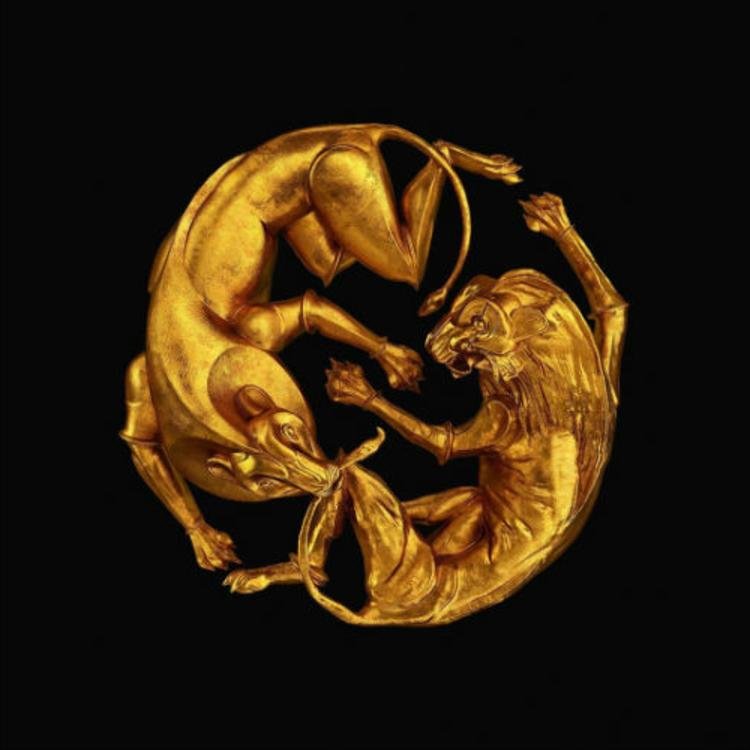 Beyoncé and all of her old/new industry friends deliver phenomenal performances in  "The Lion King: The Gift."
---
STREAM
---
TOP 5
HONORABLE MENTION. FIND YOUR WAY BACK
"FIND YOUR WAY BACK" is one of the most effortless afro-inspired tracks on this album. On it, Beyoncé talks about the importance of understanding how to act grown and resilient when it comes to facing this crazy world we live in. Personally, I love the feel-good energy attached to the song, and as a whole, how easy-going it is.
5. SPIRIT
Beyoncé doesn't make much music these days, but when she does, it's usually a movement… "Spirit" is a movement!
"Spirit" is a very uplifting track that features an unbelievable vocal performance by Beyoncé, an epic instrumental, and a choir that I guarantee will give you the chills. If there was any doubt that Lion King was going to have some soul to it, that s**t will be put to bed after you listen to this song.
4. BIGGER
"BIGGER" is very powerful! Matter of fact, you know a Beyoncé song is powerful when she sings and her voice cracks.
"BIGGER" doesn't have a hard-hitting instrumental or a catchy hook, what it does have is an infectious melody, an outstanding vocal performance by Beyoncé, and most importantly, lyrical content revolving around understanding the magnitude of legacies, love and unwavering support. If you don't like that combination of aspects, you may need to be unfollowed by GOD.
Beyoncé gave me serious chills on this song (Either that, or I need to turn off my damn AC).
3. MOOD 4 EVA
"MOOD 4 EVA" features Beyoncé, Jay-Z and Childish Gambino (Excuse me while I wipe s**t off of my pants).
While there are plenty of moments on this album in which African pride is shown, I thought "MOOD 4 EVA" displayed outstanding African-American pride. On it, Beyoncé uplifts the slayers of the world with this high-octane hook and verse, letting regular Joes like myself know how unf**kwittable, strong and blessed she is. From there, Jay-Z and Childish Gambino grab the baton, with the former dropping off this teflon-strong verse that has him paying homage to both Lagos and some of America's biggest music stars of all-time, and the latter delivering a serene contribution at the very end that is divine, yet slightly trill-sounding.
As much as I love how this song turned out, the hip-hop fan in me sorta wished Childish Gambino would've went bar for bar with Jay-Z on it.
2. JA ARA E
Burna Boy absolutely murdered "JA ARA E" (OK, maybe 'murdered' is the wrong word to use for this family-friendly project… What about 'severely punctured' "JA ARA E?")
For those of you that are new to this whole Afro-fusion wave, Burna Boy is one of those artists that is capable of meshing both the new school and old school styles of the genre together masterfully. With that being said, "JA ARA E" is just as Fela Kuti as it is WizKid; just as pure and organic as it is universal and commercialized; and lastly, just as 1994 Lion King as it is 2019 Lion King.
In my opinion, Burna Boy sounds like the epitome of a strong African man. Not only does he have this sturdy voice, but he also knows how to make his accent/broken-English come across as seraphic. Man, I am such a fan of his!
1. OTHERSIDE
You knew a song in which Beyoncé shows off how heavenly she is capable of being as an artist was coming; Well, "OTHERSIDE" is that song!
Much like "BIGGER," "OTHERSIDE" will give you serious chills. It features this soothing/saintly instrumental, a numbing vocal performance by Beyoncé, nurturing sentiments, and even someone's native language (I'm not sure what language they were speaking… Call me ignorant all you want, but Nigeria alone has over 520 languages). In the end of the day, many will disagree with me when it comes to putting this song as the top on this album, but when it's all said and done, I believe it's timeless-sounding, absolutely beautiful, and most importantly, cinematic-ally done.
---
SONG BY SONG BREAKDOWN
1. balance (mufasa interlude) (N/A)
2. BIGGER (5/5)
3. the stars (mufasa interlude) (N/A)
4. FIND YOUR WAY BACK (5/5)
5. uncle scar (N/A)
6. DON'T JEALOUS ME (4/5)
7. danger (young simba and young nala interlude)
8. JA ARA E (4.5/5)
9. run away (scar and young simba interlude)
10. NILE (3/5)
11. new lesson (timon, pumbaa & young simba interlude) (N/A)
12. MOOD 4 EVA (5/5)
13. reunited (N/A)
14. WATER (4.5/5)
15. BROWN SKIN GIRL (4.5/5)
16. come home (nala interlude) (N/A)
17. KEYS TO THE KINGDOM (4.5/5)
18. follow me (rafiki interlude) (N/A)
19. ALREADY (4/5)
20. remember (mufasa interlude) (N/A)
21. OTHERSIDE (5/5)
22. war (nala interlude)
23. MY POWER (3.5/5)
24. surrender (simba and scar interlude) (N/A)
25. SCAR (3/5)
26. i'm home (mufasa, sarabi & simba interlude) (N/A)
27. SPIRIT (5/5)
---
OVERALL RATING
(B+)
Just to sum it up for you guys: Jay-Z, Blue Ivy, Donald Glover, Pharrell Williams, Kendrick Lamar, Tierra Wack, Jessie Reyez, 070 Shake, Yemi Alade, Mr. Eazi, WizKid, St. Jhn, Shatta Wale (No, not DMV rapper Wale, Shatta Wale (SMH)), Moonchild Sanelly, Tiwa Savage and Tekno are all featured on this album. Some you heard clearly, while others you probably had to have Google by your side to figure out which song they were on. Whatever the case may be, everyone but Jessie Reyez put up very solid performances on this album, to me. But in the end of the day, the biggest artist in music right now, Beyoncé, was the star of this African-inspired/epic show, and to be honest with you, she didn't disappoint. Not only was her vocal performances flawless on this album (Especially on songs like "BETTER," "OTHERSIDE" and "SPIRIT"), but the balls she showed to dive nose-deep into authentic Afro-pop/fusion music was hella impressive, too. In my opinion, this displays to the world how fearless of an artist she is, in addition to the real admiration for the African culture she has ingrained in her soul (How she is able to dabble in another country's culture and not sound like a culture-vulture is astonishing). Beyoncé, you officially deserve an honorary African card.
I can already hear my Naija friends complaining about my top 5 now (I can hear the "Twww's" through your page views)…. Don't get me wrong, I absolutely loved songs like "BROWN SKIN GIRL" and "WATER," but in the end of the day, those songs can't really compete with some of the other legendary afro-hits I heard in the past couple of years. However, when I listened to songs like "OTHERSIDE" and "BETTER," I heard legendary efforts that can stand the test of time, are epic-sounding, and extremely hard to perform, write, arrange and duplicate. In other words, I feel confidently matching these songs with whatever song you think is epic-sounding in your music library.  (I will probably still find myself bumping all the Afro-hits on this album over and over and over again this summer, though).      
You know what else I loved about this album? It gave a bootlegger like myself snippets of the Lion King movie. Now I'm about to put them all together and make that s**t into an audio movie!
I always love giving praise to producers, because in my opinion, they do not get enough credit for what they provide to projects. With that being said, I thought the production on this album was outstanding! As a Nigerian-American, I felt like both sides of my blood was satisfied, as I got treated to the rich and beautiful culture of Black-Americans through powerful/strapping vibes, in addition to an authentic feel of Africa's (Mainly West Africa's) very underrated history represented throughout the instrumentals on this album. As a music fan, I am very thankful for all the producers that contributed to this project.
Honestly, get the f**k up out my Nigerian trap house if you aren't feeling this album! It's way too cultural to ignore, and when it comes to its epic feel, I thought it was laced with too many chill-worthy moments. As for my review, if you thought it sucked, go ahead and eat expired palm oil, Jo!