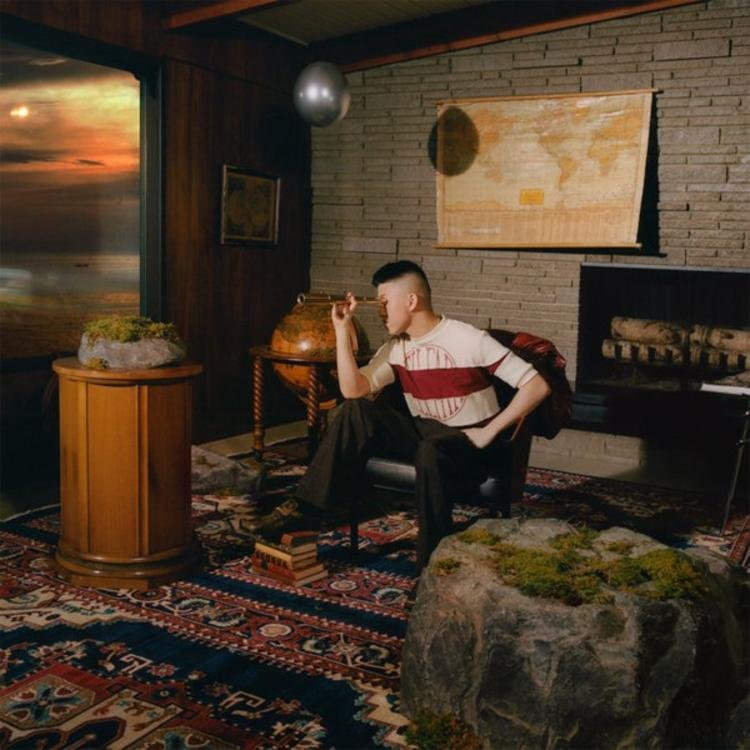 Rich Brian embarks on step two of his masterplan to take over rap with "The Sailor."
---
STREAM
---
TOP 5
HONORABLE MENTION. CURIOUS
"Curious" isn't the most exciting song to listen to, but I do think it's very deep and a great opportunity to get to know the real Rich Brian.
On "Curious," Brian talks about hanging around fake friends, getting sick after sleeping with a girl, missing home, his old self, and most importantly, how fame has changed his life. Not a moment of this song feels unauthentic, instead, it's all-the-way raw and unfiltered.
5. DRIVE SAFE
In "Drive Safe," Rich Brian shows off his singing skills.
With "Drive Safe" being powered by this 'She Loves Me, She Loves Me Not' ass instrumental, Brian opens up about his dark thoughts, his mission to find happiness, and his eagerness to be touched by someone with more power in their hands than Raiden from Mortal Kombat. While people in the bando might throw up their cup-o-noodles while listening to Brian sing heavenly on this track, I personally enjoyed it!
We got to hear Rich Flower Boy on this track.
4. YELLOW
"Yellow" is very dramatic. Not only is it powered by this violin-heavy instrumental, but on the hook, you get something deep, passionate and sobering by featured guest Bekon. As for Rich Brian, he goes ham on his contributions, taking on his rap peers and crazy thoughts using this tumultuous rapping approach. S**t, after listening to everything this song had to offer, my mind exploded. (It took me like three hours to put it all back together).
Kids, "Yellow" is what it sounds like when a song comes down from drugs. (Moral of the story: Don't do drugs, kids!)
3. 100 DEGREES
"100 Degrees" is probably the most enjoyable song on this album. On it, Rich Brian basks in good weather, bad b*tches and questionable decision-making all over this sunny trap instrumental (How weird does that sound). While the hook that you get from Brian on the song is gleeful, his first verse is a little less f**k-boyish, and his second verse is gritty and savage. S**t, I guess we got a chance to hear Rich Brian, Rich Chigga and Rich Flower Boy on this joint!
2. RAPAPAPA
"Rapapapa" is interesting… While it is powered by this pretty smooth instrumental, you get tongue-twisting flows and savage lyrics centered around tearing up some punani by Rich Brian on it. Whatever the case may be, I think you get the Indonesian rapper's second best bars on this track, plus the combination of hard-hitting elements and smooth elements is pretty dope, to me.
1. KIDS
Rich Brian morphed himself into a legendary rapper in "Kids."
I thought Rich Brian was a good rapper even back when he was calling himself Rich Chigga. With that being said, in "Kids," he spits like an all-time great (Yes, he spits like an all-time great on this track)! Not only does he attack the old school-sounding hip-hop instrumental he was served with confidently, but he also does a bunch of boss-like gloating on his verses, too. Additionally, Brian talks about his sudden fame and luxurious living, implying that anyone can be like him if they put in the work.
Am I the only one that had no issues with Rich Brian calling himself Rich Chigga after hearing him rap?
---
SONG BY SONG BREAKDOWN
1. THE SAILOR (4/5)
2. RAPAPAPA (4.5/5)
3. YELLOW (4/5)
4. KIDS (4.5/5)
5. DRIVE SAFE (4/5)
6. CONFETTI (4/5)
7. VACANT (4/5)
8. NO WORRIES (3.5/5)
9. 100 DEGREES (4.5/5)
10. SLOW DOWN TURBO (3.5/5)
11. CURIOUS (3.5/5)
12. WHERE DOES THE TIME GO (3/5)
---
OVERALL RATING
(B-)
Though he boasts one of the most basic names in rap today, Rich Brian's mind is not basic at all. In "The Sailor," the 19 year old rapper seeks smoke with rappers, seeks one-night stands, seeks love, seeks the meaning of life, seeks a visit back home, and seeks approval. While what he seeks isn't weird to me, what IS weird is how he tries to retrieve each.
"The Sailor" feels like a power struggle between traditional, fantasy and mushy rap. While you get your heavy-hitting tracks like "The Sailor" and "Kids" on the album, you also get mystifying interludes at the beginning and end of songs, and random tracks full of sentimental/personal moments, too. Personally, I thought Brian did a fantastic job of getting the three vastly different worlds to sit in the same room together and play nice. I also thought Brian did a great job of morphing into whatever version of himself the instrumental he was handed asked him to be — that includes a daring singer, a competitive rapper and someone unchained. To me, this shows the fearlessness and cojones of the Asian rapper.
OK, I have one beef with this album: Rich Brian can rap, but to me, he's missing some umph with his style. Don't get me wrong, I HEAR his decent punchlines, I HEAR his solid word-play, I HEAR his complex flows, confidence and solid singing, but for whatever reason, I don't FEEL any of those attributes from him that I just named. On some real s**t, Brian's raps doesn't impose its will like his lyrics and aggression suggests it should. How do you fix that? Maybe you put more emphasis on your bars, or perhaps you slow- up your delivery a bit. With time, I'm sure he'll find a way to make us FEEL him more (I'm married, so I only want to feel him a little bit).
You know the first person that came to my mind while I was listening to this album? Jaden Smith. In my opinion, Rich Brian and Jaden Smith share similar rebellious mindsets. While Brian is a little less daring than Jaden, he does still take listeners on unpredictable twists and turns in his music like the "SYRE" rapper does. Unfortunately, just like Jaden, Brian might be so sky-high in his own world, it may take some time for us normal human-beings to get on his level. Well, I have nothing going on in my life, so I can wait for his music to make complete sense to me.