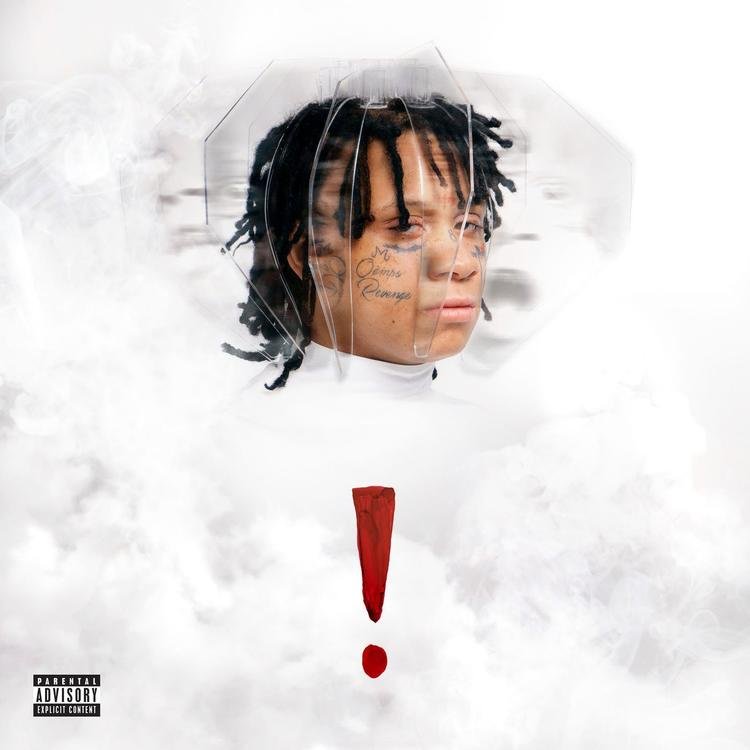 Trippie Redd looks to bolster his already impressive resume with "!."
---
STREAM
---
TOP 5
5, UNDER ENEMY ARMS
Trippie Redd sounds like he's ready to go to war with one of his foes in "Under Enemy Arms."
I f**k with the army-like instrumental, the melody, and the gritty lyrical content that powers "Under Enemy Arms." What I do not f**k with about the song is Trippie's wishy-washy delivery of his lyrics on his verses. (At times, Trippie sounds like he's rapping while gargling on some mouthwash). Taking the good and the bad I just mentioned into consideration, I can see some hating this song and others actually f**king with it.
4. MAC 10
"Mac 10" feels like a terrifying reminder of the things Trippie Redd would do to you if you try to cross him.
I love the gritty nature attached to "Mac 10." I also love how Trippie and featured guests Lil Baby & Lil Duke tackle their respective verses on the song with this military-like approach. Who doesn't like listening to militant rappers?
Am I the only one that continues to question Trippie's gangsta ways even after he drops tough-ass songs like "Mac 10?"
3. !
Sometimes I believe Trippie Redd is too talented for his own good. Think about it: Trippie can rap well, he can sing well, and what "!" tells me is that he can drop some authentic EDM-sounding s**t, too!
"!" features an electrifying instrumental by Diplo, and vocals by Trippie Redd that are both daring and passionate. In Trippie Redd's verses on the song, he talks about trying to repair his mental before going after a chick that might be bad for him. I guess the Canton native finally understands what it means to nurture to something that is fragile (Only if Trippie treated his face with this same mindset).
Diplo and Trippie have great chemistry!
2. BE YOURSELF
Trippie Redd reminds me of one of those badass kids that tells badass kids that are younger than him to not be as bad as him.
"Be Yourself" is both motivational and gangsta. On it, Trippie bounces between giving good advice about staying true to yourself, and poor advice about shooting up foes/splurging on n***as. The combination of the two approaches makes for some bi-polar-sounding s**t.
I feel like I actually learned something from this song: Shoot people if they don't let you be yourself!
1. IMMORTAL
"Immortal" features two of rap's most outrageous individuals in The Game and Trippie Redd.
I love how emotional "Immortal" sounds. I also love the singing that you get from Trippie Redd throughout the song (I especially like the melody he was able to gift us with). When you add The Game's trill ass verse to the equation, what you get is one of Trippie's best songs to-date.
The Game was on a Trippie Redd album before a Rick Ross album this year… (Can't say I saw that coming)
---
SONG BY SONG BREAKDOWN
1. ! (4/5)
2. SNAKE SKIN (3/5)
3. BE YOURSELF (4/5)
4. I TRY (3.5/5)
5. THEY AFRAID OF YOU (3.5/5)
6. IMMORTAL (5/5)
7. THROW IT AWAY (3/5)
8. KEEP YOUR HEAD UP (2/5)
9. RIOT (3/5)
10. MAC 10 (3.5/5)
11. EVERYTHING BOZ (3/5)
12. UNDER ENEMY ARMS (3.5/5)
13. LIL WAYNE (3/5)
14. SIGNING OFF (3.5/5)
---
OVERALL RATING
(C)
Trippie Redd might be the most unique artist I've ever heard in my life. Personally, I think his ear for music is fantastic, but at the same time, I believe he has musical habits that are troubling. With that being said, "!" is one big experimental effort from the Canton native that I have mixed feelings about.
Surprisingly, I believe Trippie Redd is a pretty versatile artist. Rapping-wise, I think he is capable of putting together bars with decent punchlines and clever lyrics, while singing-wise, I believe he is capable of putting together s**t that is melodic and solid vocally. However, when Trippie decides to go postal on a song (Which is too many times on this album), he ends up a middle of the pack artist. So with that being said, you will be frustrated with a good chunk of "!," as, at times, in the album, Trippie shines doing what I said he does best, but too many times he resorts to blurting out random s**t and playing internet gangsta. If Trippie could tap into his introspective bag like he did on "immortal" and "Be Yourself," I think he can be a special artist.
I actually love the vibes attached to "!." Most beats are comforting, while others take on military-like feels. Regardless of the beat he's handed, Trippie attacks s**t blindfolded, caring less to fit in or fit-out. Personally, I love that level of rebelliousness when you talk about music-making. (This is partially the reason I didn't give him a bad score for this album)
The features on "!" were so-so, to me. Playboi Carti was GOD-awful on "They Afraid Of You," while Lil Baby, Lil Duke, and The Game put up solid verses in "Mac 10" and "Immortal" (Respectively). But at the end of the day, most of the work on this album was done by Trippie himself. (Which I am OK with)
After a very solid debut album, Trippie has sorta regressed as an artist in my eyes. As I mentioned earlier, he's fallen in love with experimenting, which in my opinion, has resulted in some growing pains for him musically. I have no doubt in my mind that Trippie will figure things out eventually, but in the meantime, I can't quite endorse this step in his maturation process.