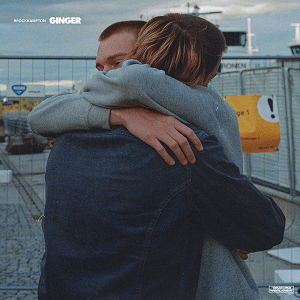 According to my podcast partner, BROCKHAMPTON has no fans. If so, I wonder how they are able to sell a good amount of albums like they do. Today, with the release of "GINGER," the fourteen man group looks to continue their silencing of haters by delivering a body of work for us that is as cool as anything you've heard more recognizable rappers make.
---
STREAM
---
TOP 5
5. BOY BYE
"Boy Bye" is dope, but not in your most conventional way. First and foremost, the track is powered by this circus-like instrumental, and over this instrumental, each person on the song raps their s**t either quickly, boisterously, animatedly or hazily. Ultimately, everyone on the song does come together to let the world know that they cannot be swindled in any kind of way when it comes to moving through life; a message I find ironically unifying.
I love how "Boy Bye" slowly morphs into this slightly ratchet/slightly ghostly/slightly soulful song at the end. That s**t actually made me want to hide under my bed for a minute.
4. SUGAR
"Sugar" sounds like some old school B2K s**t. On it, Matt Champion and Dom McLennon rap hard, while Ryan Betty & Kevin Abstract sing soulfully. With the topic of the song revolving around f**king with someone or something that is capable of providing support, love and comfort, I would've preferred it to sound no other way.
3. LOVE ME FOR LIFE
I f**k with "Love Me For Life" a lot! I like the bass-heavy, yet easy-going instrumental that powers the song, and I like how Kevin Abstract, Merlyn Wood, bearface and Joba were all able to blend gritty/chill rap vibes with soulful R&B vibes in their respective contributions. Speaking of R&B, I love the melody Joba was able to deliver on his verse, in addition to the vulnerability he showed throughout the song.
2. NO HALO
"No Halo" is a bluesy track that combines hip-hop vibes with country vibes. Matter of fact, the song kind-of reminds me of Bubba Sparxxx's "Deliverance" track from back in the day.
With BROCKHAMPTON being these unknown figures in a way, "No Halo" allows listeners to hear versions of them that are vulnerable, in need of hugs, and most importantly, lost. You also get a chance to hear versions of the rappers that are capable of spitting unorthodoxly (I know this isn't a word) and holding a solid note.
Anybody get Kid Cudi vibes from Meryln Wood at the end of his verse on this song?
1. IF YOU PRAY RIGHT
I think each member of BROCKHAMPTON that was on "If You Pray Right" was possessed by martians when they made the song. Not only does everyone on it think it is a good idea to rap over this out-of-this-worldly/funky ass instrumental, but something about the numbing/quirky/unconventional/zany approach each person raps with sounds extra odd, to me. Nonetheless, this song is trippy, hella lyrical, and most importantly, refreshingly different from what you hear on the radio today.
BROCKHAMPTON thinks it's a 'hot alien' summer.
---
SONG BY SONG BREAKDOWN
1. NO HALO (4.5/5)
2. SUGAR (4.5/5)
3. BOY BYE (3.5/5)
4. HEAVEN BELONGS TO YOU (3.5/5)
5. ST. PERCY (4/5)
6. IF YOU PRAY RIGHT (4.5/5)
7. DEADLY DEPARTED (3/5)
8. I BEEN BORN AGAIN (4/5)
9. GINGER (3/5)
10. BIG BOY (3/5)
11. LOVE ME FOR LIFE (4/5)
12. VICTOR ROBERTS (3/5)
---
OVERALL RATING
(B)
In this day-and-age, listening to your typical rap star can be a bit boring… Don't get me wrong, I can listen to trap s**t all day, but there's something about unknown figures that rely on rapping/singing hard that excites me a lot! Enter BROCKHAMPTON. BROCKHAMPTON aren't flashy, don't focus on swag all that much, and are intent on fitting out every chance they get. In other words, this group is fearless, and in "GINGER," they are as fearless as it gets.
You know what I love about "GINGER?" It's unpredictable production-wise. For example. never did I expect to hear the album start off with soulful instrumentals like "No Halo" and "Sugar." I do love how the group switches back to cold/gritty beats like "St. Percy" and "I Been Born Again" eventually, ultimately keeping us on our toes again with unorthodox instrumentals like "If You Pray Right" and "Living Room." On the real, I love being on my toes when I'm listening to music!
You know another thing I love about BROCKHAMPTON on this album? Everyone stood out on it. Seriously, there was never a point in time where I was like, "Whoa, Kevin Abstract absolutely carried this song! (Even though I think he's the biggest star of the group)" S**t, if BROCKHAMPTON was a basketball team, they would be the San Antonio Spurs.
I wanna thank Kevin Abstract, Merlyn Wood, Joba, Matt Champion, Dom McLennon, Bearface, Romil Hemnani, Jabari Manwa, Kiko Merley, Henock "HK" Sileshi, Robert Ontenient, Jon Nunes, Ashlan Grey and Kevin Doan (I promise I didn't look all of their names up on Wikipedia) for giving us a body of work that is pure, high-quality and different. I would buy you all drinks, but there's way too many of you muthaf**kas!