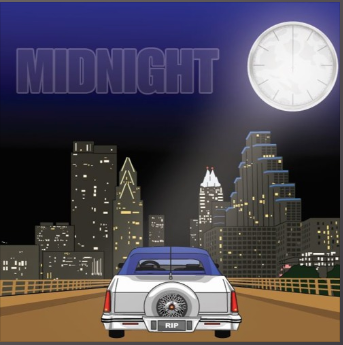 Leo hands out nothing but game in the very entertaining "Midnight."
---
STREAM
---
TOP 3
3. ALIVE AT 2AM
"Alive At 2AM" is deep as hell! On it, Leo raps about his ambitions as a rapper, his love for Nipsey's inspirational messages, his admiration for fathers, his loss of his own father, and his intentions on making his mother proud. On the real, I enjoy how soulful this song feels, as it boasts a passionate instrumental and plenty of emotional bars by Leo that will absolutely strike a chord with you.
2. MIDNIGHT
In "Midnight," the intro to this lovely EP, Leo gives us something pretty mean. With the song being powered by this bass-heavy/mobbin ass instrumental, the Cadillac-driving rapper goes off, rapping about crooked cops, having the mindset of a trill n***a, and his tumultuous past.
Don't you like how ferociously Leo raps on this track? It's almost like he has something against the beat he's rapping over.
1. GET YO MONEY
I f**king love "Get Yo Money!" With the track being powered by this smoother/bass-heavier version of Junior Mafia's "Get Money" instrumental, Leo goes in, rapping about a few individuals he feels deserves to party, live grandiose, and most importantly, make money. For me, I enjoy a rapper that is good at storytelling, especially when they are vivid with their words; Leo is just that on this song. I also enjoy how Leo sorta glides his way to the finish line of this song, sounding slier than ever.
---
SONG BY SONG BREAKDOWN
1. MIDNIGHT (4/5)
2. GET YO MONEY (5/5)
3. NIGHTIME (3.5/5)
4. SUMMER NIGHTS (4/5)
5. INSOMNIA (3.5/5)
6. ALIVE AT 2AM (4.5/5)
---
OVERALL RATING
(B)
If you are in need of old school hip-hop, I think Leo's "Midnight" is the perfect place to get it! On the short, but sweet EP, Leo touches on a myriad of topics such as social injustice and growing up with standards, never holding back a single sentiment.
Leo is not a good rapper, he's a phenomenal rapper! His flows are solid, his punchlines are top notch, and on the real, his composure is impressive. Even though his bars are as powerful/impactful as it gets, the way they are delivered almost sounds effortless (In my opinion, the best rappers sound like they don't try on the mic).
What makes "Midnight" special, to me, is the production on it. Throughout the EP, you get soulful beats, old school sounding beats, and beats that are bass-heavy. Leo slays every beat he's handed, making them come alive and sound even more dynamic. Kudos to Leo's ear for music!
In only six tracks, Leo was able to deliver a body of work that is raw, knowledgeable, unapologetic, fun, and authentically hip-hop. It's definitely a treat, and will make you want to continue to follow his journey to rap's mountaintop.