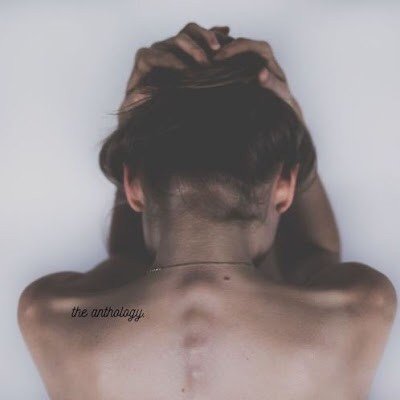 Ace A CAped CrusAder gets extremely vulnerable in "the anthology."
---
STREAM
---
TOP 5
5. sunday sadness
"sunday sadness" is deep as s**t! On it, Ace A CAped CrusAder talks about drug abuse, having negative thoughts, and disappointing his mother. While the track features nothing but numbing vibes from the instrumental that powers it and Ace, I think it's the overall realness of it that will make you mark it as one of your favorites off of this album.
4. henrietta lacks
"henrietta lacks" is one very unique track. The production attached to it boasts completely soothing vibes, while the lyrics you get from Ace A CAped CrusAder is trill, political, blithe, and unapologetic. On the real, it almost sounds like Ace is taking his frustrations out on a beat that has had its feelings hurt over and over again.
3. we're falling apart
"we're falling apart" is pretty somber-sounding. On it, Ace A CAped CrusAder opens up about fake friends, not wanting to disappoint those that are close to him, and trying to overcome depression.
I'm not going to lie, "we're falling apart" gave me the chills. Not only did the lonely instrumental that powers the song get to me, but I also got XXXTENTACION flashbacks while listening to Ace rap his verses. (Damn, only a few artists in the music industry has skills comparable to X).
2. trophies
"trophies" is very hypnotizing. For starters, the instrumental that powers the track is nothing short of peculiar, as it features vibes that are free, gleeful, and colorful. Over this instrumental, Ace spits ferociously about taking on ops, living grandiose, and most importantly, making money (Who can't respect that?).
What I love most about "trophies" is its raw feel, as it reminds me of a structured freestyle. I also love how unchained Ace's lyrics are on the song.
1. 100 jesus pieces
I enjoy when Ace A CAped CrusAder shows off his vulnerable side, but on the real, I think he's special when he's on his kill-a-rapper s**t! In "100 jesus pieces," we get kill-a-rapper A, as he spits ferocious bars about putting n***as in the dirt and making more money than his foes on the track.
While I personally love the instrumental that powers "100 jesus pieces" like it's my son, I think it's Ace's steady flow, aggression, and Pac like demeanor throughout the track that catches my attention the most.
---
SONG BY SONG BREAKDOWN
1. dear mama (3.5/5)
2. painful mistakes (3/5)
3. the switch up (3.5/5)
4. trophies (4/5)
5. 100 jesus pieces (5/5)
6. im too drunk to be thinking about you in this club (4/5)
7. we're falling apart (4/5)
8. henrietta lacks (4/5)
9. sunday sadness (4/5)
10. WE (stripped) (3.5/5)
11. enough (3/5)
---
OVERALL RATING
(B)
I stated earlier in this review that Ace A CAped CrusAder gives me XXXTENTACION vibes on this album — I stand firmly by that comment. Much like X, Ace has moments in his music in which he comes across as depressed, enraged, braggadocios, and damn-there free-willed. Also like X, every feeling Ace shows in his music comes out organically, which in my opinion, results in a body-of-work that feels artistic, honest and poetic.
You know what I love about "the anthology?" the instrumentation you get on it. Though a good chunk of the album gives off numbing vibes, I thought the crafty keyboard work many of the songs utilized was pretty soothing to listen to. To sum it up, the production on this album is easy on the ears, which as a result, makes Ace's words poke out like Nicki Minaj's booty at a gym in the suburbs.
I believe Ace A CAped CrusAder is a pretty solid rapper. I f**k with his ability to experiment with different flows, his confidence, and as usual, his knack for showing the world his vulnerable side. In my opinion, the combination of each characteristic I just mentioned makes him a very relatable musician.