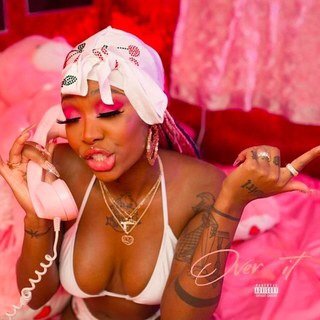 Summer Walker gets feisty, sexy, and vengeful in "Over It."
---
STREAM
---
TOP 5
5. STRETCH YOU OUT (FT. A BOOGIE WIT DA HOODIE)
"Stretch You Out" is a sultry masterpiece! On it, both Summer Walker and A Boogie Wit Da Hoodie find ways to please their respective lovers with discounted strip club-esque loving! (I'm down for some Payless-priced loving!)
In my opinion, Summer Walker and A Boogie Wit Da Hoodie did everything they needed to do to make this sultry ass song hit: They both sung their lyrics nice and slow, gave us ultra freaky lyrics, and made sure to let their lovers know that they usually get on their nerves (Something about letting your lover know how much they annoy you before you poke them makes for more of a passionate love-making session).
4. LIKE IT (FT. 6LACK)
Summer makes sure you put respect on her p***y game in "Like It."
You know what I love about "Like It?" Both Summer and sappy ass 6LACK let the vibrant/festive instrumental that powers the track takeover their bodies. While Summer's vocal performance is a lot more impressive than 6LACK's is, 6LACK does kill his lone verse on the song with pure slyness.
3. COME THRU (FT. USHER)
"Come Thru" is an uptempo duet between Summer Walker and Usher that has both singers sounding like they are about to rip the pants off of one another. (Nopety Nope, I'm not trying to see Usher's draws)
More than anything, I love the explosive energy attached to "Come Thru." Additionally, I love how both Summer and Usher both come across as desperate lovers lyrically on the track.
On the real, throughout listening to "Come Thru," I kept thinking to myself how this relationship between Summer and Usher might crash and burn once they realize how crazy they both sound.
N***a, Usher actually said "You Make Me Wanna" on this track… That alone makes this s**t top notch!
2. GIRLS NEED LOVE (REMIX) (FT. DRAKE)
If you've been living under a rock for these last couple of months (Which is possible), what you need to know is that "Girls Need Love" is Summer Walker's breakout hit. While most breakout songs are high in energy, catchy, or infectious, this one is silky smooth and passionate, featuring slow jam vibes and extreme honesty.
No, Drake doesn't make "Girls Need Love" 'great', he only brings an additional audience to the song. What makes "Girls Need Love" 'great' is Summer's openness on it, her sensual tone, and her ability to speak for every woman that wants to say they need d**k more than some PG-rated romance movie.
1. PLAYING GAMES (FT. BRYSON TILLER)
Much respect to "Girls Need Love," but I think "Playing Games" is Summer Walker's best track. On it, the sassy singer comes across real as s**t, soulfully crooning about trying to understand whether or not this dude she's f**king with is serious about her.
Bryson Tiller is featured on the album version of "Playing Games," gifting it with a short, but passionate verse. While he doesn't quite match Summer's intensity on the track, his lyrics about being a good ole replacement n***a is juicy as hell.
I love the vintage melody attached to "Playing Games," in addition to Summer's rawness throughout the track. Both will make you feel like you're one of her lonely ass friends that she often vents to.
---
SONG BY SONG BREAKDOWN
1. OVER IT (4.5/5)
2. BODY (4.5/5)
3. PLAYING GAMES (5/5)
4. DRUNK DIALING… LODT (3/5)
5. COME THRU (5/5)
6. POTENTIAL (4/5)
7. FUN GIRL (3/5)
8. TONIGHT (4/5)
9. ME (4/5)
10. LIKE IT (4.5/5)
11. JUST MIGHT (3.5/5)
12.  STRETCH YOU OUT (4/5)
13.  OFF OF YOU (3.5/5)
14. ANNA MAE (4.5/5)
15. ILL KILL YOU (4/5)
16. NOBODY ELSE (4/5)
17. PLAYING GAMES (5/5)
18. GIRLS NEED LOVE (REMIX) (5/5)
---
OVERALL RATING
(B+)
After listening to "Over It," I can honestly say that I've reached my quota when it comes to slow jams. Throughout the album, Summer picks instrumentals to croon over that are emotional as hell, and over these instrumentals, the tattoo'd singer nags, boasts, and spazzes when it comes to topics such as being jilted, wanting some good loving, and not trusting her man. While you would think such an approach to an album would come across as frustrating, I loved every second of what I heard!
Summer's singing is fantastic on "Over It!" Not only can she hit some pretty high notes when she needs to, but the level of soulfulness she instills into every lyric she delivers is stunning! However, what makes Summer special is her honest lyrics. Throughout this album, Summer spills her guts out like she was inebriated by them, showing little fear in coming across like a deranged woman that is willing to turn into a stripper (Stretch You Out), a killer (I'll Kill You), and a sex fiend (Body) in the name of love. As a dude that has had his fair share of bi-polar relationships in his life, I found Summer's approach to this album to be beyond intriguing, because it allowed me to finally see the side of the women I often disappointed in the past.
The production in "Over It" is fantastic! Most of the tracks you hear on it has lonely vibes attached to it, which I guarantee will hypnotize you. Kudos must go to Scott Storch and London On Da Beat for creating majority of the instrumentals you heard on this album.
I loved the features on "Over It!" Usher gave us something youthful in "Come Thru," 6LACK gave us something slick in "Like It," Drake gave us vintage Heartbreak Drake in "Girls Need Love (Remix)," and A Boogie gave us something sensual in "Stretch You Out." Each guest I just mentioned also played excellent partners to Summer Walker.
Summer Walker is fragile, feisty, a sex addict, annoying, clingy, and needy. When these characteristics are shown through polished music and engaging lyrical content, what you can also call Summer is a musical genius.
LET'S START A DISCUSSION! LET US KNOW YOUR TOP 5 FROM "OVER IT" IN THE COMMENTS SECTION BELOW!