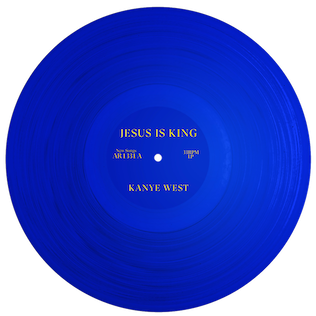 Ya'll do know that Kanye West has a screw loose, right? Because of this, his opinions on s**t like slavery and politics are usually ridiculous. The silver-lining about Kanye having a screw loose is that I believe it makes him a genius when it comes to creating music. With that being said, I expect Kanye's "Jesus Is King" to be an album of the year nominee, even if it has a bunch of nonsensical lyrics from him on it.
---
STREAM
---
TOP 5 SONGS
5. HANDS ON
In "Hands On," Kanye West directly takes aim at the devil, hypocrites and Christians:
Told the devil that I'm going on a strike
Told the devil when I see him, on sight
I've been working for you my whole life
Told the devil that I'm going on a strike
I've been working for you my whole life
Nothing worse than a hypocrite
Change, he ain't really different
He ain't even try to get permission
Ask for advice and they dissed him
Said I'm finna do a gospel album
What have you been hearin' from the Christians?
They'll be the first one to judge me
Make it feel like nobody love me
This song isn't the most enjoyable on the album, but it is the realest lyrically. On his verses, Kanye attacks his naysayers vigorously and head on, letting them know they can't get to him (That's deep, right?).
4. SELAH
"Selah" is pretty intense. With the track being powered by both this organ-driven instrumental and tons of passionate choral singing, Kanye lets loose, spitting tenacious bars centered around being woke to GOD's power, forgiveness towards neighbors, and understanding how we compare to individuals mentioned in the bible (I thought he was bit radical with his bible comparisons… I get where he's coming from, though).
In this song, I feel like Kanye became saved. Hopefully that means we will no longer get random ass Twitter rants from him.
3. CLOSED ON SUNDAY
I swear to GOD, I knew "Closed On Sunday" was going to reference Chick-Fil-A!
I love "Closed On Sunday!" I enjoy the emotions you get from Kanye on it, as he sings fearlessly and pours his heart out steadily about his intent on becoming free of things like sins, pop culture and fatty foods. I also enjoy how the instrumental that powers the song morphs from cold and lonely to erratic and dramatic (Sort-of reminds me of how Moesha morphed into a soap opera after Ray-J's over-acting ass joined the cast).
If you like this song, you have to pay "808's and Heartbreak" its proper due.
2. FOLLOW GOD
"Follow God" feels like a classic Kanye song, to me (At least musically). What you get on the track is a soulful instrumental that has its fair-share of grittiness to it, and relentless bars by Kanye in which he brings up the struggles he has with finding ways to be more cordial/mild-tempered towards the outside world and his father:
I'm just tryna find, l've been lookin' for a new way
I'm just really tryna not to really do the fool way
I don't have a cool way, bein' on my best, though
Block 'em on the text though, nothin' else next though
Not another word, letter, picture, or a decimal (Father, I stretch)
Wrestlin' with God, I don't really want to wrestle
Man, it's really lifelike, everything in my life (Stretch my hands to you)
Arguing with my dad, and he said, "It ain't Christ-like"
What I love about "Follow GOD" is that it feels authentic/real in every kind of way (Especially lyrically). I know that may sound like a simple assessment by me, but you have to remember, these musicians and celebrities aren't living normal/real lives, so I don't anticipate relating to them when they speak…
1. USE THE GOSPEL
"Use The Gospel" is gospel rap on steroids! On it, Kanye, Pusha-T and Malice (Clipse) praise the LORD for keeping them safe in a world full of crime, and also ask the LORD for strength on their way to betterment.
While it's Pusha and Malice that mainly bring the hard-hitting raps to "Use The Gospel," it's Kanye's soulful singing that makes it feel welcoming.
Kenny G is also featured on "Use The Gospel," and what he adds to the track is a dope ass saxophone solo that somehow out-grits everyone else's contributions to the song.
To me, "Use the Gospel" is the most complete/meaningful song on this album.
---
SONG BY SONG BREAKDOWN
1. EVERY HOUR (4/5)
2. SELAH (4/5)
3. FOLLOW GOD (5/5)
4. CLOSED ON SUNDAY (5/5)
5. ON GOD (3/5)
5. EVERYTHING WE NEED (3/5)
6. WATER (3.5/5)
7. GOD IS (2.5/5)
8. HANDS ON (4/5)
9. USE THE GOSPEL (5/5)
10. JESUS THE LORD (4/5)
---
OVERALL RATING
(B-)
"Jesus Is King" doesn't feature any curse words, negative vibes or mumble rapping; instead, what you get on the album is uplifting lyrical content, production that blends modern-day hip-hop sounds with traditional choral ensembles, and tons of passionate singing by Kanye West. Yes, this n***a really has gone through a transformation!
Though Kanye's content in "Jesus Is King" is a lot holier than what you heard in his past albums, I love that he still raps with the same arrogant tone he's always rapped with on it. Throughout "Jesus Is King," the "Late Registration" creator tackles topics such as self-improvement and finding GOD utilizing blunt lyrics, semi-comical similes, and animated deliveries Stephen A. Smith would be proud of. In other words, we may have lost devilish Kanye, but we haven't lost unapologetic Kanye!
As expected, the production you get on "Jesus is King" is unbelievable! Not only do you get instrumentals that give off both holy and hip-hop vibes, but you also get instrumentals that do phenomenal jobs of navigating through Kanye's good, bad and ugly emotions, too. Kudos must go to Kanye for orchestrating the production you heard on this album, but also Timbaland, Boogz Da Beat and Angel Lopes for their producer work, too.
I am usually reluctant to call guest appearances on Kanye West albums "Features." the reason being, is that Kanye plugs guests into songs where they aren't quite given their opportunity to truly gleam. Instead, I call anyone that has an appearance on a Kanye album 'contributors.' With that being said, I thought Kenny G, Pusha-T and Malice were outstanding contributors to "Use The Gospel," Ty was an effective contributor to "Everything We Need," and Fred Hammon was a severely-needed contributor to "Hands On." Everyone else was OK, to me (Even the Sunday Service Choir).
"Jesus Is King" is only 27 minutes long, but within that time, Kanye was able to make us laugh, cry, feel like we went to church, and understand what it means to find GOD. While Kanye's devilish actions in the past may not be able to ever be swept under the rug for some, with the creation of this album, I, for one, am at least open to forgiving him for making blasphemous ass "Yeezus."
DO YOU THINK "JESUS IS KING" IS AN ALBUM OF THE YEAR NOMINEE? IF YOU SAY "YES," VOTE FOR IT HERE!