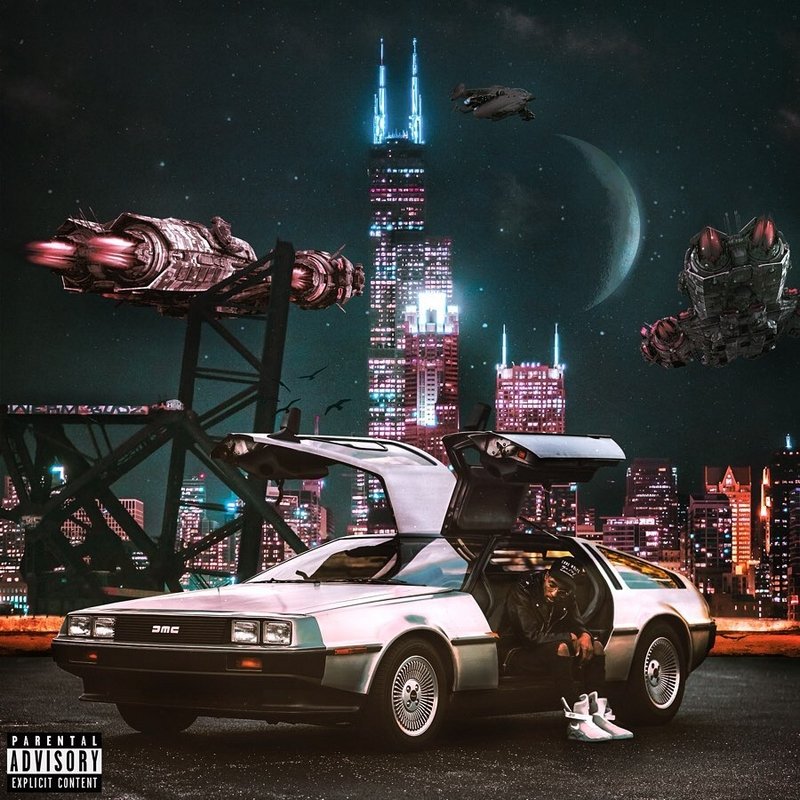 Rockie Fresh finally gets his chance to shine in "Destination."
---
STREAM
---
TOP 5
5. KING'S BACK
I feel like Rockie Fresh blows off some steam in "King's Back." With the song boasting passionate, yet hard-hitting vibes, Rockie lets loose, rapping about making guap, rewarding his day 1s, and f**king with the baddest of chicks. As a long-time fan of the rapper, I was ecstatic to hear him sound free and accomplished on this song.
4. MARIA
"Maria" is a very lovely track. On it, you get sensual vibes and silky smooth crooning by Rockie that would practically whisk the clothes off of a nerdy chick. Thankfully, we also get a verse by the Chicago rapper in which he resorts to his laid-back/carefree ways on the song, too.
3. FEELINGS HURT
I f**k with "Feelings Hurt" a lot! For starters, I love how sly it is, as Rockie Fresh, 24hrs and Casey Veggies each come across as cool ass n***as that have their loans paid off and saving accounts bulked up on the song. Additionally, I love Casey's trill ass verse, 24hrs' God-awful, yet infectious singing on his verse, and the catchy/hop-scotchy hook Rockie blesses us with on the song.
2. MUST BE
"Must Be" is a radio-friendly hip-hop love song that has both Rockie Fresh and Chris Brown relishing in the idea of being jump-offs that get main n***a benefits.
Personally, I think Chris Brown shines bright on "Must Be," as he does a great job of singing his heart out on it. As for Rockie, he plays this cool guy that does his best to sound like a n***a deep in his feelings on the song. All in all, I think "Must Be" is the definition of a commercial hit — something Rockie hasn't quite known how to make historically.
Need a hit? Call on Chris Brown! (He charges a lot less than Jacquees)
1. 2 LATE
I think "2 Late" is a very beautiful song! For starters, the track is powered by this soothing instrumental that I believe could make 50 Cent and Ja Rule hug s**t out. Over this instrumental, Rockie Fresh gets real, rapping about his relationship with this girl he continues to mislead and do wrong. While I love how honest Rockie's bars are on this song, I think it's his cool as a cucumber demeanor that catches my attention the most.
Arin Ray and Tory Lanez add soulfulness and infectiousness to "2 Late."  Unfortunately, neither of them have verses, they are only on the hook (Matter of fact, I can barely hear Tory Lanez on this song).
---
SONG BY SONG BREAKDOWN
1. KING'S BACK (4/5)
2. HEALTH RISK (3/5)
3. ROUND HERE (2.5/5)
4. FEELINGS HURT (4/5)
5. DONE WIT IT (3.5/5)
6. MARIA (4/5)
7. MUST BE (4.5/5)
8. 2 LATE (5/5)
9. FALLIN (4/5)
10. TAKE A SECOND (4/5)
11. MANUSCRIPT (4/5)
12. ALWAYS LOVE (4/5)
---
OVERALL RATING
(B-)
Rockie Fresh is standing in front of a Delorean in the artwork to "Destination" — coincidentally, I believe he blesses us with a vintage performance on the album!
So what do I enjoy about "Destination?" For starters, I love the tracks in which Rockie simply raps about his relationships, his hustling mindset, and his losses ("Fallin," "2 Late," "Take A Second"). In those songs, Rockie comes across as authentic, his bars sound well-thought-out, and his energy feels right. I also love the features on this album, as Arin Ray, Chris Brown and Tory Lanez gift us with fantastic hooks that compliment Rockie's laidback style masterfully. Lastly, the heartwarming vibes this album gives off are amazing, as Rockie makes it seem like he's at home on the mic on a good chunk of the tracks.
So what irks me about "Destination?" Well, I thought there were a few tracks on this album in which Rockie tried to emulate the piss-poor sounds of other poppin' rappers. To be more specific, I didn't care for Rockie when he tried to sing or hit us with mumbly s**t (He does this in "Health Risk" and "Round Here"); I preferred when he put his head down and hurled out bars.
Rockie Fresh is so f**king underrated, to me! When he raps, I feel him, cause his whole brand feeds off of being a real ass n***a that listeners can relate to. With that being said, "Destination" feels like an autobiography of-sorts — one that has the Chicago rapper highlighting the good, the bad, and the ugly that comes with being a rapper that's trying to get it.