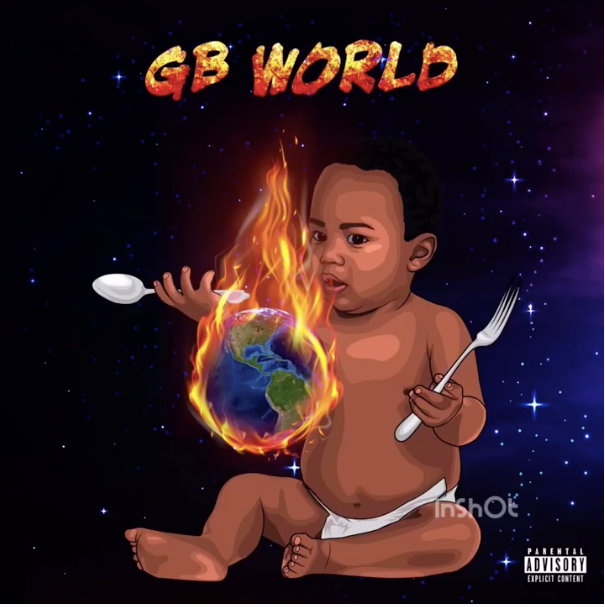 GBABY relishes in his unchained thoughts in "GB World."
---
STREAM
---
TOP 5
5. DRINKING PAIN AWAY
Drinking Pain Away is deep as hell. In the track, you get emotional bars about guilt-drinking, grinding, and the dismissal of haters by GBABY.
While GBABY sings emotionally on a good chunk of Drinking Pain Away, he does eventually drop tough ass bars towards the middle of the track that will remind you that he probably has a healthy frame of mind. (Thank GOD! We need GBABY to manifest into GGrownMan)
4. LET'S GET LOUD
I'm not going to lie, I f**k with Let's Get Loud's menacing sound.
From the moment you press play on Let's Get Loud, you are treated to an instrumental that sounds intimidating and carefree bars by GBABY in which he comes across as effortlessly violent. Matter of fact, if this song is ever played in a club, I can see it igniting a riot.
3. WHERE YOU GOING
Where You Going has club vibes, but also hypnotizing vibes. For starters, the instrumental that powers the track reminds me of some starry trap s**t, while GBABY's singing throughout is beyond infectious/catchy. As for lyrically, I love how GBABY hood serenades his women with braggadocios words she would want to hear — especially if she's one of those chicks that are into being wooed by thugs.
Where You Going definitely needs a signature dance!
2. GB PROBLEMS
I f**k with GB Problems a lot! For starters, the bass boomin'/piano-heavy instrumental that powers the track is way too trill to pass up on. From there, I love the harmonizing GBABY gifts us with throughout the track, in addition to his braggadocios lyrics about balling, carefree lyrics about taking drugs, and savage ass lyrics about blasting those who want to test his gangsta.
I want no problems with a dude that can eat a fire-burning earth.
1. NIGHTS LIKE THIS
Though Nights Like This is brash/vulgar as s**t, I find it to be one of those songs that can easily end up getting stuck in your head.
The melody GBABY hits us with in Nights Like This is pretty infectious, while his brash ass lyrics about smashing, splurging and loving on his chick is real as s**t. When you combine the two aspects together, what you get is a reckless ass bedroom track.
It only makes sense that someone named GBABY doesn't mind making a baby anytime he gets in a girl's guts.
---
SONG BY SONG BREAKDOWN
1. DRAGON BALL GB (3/5)
2. GB PROBLEMS (4/5)
3. SEXUAL FEELINGS (3/5)
4. WHERE YOU GOING (4/5)
5. LET'S GET LOUD (4/5)
6. WET WET WET (3/5)
7. NIGHTS LIKE THIS (4/5)
8. MAIN SQUEEZE (3/5)
9. DRINKING PAIN AWAY (3.5/5)
10. BYE BYE HOE (3/5)
11. DADDY GAMES (3/5)
---
OVERALL RATING
(C+)
GBABY is a ruthless/reckless/energetic rapper that can care less if you aren't down with what he believes in. With that being said, in GB World, his latest project, the brash rapper lets the world enter into his wild and crazy mental, and what we end up hearing is music that is unconventional, erratic, and unapologetically trap.
Is GBABY the best rapper to ever pick up a mic? Probably not, but based on his confidence level on the mic, you gotta believe that he believes he is. Throughout GB World, you get bars by G that are delivered through fearless singing, lyrics that are untamed, and styles that are wacky. On some real s**t, I f**ked with GBABY's approach to the album, mainly because it reminded me that staying true to yourself is the most important aspect of making music.
The beats on GB World are pretty solid. While most are trap-inspired, all of them feature vibes that are both trill and hard-hitting. I love how GBABY tackles each beat he's given on the album with a demeanor that is unassuming and unorthodox. To me, it makes each upcoming track exciting, as you never know which way GBABY is going to go with his approach.
You have to listen to GBABY's GB World. It will get you hyped up, ready to do a bunch of reps at the gym, and worried about letting your girl leave your eyesight.