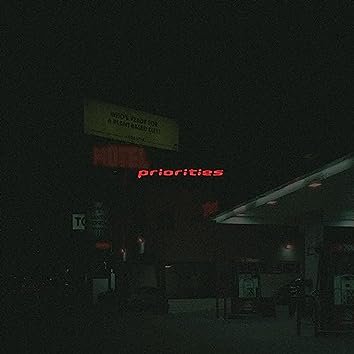 priorities
JOIE GREY
---
Seriously, don't sleep on this 2-minute masterpiece.
Joie Grey, an Atlanta-based singer and producer, stands out as one of the smoothest R&B artists in the current scene. His sultry, hazy vocals blend seamlessly with the electronic fused funk-soul melodies present in his self-produced singles. Each of his titles exudes emotional vulnerability while also carrying a sense of innocence. Looking through his work, I can't help but feel like I'm growing up again, as all of his songs hint at the sensations of growth and change. Even if you're unsure about life's direction, there's a part of this artist's work that resonates deeply. Some of Grey's biggest hits include "Welcome To The World," "Daydream," and his viral TikTok hit single, "Untitled." You can find these songs, and more, available on Spotify, YouTube, and SoundCloud. In his latest single, "priorities," Joie Grey navigates his blooming relationship, adding yet another gem to his impressive repertoire.
"priorities" takes listeners through Grey's relationship journey. Honestly, the artist sounds like the kind of man even I would date. Despite complications, Grey always prioritizes his girl and promises to do so in the future. The track sets a slower, more relaxing tone, perfect for lounging in bed rather than dancing. The mid-tempo, glitchy, hyper-pop blend complements his soulful vocals, forever changing how you listen to R&B. Its softness makes us all soften up a little with our own loves. If you haven't already, add Joie Grey to your playlist and discover your own "priorities" in love.
---
Mya Whyte is a multimedia journalist. She is an entertainment writer and hopes she goes into entertainment news in the future.