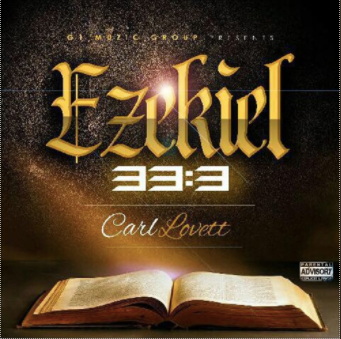 Carl Lovett's time is now, which is why the release of his new Mixtape titled, "Ezekiel 33.3," is such a critical one for him. With his rapping and writing credits permeating through the Florida music scene throughout the years, Carl looks to put together a solid solo project that shows the world that he's more than capable of putting out a body of work that can stack up nicely with the rest of the industry's work.
---
STREAM
---
TOP 5
HONORABLE MENTION
I love how daring "Butterfly" is! Carl definitely shows off some serious talent on it vocally.
Carl shows this fearlessness to display his feelings throughout "Butterfly," letting the world know about the obsession he has with this beautiful young lady. As usual, I love his passion, and think that his willingness to show off this other side to him is priceless.
5. WHAT YOU DO 2 ME
"What You Do 2 Me" is that one track you need to play in the bedroom to get your lady amped up.
On "What You Do 2 Me," Carl absolutely lets loose. While he sings and raps on the track just like he does on the others, something about this time around feels a lot more free-willed, as the Floridian relies more on romantic energy then content.
4. STREETZ MADE ME
I feel like one of Carl Lovett's best sounds is when he focuses on talking directly to the streets. On "Streetz Made Me," that is exactly what he does, giving us this impassioned track in which he talks about how he was raised learning the street code.
Accompanied by this stirring instrumental, Carl does the perfect balancing act between rapping and singing on his contributions. I feel like in each genre, he gives us this authentic persona that is highly relatable to the average hustler that's roaming the streets.
3. I GET SO TIED
Even though "I Get So Tied" has this smooth sound to it, it's still pretty lyrical. On it, Carl raps about a couple of things he's tired of seeing in his world, which includes crooked cops, snakes he grew up with, and political views. I like how passionate yet simple the hook of this song is, and definitely enjoy how he attacks controversial topics head on.
2. NO NO NO
There's no way you can hate on "No No No"
'No No No' sounds a bit dramatic production-wise, as the beat consists of heavy-hitting drums and a few piano notes. On the chorus, Carl gives us something that is both tough and infectious at the same time, reassuring the listeners that he has no signs of fugazi in his DNA at all.
On the first verse, Carl shows great aggression, rapping with this good tempo throughout. Lyrically, he reiterates how aware he is of the street codes,  giving prime examples of some of the hood episodes he went through in the past. His verse is very authentic, and a great opportunity to learn about his persona.
Maine has the second verse, and he adds an extra dose of gutter to the already street-inspired track. While majority of his verse boastfully challenges the fugazzi folks out there to be a real one like him, he still shows some passion on the song by using this heavily melodic approach.
Overall, the melody, the harmony, and the overall message on this song is superb, to me.
1.  ON NAH
Much like the rest of this album, "On Nah" is catchy and hood passionate.
This track is truly one of the realest I heard this year. On it, Carl delivers this heartfelt hook that details him and his family's come up from ashy to classy. On the verses, he is as personal as it gets, dropping verses that explain his way of thinking when times were hard back in the day. I like how specific Carl is lyrically on this song, and definitely appreciate his willingness to be an open book on such a touching topic.
---
SONG BY SONG BREAKDOWN
1. FALLING STARS (4/5)
2. STREETZ MADE ME (4.6/5)
3. I GET SO TIED (5/5)
4. ON EVERYTHANG (4.5/5)
5. OWE U NOTHING (4.1/5)
6. YOUNG NIGGAS (4.5/5)
7. ON NAH (5/5)
8. NO, NO, NO (5/5)
9. HOLE IN DA BOOT (3.9/5)
10. ROZETTA STONE (4.3/5)
11. SWAG SAUCE (4/5)
12. SECRETS (4.7/5)
13. WORLD 2 KNO (4.8/5)
14. BUTTERFLY (3.9/5)
15. RAIN ON U (4.8/5)
16. DON'T DO DAT (4.4/5)
17. CHANGED MAN (5/5)
18. WUT R WE DOING (4/5)
19. JUST 4 U (4/5)
20. WHAT YOU DO 2 ME (5/5)
---
OVERALL RATING
(8.5/10)
There is 20 songs on this project, and you can tell every single one was made from the heart. Not a single bar, a single note, a single sound is wasted, telling me Carl sought perfection from start to finish.
On the tracks that Carl raps, believe it or not, I hear this combination of Pac and Trick Daddy rolled into one. Coincidentally, both artists are legends in their hoods, which should tell you that Carl is more than qualified to speak on some real s–t. While you may get a few rap tracks like "Young Niggas" that is a bit aggressive in content, for the most part, most rap tracks are heartfelt, as Carl touches on topics from grinding to uplifting all the young homies.
When Carl sings, he is as impressive as he is rapping. Not only does show off some astute vocals, but when he does his thing, he also shows this lack of fear. On songs like "Don't Do Dat" and "Rain On U," you can tell Carl gives it his all, sounding like someone that is genuinely invested in the topic at hand. It's dope to listen to, and definitely something you will be appreciative of.
After listening to this project, you will be more than convinced that Carl Lovett is a phenomenal talent! It's not only his rapping and singing, it's his attention to detail, it's his writing, it's his ability to mesh everything together so seamlessly.  If you truly want dynamic music, I suggest checking this Mixtape out.
Make sure you tell us what your top 5 songs from this album is in the comments below!
Categories: Album, Album Rating, Album Ratings, Album Review, Album Reviews, Carl Lovett, Hot Track, Rating, Ratings, Review, Reviews, Top 5, Top 5 Songs, Top Songs, Top Track, Top Tracks