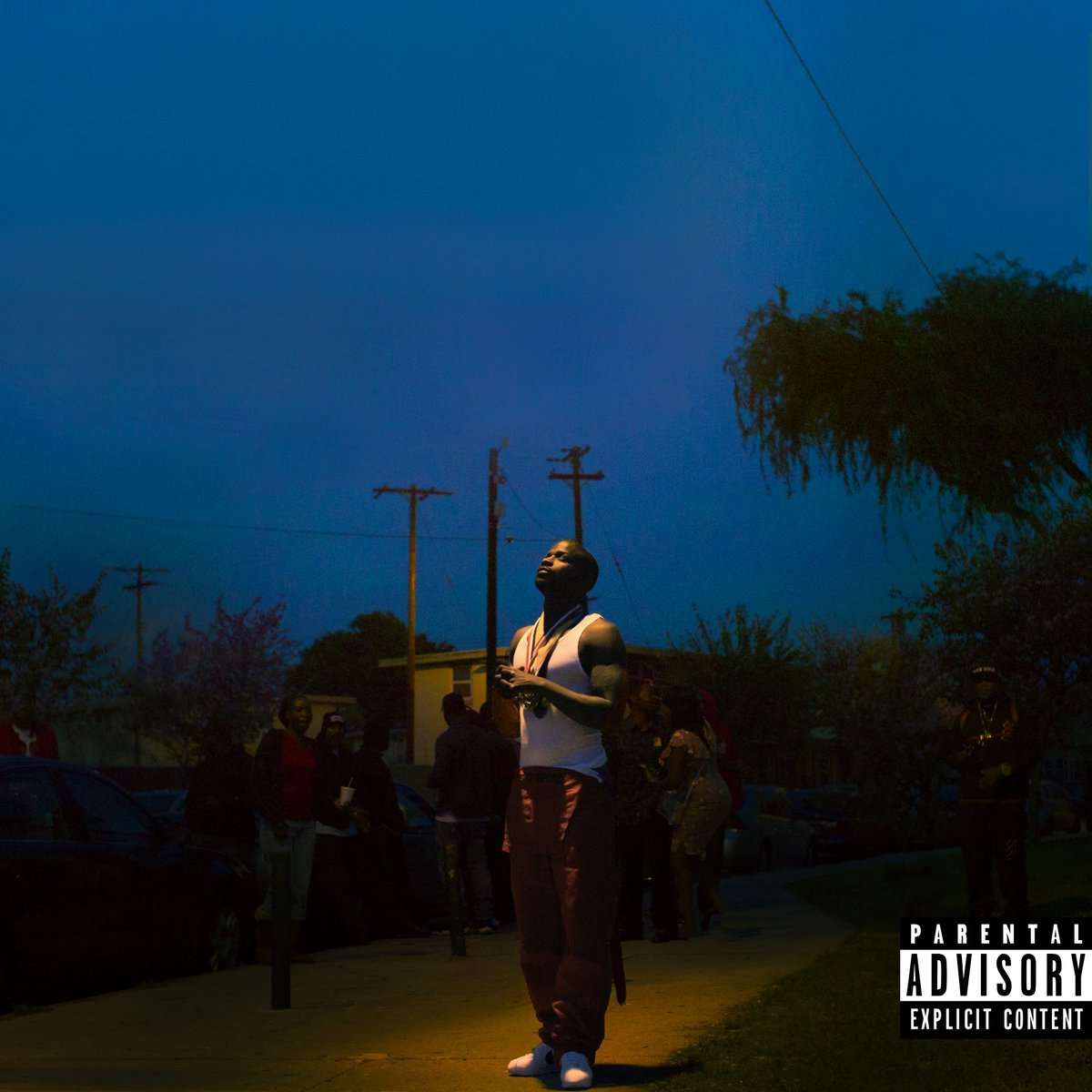 Jay Rock is a viable third option for TDE and their label. He doesn't quite have the appeal Kendrick Lamar has, and isn't as demented as ScHoolBoy Q is — he's simply a good combination of both. With his debut album, "Redemption," he looks to make a name for himself, letting the world know he's more Klay Thompson then J.R. Smith.
---
STREAM
---
TOP 5
5. ROTATION
"Rotation" is the first jump rope song for murderers.
For y'all who thought Jay Rock was one dimensional (like myself), he proves us all wrong on "Rotation 112." On it, he does just about everything from drop a catchy hook, harmonize, and spit as ferociously as he's ever spit.
"Rotation" is so musically pleasant, but never compromises it's gangsta.
4. WOW FREESTYLE
I never thought I would hear Kendrick Lamar rap over a Zaytoven instrumental. (Zaytoven produced this, right?)
I love Kendrick and Jay Rock's buddy-buddy relationship when they rap. It feels like nothing is rehearsed between the two, they just go into the booth and let loose. In "Wow Freestyle," there is no real structure to the song, just two LA n***as that are rapping about the many different perils that come with growing up in the hood and ultimately getting out and being successful. I love the loosey-goosey nature that Kendrick raps with on his verses, and how Jay Rock feeds off of Kendrick's energy by giving us something sporadic and unpredictable.
3. KINGS DEAD
"Kings Dead" was the song that told me Jay Rock had a really good shot at owning the summer.
In a song featuring two of raps heaviest-hitters, Jay Rock shines pretty bright. That's not to say Kendrick and Future put up bad features, I just think Jay Rock's part was that damn good. I like how he raps with this relentless flow, and feel like he let out all this pent up frustration into his one big verse. (This is how you step up to the plate when your playing with two superstars, Cleveland Cavaliers!)
Future fits the song very well, because he's the king of getting a track hyped up to the next level. To me, he simply completes "Kings Dead" with his energy — energy that is both clubby and bizarre at times (What the f**k was he doing at the end?).
I heard this joint in the club yesterday, and the place went wild!
2. REDEMPTION
I get it, "Redemption" isn't the sexiest of choices for a top 5 list for this album, but I thought the passion, vulnerability and cohesion shown on it was way to potent to ignore.
Jay Rock starts the song off with this deep ass verse in which he discusses the power of redemption. In the process, he talks about a near fatal accident that he got into a couple years back that had him rethink the people around him. His second verse revolves around some soul-searching he needed to do in which he reassesses whether or not he's treating the people around him good enough. I got the chills listening to both of his verses, especially considering that I almost died from Alcohol poisoning just yesterday.
SZA is on the hook to this song, and she absolutely kills it! She starts off mellow, then gets all Whitney Houston dramatic for us, capitulating her ideas of glory like a preacher at a pulpit. Kendrick plays SZA's 9 year old son that was pinched for not singing with her in the background.
I cried at the end of this song, only because I'm trying to make what my dad calls 'Cocoa Egg' right now (It's a dish that contains tomatoes, onions and hot pepper)
1. WIN
"Win" might actually be the song of the year to this point.
You know what makes this song number one? Not only is it damn good, but it closes out the album perfectly. Since it's a motivational banger, gives off so much great energy that I contemplated fighting a bear after listening to it.
Gassed up by a bunch of Kendrick Lamar ad-libs, Jay Rock comes out swinging, delivering this impassioned performance that straddles the line between catchy and repetitive.  Normally a bit mild mannered, the LA native shows lots of exuberance this time around, letting the world know that he is ready to do whatever it takes to get to the crown.
Ya'll think the Cavs had this song on repeat during the finals?
---
SONG BY SONG BREAKDOWN
1. THE BLOODIEST (4.8/5)
2. FOR WHAT ITD WORTH (4.5/5)
3. KNOCK IT OFF (4.5/5)
4. ES TALES (4/5)
5. ROTATION 112 (5/5)
6. TAP OUT (4/5)
7. OSOM (4.1/5)
8. KING'S DEAD (5/5)
9. TROOPERS (4.7/5)
10. BROKE +- (4.8/5)
11. WOW FREESTYLE (5/5)
12. REDEMPTION (5/5)
13. WIN (5/5)
---
OVERALL RATING
(B+)
It's been five years since Jay Rock's feature on "Money Trees." Since then, there has been a lot of winning being done on his TDE team. I personally believe that the success in the air rubbed off on him, which sparked this phenomenal effort from him on this album. I mean seriously, I knew Jay Rock can rap, but I didn't expect him to harmonize from time to time, instill us with some deep knowledge and give us several different club bangers in just 13 songs. I was surely impressed with his artistry on this project.
There was some great features on this album, but first and foremost, I have to point out that I absolutely love Kendrick Lamar's random adlibs throughout it! Each time he hops on a song, he fits nearly perfectly, gassing up Jay Rock to go even harder on his verses. How can we get Kendrick to adlib every album ever created from here on out? As for everyone else, they also did their thing, each adding the finishing touches to whatever track they were on. My personal favorites were SZA, Kendrick and Future.
The production on this album is nearly perfect. Jay Rock chose everything from heavy-hitting beats to smooth ones throughout it, toying with our unstable emotions like a professional. However, what I felt was even more noticeable was the fact that Jay Rock was able to make these beats feel like the best versions of themselves by doing whatever it asked for.
You know how each member in the Avengers had their own movie, and each tied back to Avengers: infinity War? I feel like this is going to happen with all the TDE albums. The featured rap superhero, Jay Rock, is the member of the group that has many strengths (The will to win, the desire to self-reflect, an ability to keep it real) and weaknesses (A scary temper, a knack for involving himself in some trouble, a poor Future verse) that makes him one of the most interesting characters of the group. I'm curious to see where his importance lies in the grand scheme of things.
Categories: Album, Album Rating, Album Ratings, Album Review, Album Reviews, Best Song, Best Songs, Best Tracks, Hot Track, Hottest Songs, Jay Rock, New Songs, Redemption, Top 5, Top 5 Songs, Top Ratings, Top Reviews, Top Songs, Top Track, Top Tracks