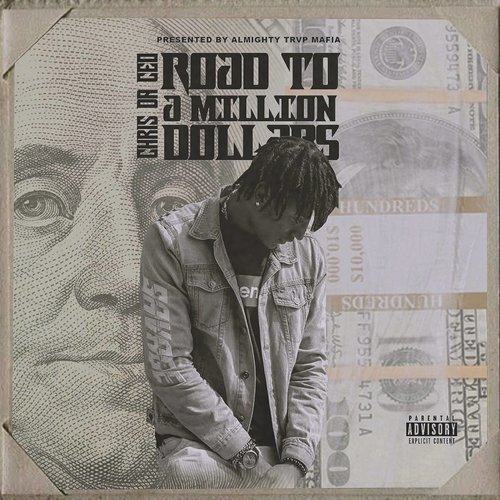 ChrisDaCEO is the definition of a young boss. At the tender age of 21, he is already the CEO of a record label named DReaM TeaM, and the Co-Founder of another one called D.B.G. records. However, in my opinion, one of his biggest strengths is his music-making ability, as he's shown throughout his career that he can dabble in just about any style of hip hop music he chooses to pursue. In his newest project titled "Road To A Million Dollars," everyone's favorite businessman looks to continue his wave of success, gifting us with a fifteen track body of work that is sure to entertain.
---
STREAM
---
TOP 5
5. I'M GOOD
I F**k with "I'm Good" a lot. It flips one of my favorite tracks of all time in "Can You Believe It."
The moment I pressed play on this song and heard the beat, I said "YAS" to myself! In my opinion, everything about "Can You Believe It" fits Chris' style (The bop, the silky smooth R&B vibes). He definitely does his thing over the track, pumping it with similar melodies, harmonies and lyrical content as T-Pain and Wayne's from the original version. Where I think he succeeds here is that his style feels a lot realer, as he talks about spoiling this chick he's pursuing while showing little worry about anyone else that's pursuing her. Usually, I'm not the biggest fan of artists remixing excellent songs like these, but I'ma fan of this one!
4. OUTTA POCKET
"Outta Pocket" is cold as f**k! Matter of fact, ChrisdaCEO sounds like he had two of his foes in a headlock while he was laying down his verses.
Over this altered version of Dr.Dre's classic "Xxplosive" beat, ChrisdaCEO spits as tough as he has ever spit before. Throughout, he shows his competitive side, warning all of his rivals to steer clear from him on his path of success. The track features some gun-talk and lots of threats.
I like the punchlines ChrisdaCEO dishes out on this song, and absolutely love how fiery he sounds from start to finish.
3. DRIP DRIP
In order to properly drip, not only do you have to have the right money and clothes in your arsenal, but you also have to have the swag. In "Drip Drip," ChrisDaCEO gives us a glimpse of his outstanding swag and more.
Laced with a heavy-hitting instrumental that is more than capable of knocking pictures off the walls, ChrisdaCEO absolutely shines, throwing hay-makers at it in the form of explosive lyrical content and a sturdy flow. Lyrically, the Ohio native shows no fear putting n***as in their places, as he calls out haters, shows off his luxury items, and talks about his knack for getting to the bag. I think listeners are going to enjoy how the song flows, and definitely end up being taken aback at its gritty nature.
2. TIDAL WAVE
"Tidal Wave" is the following: A club banger, a commercial hit, a gym must, and most importantly, a track that lets the world know how talented ChrisDaCEO is.
Over Cardi B's "Bartier Cardi" beat, ChrisdaCEO does everything from lay down an exhilarating hook to rap aggressively on his verses. What I love about the track is the confidence he shows on it, as he spits out lyrics revolving around being that guy that doesn't mind keeping it all the way real when it comes to breaking these chicks down. In my humbling opinion, the track is way too infectious to pass up.
Chris clearly knows how to handle promiscuous women. Bruh, you trying to put your teachings in a book?
1. Y U MAD
"Y U Mad" is the first single off this project, and it has ChrisdaCEO harmonizing about his winning ways over this slow paced instrumental. Chris also talks about the inevitable hate that comes with his fortune, describing the frustration he sees from one of his interested ladies. I think the swagger he displays on the record is silky smooth, and the hook he delivers is nothing short of catchy.
This is my favorite ChrisdaCEO track to-date.
---
SONG BY SONG BREAKDOWN
1. MY TIME (4/5)
2. BIG GOALS (3.5/5)
3. BALLIN FR (3.5/5)
4. I'M GOOD (4/5)
5. TIDAL WAVE (4/5)
6. FREEZE ME (3.5/5)
7. DRIP DRIP (4/5)
8. OUTTA POCKET (4/5)
9. BAD SIDE BITCH (4/5)
10. SON OF AH (3.9/5)
11. MOTIVATION (4/5)
12. SLIDE N (3/5)
13. LANGUAGE (4/5)
14. PROFIT (4/5)
15. Y U MAD (4.5/5)
---
OVERALL RATING
(B-)
I always find it interesting when rappers make projects like "Road To A Million Dollars." These tend to be the experiments that allow them to test out how they stack up against the other artists in the game, and if you ask me, ChrisdaCEO showed he stacked up well on this mixtape. Throughout it, he sings and raps well, but even more specifically, drops some pretty infectious hooks and delivers some memorable verses too. Content-wise, I f**ked with how real he was, touching on topics such as dealing with both real and fake women, getting to the money and giving the Heisman to his competition. I was more than satisfied with what I heard from him in this project, and look forward to his continuous progression.