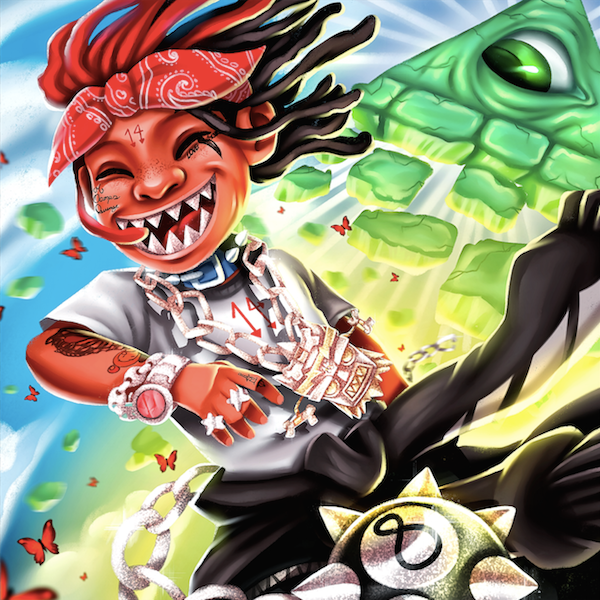 Trippie Redd shines on "Love Letter To You 3."
---
STREAM
---
TOP 5
5. TOPANGA
You weren't a real one if you didn't have a crush on Topanga from Boy Meets World.
I feel like Trippie Redd picks beats to rap/sing over that he isn't supposed to fit on because a lot of his releases this year have had him going ham over instrumentals I would probably give to Alessia Cara. With that being said, on "Topanga," the Ohio native talks about toting guns and stealing our women over this quirky/heavenly beat.
4. FIRESTARTER
I love it when Trippie Redd mixes daring vocals with savage lyrics in his music! On "Firestarter," he does just that.
On "Firestarter," Trippie Redd causes pure terror over this captivating instrumental. Not only does he sing ferociously, but he also spits some tough-ass bars about his women and money. Trippie, your recklessness needs no taming in the interest of getting me hyped up like this!
3. 1400/999 FREESTYLE
On this site, I've given both Trippie Redd and Juice WRLD nothing but 5/5's when they drop some lyrical s**t; that means "1400/999 Freestyle" is probably going to get a 5/5 out of me, folks.
"1400/999 Freestyle" is tougher than opening up a can of SPAM. In the song, both Trippie Redd and Juice WRLD talk about being reckless individuals that take drugs, smash women, and tote hammers. While Juice gifts us with a bit more punchlines than Trippie does on his verse, Trippie does bless us with a nice rap flow on his.
Juice WRLD reminds me of a high school kid that would go on tangents when he sees a hard-ass math question on a test.
2. DIAMOND MINDS
Trippie Calls and Tory Lanez do their thing on "Diamond Minds."
Trippie Redd sets the tone for "Diamond Minds" by gifting us with a memorable melody and by establishing what the energy of the track will be. Tory Lanez and The Weeknd Elliot Trent translate the energy Trippie handed them into some auto-tune heavy/soulful s**t on their respective verses. All in all, I love the way this song flows!
1. TOXIC WASTE
"Toxic Waste" is a very special song.
In "Toxic Waste," Trippie Redd opens up about wanting love and doing away with his personal demons. I think the melodies that he gifts us with on the song are highly infectious and his vocal performance is beyond impressive.
---
SONG BY SONG BREAKDOWN
1. TOPANGA (4/5)
2. FIRESTARTER (4/5)
3. TOXIC WASTE (5/5)
4. NEGATIVE ENERGY (4/5)
5. CAN'T LOVE (4/5)
6. LOVE SCARS 3 (4/5)
7. A.L.L.T.Y 3 (4/5)
8. EMANI INTERLUDE (N/A)
9. ELEVATE & MOTIVATE (4/5)
10. I TRIED LOVING (3/5)
11. WICKED (3/5)
12. LOYALTY BEFORE ROYALTY (4/5)
13. 1400/999 FREESTYLE (4/5)
14. SO ALIVE (3/5)
15. DIAMOND MINDS (4/5)
16. CAMPFIRE TALE (4/5)
---
OVERALL RATING
(B-)
In Love Letter To You 3, Trippie Redd continues to be the music version of a Swiss army knife. Throughout the album, he sings like his life depends on it, and when he needs to, raps very respectably. He also does hella experimenting on the album, dabbling in instrumentals that range from trunk-rattling to 90210-esque. Interestingly enough, Trippie's at his best when he tries NOT to fit in on a song, which means the more he screams and shouts like a dudethat just got his car towed, the more enjoyable he is.
Lyrically, I saw vast improvements from Trippie Redd on Love Letter To You 3. Though a good amount of the stuff you hear from him on the album revolves around meaningless s**t like f**king b*tches and toting guns, he did sprinkle in some tender content here and there, too, staying true to the main topic at hand (I mean, the album is called "Love Letter To You 3," right?).
Love Letter To You 3 had some interesting features. You had big names like YoungBoy Never Broke Again, Tory Lanez, and Juice WRLD, but also up-and-comers like Kodie Shane, Baby Goth, Emani 22, and Elliot Trent. The big names took the keys from Trippie and drove the car wherever it needed to go on their respective songs, while the up-and-comers made sure not to crash his s**t. In my opinion, Trippie is at his best when he's accident-prone.
The production on Love Letter To You 3 was outstanding! Matter of fact, it's probably the single most important aspect of the album. As I stated earlier, each and every beat Trippie was served with challenged him to step outside of the box, and much to my chagrin, he met the challenge every time. Kudos to the producers for understanding the artist they were working with. Also, kudos to Trippie for understanding what he needs to be successful.
I have always given points to musicians that try to create their own lane — Trippie has done that, and now he's working on making that lane have smoother roads.