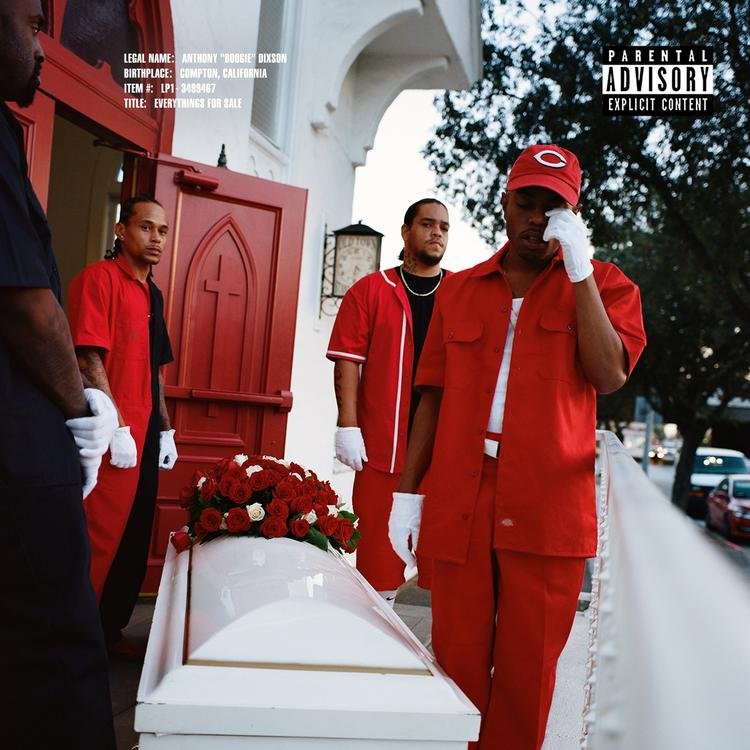 Boogie's time being a little-known rapper in the game should come to an end tonight. With the release of "Everything's For Sale," not only do I expect to hear high praise from hip-hop fans once they listen to his highly intelligent bars, but I also expect a Wikipedia page to finally be put up for him. (Seriously, dude was in a Snickers commercial with the legendary Elton John, what else does he have to do to get a f**king Wikipedia page put up for him?)
---
STREAM
---
TOP 5
5. RAINY DAYS
You just knew a song with Eminem would be the one Boogie gives it his all.
On "Rainy Days," Boogie talks about the mindset he had to have to get to where he is now (Which is a competitive, hood and ruthless one). Throughout his explaining, I love the attitude/grittiness he raps with, as he motivates those that were once in his struggling shoes to stay true to themselves on their journey out the streets.
Eminem pretty much closes this song out with a feverish verse. It doesn't quite match the same level of grit that Boogie's has, but it does hold its own when it comes to tricky punchlines, astute wordplay and dynamic flows. As far as the main topic he covers, it revolves around having a positive mindset despite the inevitable f**k s**t that tends to show up in our lives from time to time. Wow, great advice, Em!
4. SOHO
"SOHO" features two of the games' most underrated rappers in J.I.D. and Boogie. The good news is that they put on quite a show here, gifting us with a short but sweet banger that features a swervy instrumental, zany bars and unique flows. Content-wise, the song revolves around each artists' knack for staying true to their hood ways, even in the midst of all the shiny new temptations around them.
This song serves as a nice little halftime break from all the deep ass music you heard before it.
3. LOLSMH
For a rapper like Boogie, sometimes you need to simply put a dope ass beat on and let him vent; that's what happens in "LOLSMH."
In "LOLSMH," Boogie plays everything from a troubled individual to a hood prophet. When it comes to his rapping on the song, listeners will enjoy how he plows through his verses spitting with a level of urgency in his voice that is earth-shattering to hear. Lyrically, you'll love how Boogie holds nothing back, as he does some serious storytelling that will make you feel a bit uncomfortable. (Why did I feel like that one friend that always ends up in the middle of couples fighting while I was listening to this song?)
2. TIRED/REFLECTIONS
What a way to open up an album! First and foremost, "Tired/Reflections" starts with a powerful ass poem in which Boogie gets a chance to talk about a bunch of things he believes his fans are tired of hearing from him. After that, the song turns into this serene banger that features a piano-heavy instrumental and some soulful singing in the background that will give you the chills. Over this instrumental, Boogie does a great job of describing his scarred yet motivated mental, giving the world a bunch of serious wisdom and inspirational bars in the process. He also showcases his ability to provide us with a pretty solid hook, too — one that definitely pits you deep into his world.
For those of you that are new to Boogie, you learn everything you need to know about him on this song.
1. SILENT RIDE
Usually, no one likes a 'silent ride,' but in this rare case, s**t is dope as hell!
"Silent Ride" is the lead single off of "Everythings For Sale," and quite honestly, I would've had it no other way. The track features a pretty memorable hook, a bass boomin' instrumental that club DJ's will love, and some pretty appealing bars by Boogie that comes out in the form of ferocious rapping and solid melodies. But if you listen closely to the song, there is actually a unique message behind it. With so much craziness dominating Boogie's life, he feels one of the only times he gets a chance to think about s**t like fake friends, women-problems and depressing feels is during silent rides. Unfortunately, his girl is in the car this one particular time, and what ensues is paranoia and the potential of serial slappings.
These n***as in the Government need to take a bunch of silent rides. The effects of this government shutdown needs to be thoroughly thought about by them.
---
SONG BY SONG BREAKDOWN
1. TIRED/REFLECTIONS (5/5)
2. SILENT RIDE (5/5)
3. SWAP MEET (4/5)
4. LOLSMH (INTERLUDE) (5/5)
5. SOHO (4.5/5)
6. SKYDIVE (4/5)
7. LIVE 95 (4/5)
8. RAINY DAYS (4.5/5)
9. SKYDIVE II (4/5)
10. WHOSE FAULT (4.5/5)
11. NO WARNING (3.5/5)
12. SELF DESTRUCTION (3.5/5)
13. TIME (3.5/5)
---
OVERALL RATING
(B)
OK, let's start with the obvious here: Boogie is a helluva rapper. His ability to effortlessly deliver passionate bars is his strongest attribute. This is important, because it allows him to piece his dramatic life experiences together very effectively. However, the thing that impressed me the most about the Compton native's rapping on this album was his ability to shift gears whenever he wanted to. On songs like "Silent Ride," "LOLSMH" and "Tired/Reflections," the world got brief glimpses of what Boogie is capable of doing when he has his MC cap on, and in those particular moments, I enjoyed the album a lot.
Boogie did do a lot of experimenting on "Everything's For Sale." I thought songs like "Skydive II" and "Swap Meet" forced him to step outside of his comfort zone a bit, which in the end, you got a version of the rapper that occasionally reached notes higher than a boiling kettle. Sometimes I was OK with his singing, and in others times, I wasn't. However, I did enjoy his feel/love for the R&B genre throughout the album.
"Everything's For Sale" makes its living off of deep subject-matters. From start to finish, Boogie touched on everything from baby mama drama to hood horror tales, never tip-toeing the finer details of both. Personally, I loved how he let his emotions run amok on his verses, as he kept listeners on their toes when it came to predicting his fate from song to song. It's almost like the album played like a real-life reality show — one sans Ryan Locthe.
If you ask me, "Everything's For Sale" was a huge success. Not only because the raps and instrumentals were fantastic on it, but because it highlighted the everyday struggles of an ordinary Joe that's doing his best to make it out of the streets. Overall, I thought it was a body of work that reminded me of Kendrick Lamar's old work — another kid from Compton that made it big after dedicating a bevy of music to his hood. S**t, if Boogie can follow his formula, he might also be able to do a song with Rihanna in the near future.