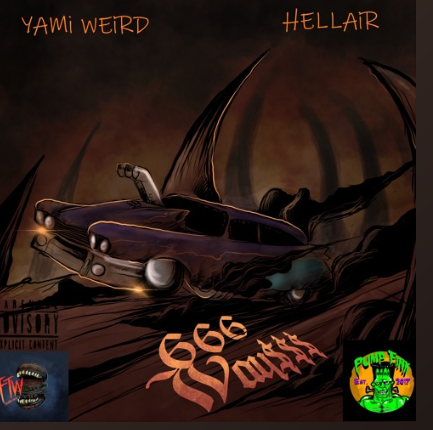 Feed The Weird bring trap metal to the forefront in "666 Way$$$."
---
STREAM
---
TOP 5
5. BONNIE ROTTEN
"Bonnie Rotten" is the closest thing to horrifying porn being provided to you through music (Whatever the f**k that means). With the track being powered by this forceful instrumental that aims to knock vases off of tables, Hellair and Yami Weird let loose, singing and rapping about smashing their chicks in the roughest/bumpiest of ways (Who doesn't like bumpy sex?).
If the lyrical content attached to "Bonnie Rotten" doesn't make you want to go home and sex your wife, the moaning woman you hear in the background of the song will.
4. SNOWING IN FLORIDA
Believe it or not, Feed The Weird sound vulnerable in "Snowing In Florida." On the track, what you get is an instrumental that is as gentle as a Disney movie, tons of harmonizing, and lyrics that scream out "I Need Help." Correct, about half of this track features talk of drug-usage, but it seems to be drug-usage by force (Ok, that might be a stretch).
Me BEFORE College: It doesn't snow in Florida…
Me AFTER College: I'm surprised it's not snowing in Florida on this very nice day outside.
3. ANARCHY YOU CAN DANCE TOO
"Anarchy You Can Dance Too" features serious dance vibes (Duh, the title states that you can dance to it)! No, you can't electric slide or do the macarena to it, but you can definitely snap you fingers and stomp your feet to it.
I love the melody attached to "Anarchy You Can Dance Too!" Not only does it draw you in with its infectiousness, but it is also so f**king catchy, you will end up having the numbers "666" stuck in your head by the end of the song (OK, that might not be an amazing thing to have stuck in your head).
Aside from the melody, I love the energy attached to the instrumental that powers "Anarchy You Can Dance Too," and how it practically combines both serene vibes with hard-hitting vibes flawlessly.
2. NOWHERE NOIR
"Nowhere Noir" is one of those tracks that features an emotional trap beat (Kudos to CashmoneyAP), opiod-inspired singing, and lyrics that will remind you that your f**ked up life isn't as f**ked up as Feed The Weird's lives are (That's a helluva combination, right?).
Strangely, I love the rawness attached to "Nowhere Noir!" Don't get me wrong, HellAir and Yami Weird both sound like they just recovered from a meth nap, but that doesn't mean you can't connect with their lyrics about heartbreak and paranoia on the song (We've all experienced that, right?).
1. ZOMBIE
"Zombie" is trill, catchy, violent, and terrorizing! When you press play on the track, the first thing that will catch your attention is the instrumental — It's trap-influenced and has a nice little tempo attached to it. From there, you get a style of rapping from Feed The Weird that is hard, steady, unpredictable and unapologetic —  a combination that will make you both admirable of their rebelliousness, and intimidated by their carefree ways.
I can definitely see "Zombie" getting major burn at one of those clubs that specializes in Bloody Marys.
---
SONG BY SONG BREAKDOWN
1. PUSSYCAT (3/5)
2. 666 WAY$$ (3.5/5)
3. BONNIE ROTTEN (3.5/5)
4. ZOMBIE (4/5)
5. SNOWING IN FLORIDA (3.5/5)
6. RED EYE (3/5)
7. NOWHERE NOIR (3.5/5)
8. GOT ME THINKING (3.5/5)
9. G.A.T. (3/5)
10. LOVE POTION (3/5)
11. ANARCHY YOU CAN DANCE TOO (4/5)
---
OVERALL RATING
(C+)
I am a major horror movie fan, so this album definitely is something I was drawn to. Am I a heavy metal/Gothic fan? Probably not, but Feed The Weird allows you to connect with their music from the moment you press play by just giving off riveting vibes from start to finish.
As a fan of art, I love how Feed the Weird let loose in their music, caring less to sing fearlessly, or spit bars ferociously. Don't get me wrong, there are plenty of times in "666 Way$$$" in which the duo comes across as too unchained for my liking (Especially in songs like "Bonnie Rotten"), but in the end of the day, their expressionism is appreciated. I also like how the duo combines both this savage and timid world together on this album, creating a musical roller-coaster ride that has equally as many highs as lows (I emphasize the word 'highs').
The instrumentals on "666 Way$$$" are beyond interesting. In one sense, you get trap instrumentals that have a splash of spookiness attached to it, and in another, heavy metal instrumentals that literally sound like they are possessed. Personally, I enjoy how unpredictably Feed The Weird approach each instrumental they are handed, having fun, going wild and opening up on them.
Giving a shot to an album called "666 Way$$$" by a group called Feed The Weird is perhaps one of the wildest things I've done this year. With that being said, I am glad I did it, because the album reminds me why music (In whatever form, variation or decibel level) should be appreciated for its artistic value, creativity, and ability to take you on a journey you never would take in real life.