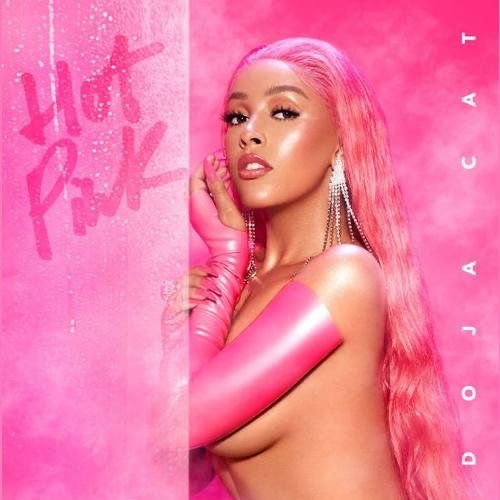 Doja Cat seeks to make the world believers in her totally unleashed style of music-making with the release of "Hot Pink." 
---
STREAM
---
TOP 5
5. BOTTOM BITCH
In "Bottom Bitch," Doja Cat showcases how creative of a musician she is capable of being by gifting us with something that takes a Blink-182 classic ("What's My Age Again") and turns it into a full-on hip-hop anthem that is GOD-awful both vocally and lyrically, but also way too catchy to ignore.
I just love how galvanizing this song feels. No, I cannot relate to being a "bottom b*tch," but Doja's soulful/auto-tuned-inspired effort to big hers up makes me want to dap the first one I see.
4. CYBER SEX
"Cyber Sex" starts off "Hot Pink" rather uniquely. On the hook to it, Doja sings with this innocent tone, gingerly letting some dude she's communicating with over the internet know how willing she is to get freaky on camera. At the same time, Doja raps with this fast-paced/grungy style on her verses to the song, brashly outlining EXACTLY what she wants to do to that same dude I just mentioned (Trust me, she wants to do more than hold hands).
Personally, I think bubbly vibes works very well for Doja Cat ("Cyber Sex" is a very bubbly song). She's very fun-loving, so showing that side of her to the people is her best approach to music-making.
3. ADDICTION
"Addiction" is a sultry gem. With the track being powered by this old school funk and soul instrumental, Doja lets loose, singing both sensually and drunkenly about the happiness she feels when she's under the influence of drugs and d**k (That combination is very deadly).
Doja Cat loves to combine this innocent style of singing with this grungy style of rapping in her music. In "Addiction," I feel like the two worlds play the perfect tag-team partners.
2. LIKE THAT
"Like That" sounds like an old school R&B song. On it, we are blessed with this new jack swing instrumental that I'm sure Montell Jordan would be extremely proud of. Over this instrumental, Doja blesses us with a high-pitched hook, and a grungy ass verse that has her informing this dude she's messing with that she wants him to move a certain way when he's around her. While the honest lyrics Doja gives us on this song will come across as cute and all, the way she takes command of the song as a whole will remind you that she's going to be the dominant one in the bedroom if you happen to get lucky with her (Okurr).
Gucci Mane is featured on "Like That," and as expected, he lets listeners know that he's the best thing human-beings invented since 4K TVs. Not only does he brag about his money on his lone verse, but he also bigs up his Johnson Kim, too.
I feel like you can do every single black dance to this song: The Cabbage Patch, The Two-Step, The Harlem Shake, The Ninja Rap, etc…
1. JUICY
Doja Cat is good at being a weirdo, but she also has a big booty and can rap/sing, too. In "Juicy," Doja takes advantage of everything she does well, gifting us with a fun ass banger that features a catchy hook, an instrumental with a great tempo, a bunch of animated deliveries, and tons of talk revolving around indulging in some booty by both herself and featured guest Tyga.
I feel like "Juicy" is on its way to being a song that slips and falls onto the top of the billboard charts.
---
SONG BY SONG BREAKDOWN
1. CYBER SEX (4/5)
2. BITE (3.5/5)
3. RULES (4/5)
4. BOTTOM BITCH (4/5)
5. SAY SO (4/5)
6. LIKE THAT (3.5/5)
7. TALK DIRTY (3.5/5)
8. ADDICTION (4/5)
9. STREETS (3.5/5)
10. SHINE (3.5/5)
11. BETTER THAN ME (2.5/5)
12. JUICY (5/5)
---
OVERALL RATING
(C+)
Doja Cat was put on this earth to entertain. When you combine her effervescent personality with her versatility as a musician, what you get is a talent that is only starting to scratch the surface of what she is capable of being. With that being said, I was very entertained by the many different styles of music Doja gave us on "Hot Pink," but I wasn't super impressed with how erratic the album sounded overall.
"Hot Pink" feels like a demo tape, to me. On it, Doja Cat throws a bunch of different styles of music at the wall, hoping at least a few stick. While I am a major fan of her rapping on the album, I do find it a bit annoying when she gets overly-wacky or too animated on a rap verse. I am also a fan of Doja's singing, as low-key, she can hit notes that only great R&B singers can hit; however, I was not a major fan of her occasional auto-tune use when she sang. I get it, Doja seems to love trolling us at times (Purposely or non-purposely), but for me, I put up with Nicki Minaj for over ten years now, so I'm a bit tired of the overly-wacky s**t artists do in their music these days.
Surprisingly/Not so surprisingly, "Hot Pink" features tons of explicit sex-talk. Correct, a lot of artists (Male and female) talk about sex quite a bit in their music, but the way Doja talks about it on this album made me feel like I was listening to a porn tape. While I'm a big boy that can go toe-to-toe with any girl that's talking sex, Doja's explicit lyrics like the ones you see below did have me feeling slightly flabbergasted:
Said when you talk like that, put that shit to work
Make that kitty hurt, make that kitty squirt
Tell me, what's my name? Make that kitty yearn
Teach me how to jerk, make that kitty learn
Moving on….
The production on "Hot Pink" is all over the place. In one sense, you might get a bubbly instrumental like the one you hear on "Cyber Sex," and in another sense, a Summer Walker-esque instrumental like the one you hear on "Streets." On the real, s**t is a mess production-wise, but it's a beautiful mess, though (Sorta like every single Forever 21 I've been to).
I'm not going to lie, I can't handle Doja Cat for s**t! I can't handle her myriad of personas, I can't handle her many different styles of music, and I damn sure can't handle her booty! She's the definition of all-over the place, to me. While "Hot Pink" will come across as one big hodgepodge of musical flavor, you will find moments in the album where Doja showcases outstanding talent as a singer, rapper, woman-empower-er, porn star, and crisper Nicki Minaj.