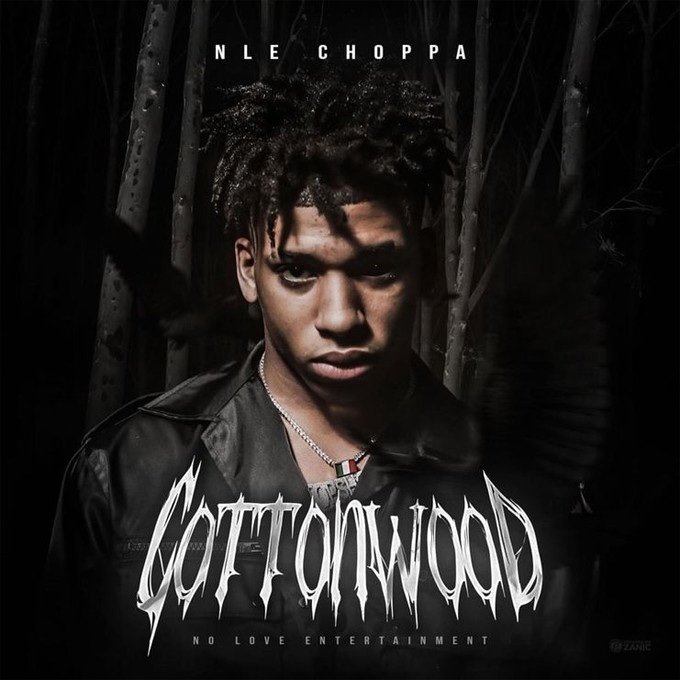 NLE Choppa kills about 1200 people in his new EP titled Cottonwood.
---
STREAM
---
TOP 5
5. UNTOLD
Untold starts Cottonwood off very aggressively.
Untold features this trill ass trap instrumental that hits harder than Mike Tyson. Over this instrumental, NLE Choppa demonstratively lets the world know that he's a woman-smashing/gun-toting/drug-loving rude boy that could care less about first impressions.
4. N.W.A.
I f**k with N.W.A.! With the instrumental attached to it boasting this slick, yet hard-hitting sound, NLE raps about spraying enemies, spraying thieves, spraying bystanders, spraying you, spraying me, spraying the NFL, spraying himself, and spraying sprays (That's a lot of spraying).
I feel like N.W.A. is NLE's theme song.
3. STEP
Step is one of those riveting tracks that features an exhilarating instrumental and action-packed lyrics. If NLE Choppa wanted to turn the track into a movie, I would nominate Liam Neeson to play him in it.
I don't know about you, but I love it when young rappers spit erratically. In Step, NLE spits so erratically, I wouldn't be surprised if there was actual spit all over the studio after he was done recording the track.
His name is NLE Choppa, so I shouldn't be surprised that he's talking about using his chopper every single second in this song, right?
2. SHOTTA FLOW (REMIX)
In Shotta Flow, NLE Choppa's breakout hit, the Tennessee rapper proves to the world that he is capable of bullying n***as and slightly riding a beat. In the remix to Shotta Flow, Choppa calls on Blueface, someone who is NOT capable of riding a beat, and what the two were able to create was a longer version of Shotta Flow that has more yelling, unsteady flows, and violent-talk. (P.S. The instrumental attached to Shotta Flow fits Blueface more than NLE Choppa)
I actually think the remix to Shotta Flow is better than the original.
1. CRUZE
Cruze is a tough ass record that features a rivetting trap instrumental, a fiery hook by Meek Mill, and verses by NLE Choppa and Meek that are violent, competitive, flossy, inspirational, and trill.
In my opinion, the chemistry between both NLE and Meek on Cruze is fantastic! Additionally, I love the energy attached to the song as a whole.
---
SONG BY SONG BREAKDOWN
1. UNTOLD (3.5/5)
2. STEP (3.5/5)
3. SIDE (3.5/5)
4. CLICC CLICC (2.5/5)
5. MATRIX (3.5/5)
6. N.W.A. (3.5/5)
7. CHANCES (3/5)
8. SHOTTA FLOW (3/5)
9. SHOTTA FLOW (3.5/5)
10. CRUZE (4/5)
---
OVERALL RATING
(C)
Disclaimer: In this conclusion, I do not dive deep into NLE Choppa's rapping skills (I don't see him as a rapper, I see him as a glorified screamer).
OK, let us carry on with the conclusion!
NLE Choppa is definitely one of the young cats in the game that I find to be intriguing. Not only does he remind me of a younger YoungBoy Never Broke Again (That sounded weird when I just said that), but I feel like he also has a solid understanding of the type of artist he needs to be to be successful. With that being said, in Cottonwood, NLE goes HAM!
From the moment you press play on Cottonwood, you are treated to trap instrumentals that are explosive, which I believe juices NLE to be a version of himself that is violent, aggressive, reckless, unholy, and unchained. I get it, some of the things I just mentioned sounds like you get a bunch of useless noise on this album, but in my opinion, NLE accurately speaks from the perspective of a 17-year old Memphisian that is experiencing newfound fame, newfound groupies, and newfound enemies on the album. On the real, I feel like we want these young cats to be Jay-Z as soon as they hop on a mic, but sometimes, you got to let them get their s**t off at the ages they currently are. In other words, adapt to these young trouble-makers, folks!