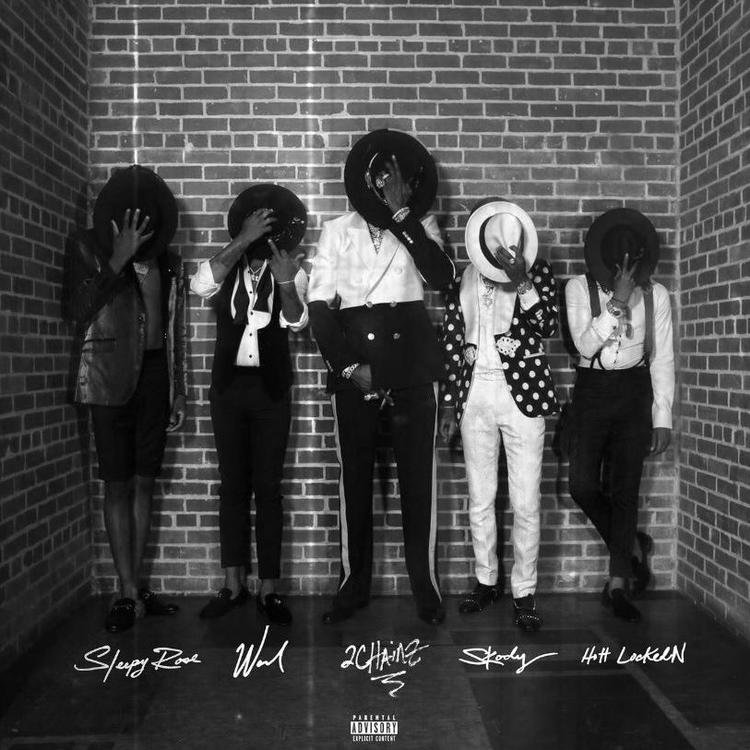 2 Chainz and his T.R.U. crew deliver a solid album in "No Face No Case"
---
STREAM
---
TOP 5
5. NEW LEVEL NEW DEVILS
Worl is a name you should probably get used to. In my opinion, he's someone that is capable of merging infectious melodies with trill lyrics masterfully. With that being said, in "New Level New Devils," Worl shines by gifting us with bars that are passionate, a hook that is effortlessly melodic, and deliveries that are beyond animated. Additionally, the beat he raps over on the song is beyond vibrant/colorful.
4. VIRGIL DISCOUNT
"Virgil Discount" sounds like a classic 2 Chainz song, to me. With it being powered by this flute-heavy trap instrumental, 2 Chainz goes off, hitting us with bars that are beyond obnoxious/elementary-sounding (Everyone knows Chainz is at his best when he sounds obnoxious/elementary). As for Kendrick Lamar 2.0 (aka Skooly), he definitely brings an erratic kind of energy that flips the track on its head.
3. SHOOT IT OUT
"Shoot It Out" is unbelievably gangsta. For starters, the instrumental attached to the track features tons of bass and vibes that are beyond riveting. Over this instrumental, Worl, HottLockedIn, 2 Chainz and Sleepy Rose all try to outdo one another when it comes to gangsta s**t, which ultimately results in lyrics being spit out that are violent and deliveries that are overly-trill.
2. WHAT'S GOING ON
I like "What's Going On" a lot! On it, Worl gifts us with a catchy hook and heartwarming lyrics, while 2 Chainz hits us with a verse that is on some playful playa s**t. When you combine both rappers' contributions to the track with the funky-ass instrumental that powers it, what you end up getting is a banger that people could possibly bump at family reunions.
Why does "What's Going On" sound like an Afropop song, to me?
1. BRICK ON MY FACE
Getting a brick on your face can't be a good thing… Whatever the case may be, 2 Chainz and Worl were able to make that s**t sound cool as hell in "Brick On My Face."
I love the energy, catchy ass hook, cocky drug-dealing talk, and spunky instrumental you hear on "Brick On My Face." To me, 2 Chainz and Worl were able to successfully make dudes with clean criminal records like myself want to apply for a drug-dealing job on Indeed by dropping this song. (Feds, I'm joking!)
The hook to "Brick On My Face" is Future-esque.
---
SONG BY SONG BREAKDOWN
1. SHOOT IT OUT (4/5)
2. VIRGIL DISCOUNT (3.5/5)
3. POP OFF (3.5/5)
4. WOO (3/5)
5. ROCK OUT (3/5)
6. BRICK ON MY FACE (4/5)
7. G-WAGON (2.5/5)
8. GEORGIA (3.5/5)
9. NEW LEVEL NEW DEVILS (4/5)
10. WHAT'S GOIN ON (3.5/5)
11. RELIABLE (4/5)
12. HOW I FEEL (REMIX) (2.5/5)
13. FAKE BEEF (2.5/5)
14. JEFE SHIT (2/5)
15. VOTE (2/5)
---
OVERALL RATING
(C)
There are only a few rappers that I think can gather up a bunch of relatively unknown rappers together for an album and succeed: Kendrick is one of them, J. Cole is one of them, Lil Wayne is one them, Rick Ross is one them, Drake is one them, A$AP Rocky is one them, and a few months ago, Travis Scott proved that he is one them. I'm going to be honest with you, before listening to this No Face No Case album, I wasn't sure if 2 Chainz fit in that club… After listening to the album, I'm still not sure if 2 Chainz fits in that club.
So what did I love most about No Face No Case? I loved the tenaciousness that a good chunk of the album gave off. On the real, I didn't expect the beats on it to be as hard-hitting as they were and definitely didn't expect to hear so much drug-dealing and gangsta talk. I also loved that everyone NOT named 2 Chainz on the album didn't play the back; instead, they blessed us with verses that were ferocious and tried to create hooks that were dynamic. S**t, if you thought Don Tolliver outshined Travis Scott on the JACKBOYS album, you are definitely going to think Skooly, Worl and Sleepy Rose outshined 2 Chainz on No Face No Case.
2 Chainz's performance on this No Face No Case album was so-so, to me. While I thought he had phenomenal verses on the album (Everything from his clever punchlines to tricky flows caught my attention quite a bit), I thought he played the back a little too much. I get it, he wants his homies to shine, but at the end of the day, the album gets streams because of him, so he should've shown his ass more.
In my opinion, you have to be a major fan of trap-rap to enjoy this No Face No Case album. When I turned it on, I was expecting to hear 2 Chainz-influenced music; instead, I feel like I got Young Nudy-inspired music. With that being said, I do believe the album features a bunch of artists that aimed to swing for the fences every chance they got… Who can hate on that?