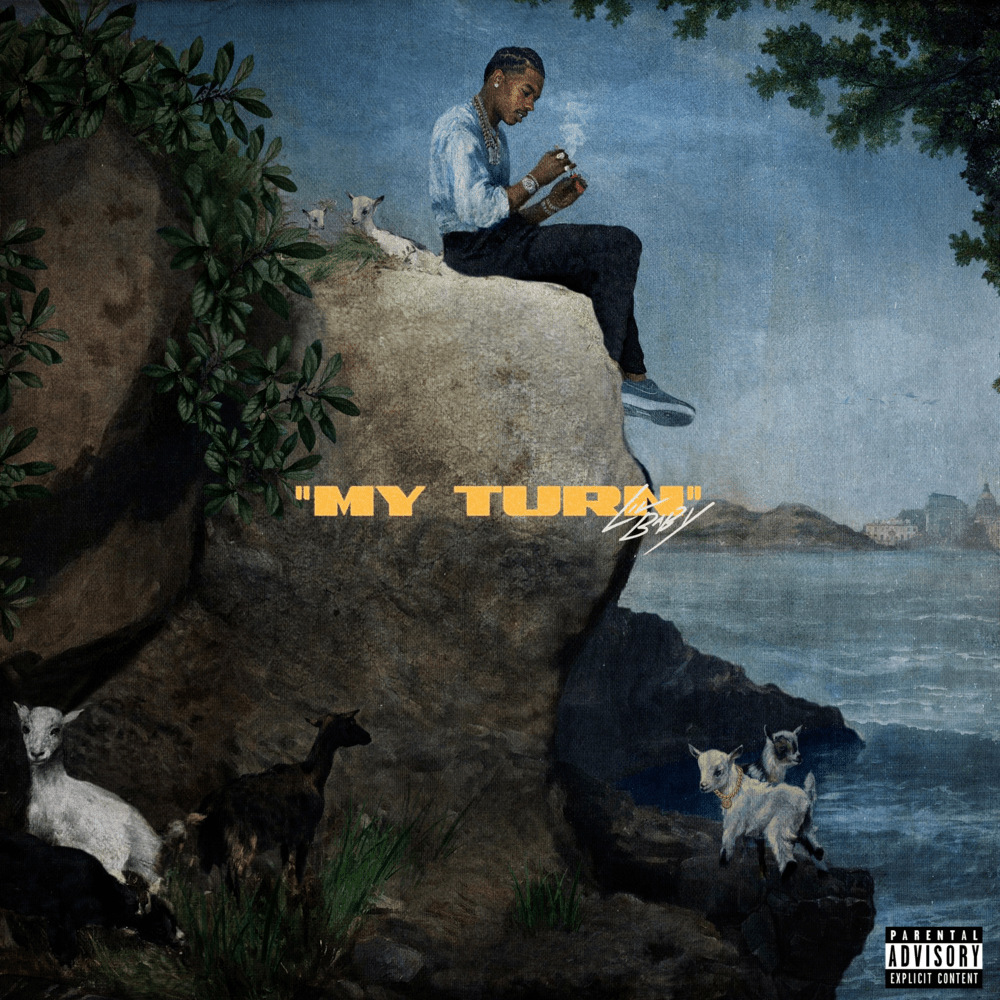 Lil Baby acknowledges his past, looks forward to the future and embraces the present in "My Turn."
---
TOP 5
5. SAME THING
I feel like "Same Thing" is going to be one of the many tracks on My Turn that will get overlooked. At the end of the day, I think Lil Baby accomplishes a bunch of things on it.
So what are some of the things I think Baby accomplishes in "Same Thing?" For starters, he gifts us with melodies that are hella infectious and bars that are hood-certified in the song. Additionally, he proves to the world once again that he is more than capable of making a hit out of an instrumental that is on some Latin rock trap s**t.
4. COMMERCIAL
Who would've thunk that Lil Baby and Lil Uzi Vert would be rap's version of Anthony Davis and Lebron James? Yes, both are great individual rappers, but together, they complement each other so f**king well! In "Commercial," you'll get a chance to hear exactly what I'm talking about.
I love the dark instrumental that powers "Commercial" — It literally makes the track feel cinematic. As for Lil Baby and Lil Uzi Vert, they do outstanding jobs of hurling out their braggadocios, gangsta, carefree, competitive, and drippy bars feverishly in the song. (I also love the melodies both of them hit us with in the track, too.)
3. CAN'T EXPLAIN
"Can't Explain" is a heartwarming track in which Lil Baby sings about his come-up, his personal demons, his family values, his confusing love life, his wins, and his losses.
Lil Baby shines when he makes music that has him sounding like he's in his feelings. Seriously, dude sounds like he just came out of the sad section of the African American museum in "Can't Explain."
2. SUM 2 PROVE
Sum 2 Prove is beyond riveting. With the track being powered by this emotional trap instrumental that also has a helluva bop attached to it, Lil Baby hurls out bars about celebrating his wins, making big money, and being paranoid (Read Below):
Know this money bring envy, you prolly won't be me
But bro, we can't beef 'bout no small shit
Oversea got the crowd doin' moshpits
Can't believe that I'm still in apartments
Business man, went an got me an office
Million dollar deals, I get 'em often
Me and Dolla was servin' on Spar Street
How legit, he gon' stay with that chopsticks
I got robbed, that shit made me a monster

Kudos To Genius!
Lil Baby spits out his bars so relentlessly in Sum 2 Prove, it takes some time to fully understand all the s**t that he is saying. Once you have a good gauge of his words, I guarantee you will put respect on his name (If you haven't already).
I'm not going to lie, Baby sounds like Roddy Ricch on this track…
1. WOAH
"Woah" is Lil Baby's best song to-date.
"Woah" features a dramatic trap instrumental that only sounds right if you listen to it with your eyes closed. From there, what we are treated to is a very catchy hook, emotional lyrics revolving around balling and putting haters in their places, and melodies to die for. In other words, Lil Baby proved to me once again that he is a mainstay in the hip-hop game with this fire ass song!
Seriously, there is absolutely nothing wrong with this song…
---
SONG BY SONG BREAKDOWN
1. GET UGLY (3.5/5)
2. HEATIN UP (4/5)
3. HOW (4.5/5)
4. GRACE (3.5/5)
5. WOAH (5/5)
6. LIVE OFF MY CLOSET (4/5)
7. SAME THING (4/5)
8. EMOTIONALLY SCARRED (4/5)
9. COMMERCIAL (4.5/5)
10. FOREVER (3.5/5)
11. CAN'T EXPLAIN (5/5)
12. NO SUCKER (3.5/5)
13. SUM 2 PROVE (4.5/5)
14. WE SHOULD (2.5/5)
15. CATCH THE SUN (4/5)
16. CONSISTENT (3.5/5)
17. GANG SIGNS (3/5)
18. HURTIN (4/5)
19. FORGET THAT (3.5/5)
20. SOLID (3.5/5)
---
OVERALL RATING
(B)
WHAT I LIKE ABOUT MY TURN
Lil Baby's ability to make hits while staying true to himself. Yes, Lil Baby is great at making hooks that are catchy and melodies that are infectious, but on the real, I think it's his ability to gift us with lyrics that are trill as f**k that impresses me the most about him. Throughout My Turn, the dread-headed rapper finds entertaining ways to let the world know that he's living life lavishly, that he is still in the hood like an engine, and that he is a dude that is more than willing to die for his family. Is there any other A-list rapper in the game that is capable of sounding as real as Baby (I know there are, but f**k it, let's pretend like there aren't for like ten more minutes)?
The beats on the album. This generation of hip-hop listeners love them some bass. Throughout My Turn, you get beats that contain so much bass, you might end up getting sued by the stereos you play the album on (Poor joke, I know). Additionally, I like how Baby picked beats to rap over that featured riveting vibes.
Lil Baby's rap performances on the album. There are a lot of people walking this earth that aren't impressed with Baby's spitting skills; I'm not one of them. While he doesn't hit us with clever punchlines or unique wordplay all that much in his raps, he does spit hard, doing everything he can to rip a beat to shreds every chance he gets. Who can't respect a n***a that spits hard?
The features on the album. I hated Young Thug's feature on "We Should," but liked everyone else's features. To me, Baby is fantastic at morphing into a dude that can play second fiddle to a star and first option to someone who is good at playing second fiddle. With that being said, Gunna was great on "Heatin Up," (He was the second option on the song) Future was very good on "Live In The Closet," (He was the first option on the song) and Lil Uzi Vert was dope on "Commercial." (He was the first option on the song)
The solo cuts on the album are fantastic. Baby is more than capable of making a hit all by his lonesome; 90% of the rappers walking this planet cannot. In My Turn, there are so many solo tracks that sound complete, exhilarating, and club-ready. Who needs features?
WHAT I DISLIKE ABOUT MY TURN
Absolutely nothing. I get it, this album isn't as good as Illmatic, but as a trap album, I think it is as good as it gets! Do I think it deserves an A? Not quite, as the music on it didn't blow me away all that much; but I do think it deserves a B because of its solidness in literally every category you can think of when it comes to hip-hop music.