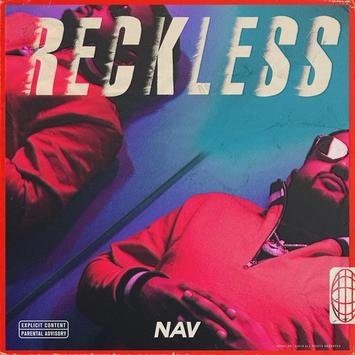 I'ma keep it real with you guys: I'm a bit disappointed with the music Nav has been releasing lately. On his debut album, "Nav," I heard this unique sound from him that reminded me a tad bit of an auto-tuned up Kid Cudi. Unfortunately, most things Nav has released since then simply don't fit that sound. Don't get me wrong, I love "A$AP Ferg" and "Held Me Down" off of "Perfect Timing," but I feel like he excels the most when he stays true to himself like he did on songs like (Ironically) "Myself." I'm curious to see if he goes back to that version of himself on this album, or finds a way to make me enjoy this brand new version of himself a little more.
---
TOP 5
5. FRESHMAN'S LIST
Nav has clearly been in the game for a few years, so in my opinion, he is no longer eligible for any rookie of the year awards.
On the real, I probably like the cockiness Nav shows on this song more than its actual musicality. Correct, he talks a lot of s**t throughout this album, however, in this particular song, I hear this urgency from the Canadian artist to prove himself, as he shows some legit aggression in his lyrics, delivering blows to his naysayers and peers.
4. CHAMPION
Travis Scott has Kylie on his hip, so that means that n***a is the definition of a champion.
Isn't Travis Scott the best at boosting any track up with his presence? I feel like whenever he's featured on a song, there is this extra level of energy attached to it that is hard to ignore. In "Champion," he puts these skills to the test, practically carrying a struggling Nav to the finish line with this explosive contribution that is centered around flossing and finessing on his groupies.
Nav's part sounds off-kilter on this song. I don't know if the auto-tune machine in the studio had the flu that day, but he sounds like he's got a bunch of needles in his mouth throughout. I never want to hear this verse from him again.
3. NEVER CHANGE
"Never Change" has Nav battling his demons head on, which I believe is one of the reasons I think his true fans will like it.
Much like 99% of the hip hop artists out today, Nav is addicted to the money and the fame that comes with being a rap star. Unlike everyone else, Nav genuinely sounds concerned about it on this song. Whether it's the numbing vocals he chose to use on both the hook and his verses, or the very detail-oriented explanations on why he's having problems with his new life, every thing about this song sounds authentic; and for an artist like Nav, authenticity is everything.
2. FAITH
You think it's wise to have faith in a self-proclaimed drug addict that is battling depression?
I guess "Faith" is supposed to be a love song, because it has Quavo and Nav trying their hardest to drop a few sentimental lyrics on their verses. Don't get me wrong, they aren't spewing out some Shakesperian ass s**t on the record, they simply show a slight level of care about their women that you wouldn't normally hear from a rap artist today.
I don't care what anybody says, Quavo has super star talent! The way he takes command of a beat like he does on this song, catching the listeners attention with infectious harmonizing and appealing bars is unmatched. I think it's about time he releases a solo effort.
1. WANTED YOU
Lil Uzi Vert sounds like a certified molester on the intro to this song.
Nav and Uzi have a few collaborations under their belt, and on them, I feel like they show some pretty decent chemistry. On "Wanted You" — a song that sounds very similar to their past collaboration called "A$AP Ferg," both artists try to out sly each other, presenting their case on why all the coveted females of the world should follow their waves. I probably like Nav's part more than I like Uzis, as he rides the beat with this melodic approach that fits the tone of the song very well. As for Uzi, I feel like he does a bit much on his part, showing way too much animation over the chill ass beat.
If all three of us are pursuing the same girl, I really like my chances.
---
SONG BY SONG BREAKDOWN
1. RECKLESS (3.6/5)
2. NEVER CHANGE (4.5/5)
3. HOLD YOUR HAND (3.7/5)
4. FAITH (4/5)
5. CHAMPION (3.9/5)
6. GLOW UP (3.7/5)
7. JUST HAPPENED (4/5)
8. WANTED YOU (4.5/5)
9. WITH ME (3.7/5)
10. EAT (3.7/5)
11. FRESHMAN LIST (4/5)
12. WHAT I NEED (3.8/5)
---
OVERALL RATING
(D+)
Before I start this conclusion, let me ask a quick question: Who sold Nav this cheap ass auto-tune machine?
Nav really struggled on this album both musically and identity-wise. Correct, he discusses some pretty deep topics such as drug addiction and finding love throughout it, but for some reason, many of his words came across as blank, to me. Matter of fact, I'll go even further: When I listen to his music these days, I hear a dude that is dragging his feet in a genre he simply doesn't want to be in.
You know what my biggest problem with Nav is when he raps? He resorts to the same f**kin' lines when he runs out of s**t to say. Correct, I know Nav has several b*tches on his payroll, is one of the few brown boys that our poppin' in the game and has a lot of money, but the more and more he tries to plug these topics into places that don't fit in his music, the more and more it sounds forced and less believable that this is his actual life.
I get this feeling that all the features on this album tried their hardest to motivate Nav to go harder. Since he naturally sounds as dull as a navigation system, these collaborators took it upon themselves to add a boost of energy to any song they were guesting on. Does this throw off the chemistry? Probably. However, the trade-off is some much needed energy to a very mundane album.
No need to dive deep about the production on this album,  most of the beats sound the same.
Maybe I'm judging Nav a bit too harshly here, but as a producer, I feel like he should know better to drop such a lackluster effort like "Reckless." Don't get me wrong, I give him major props for practically building everything you heard from the ground-up, but frfr, he needs to come harder than this if he wants to last in this game. In a nutshell, this album was very boring.
Categories: Album, Album Rating, Album Ratings, Album Review, Album Reviews, Best Song, Best Songs, Best Tracks, Hot Track, Hottest Songs, Nav, Rating, Ratings, Reckless, Restless, Review, Reviews, Top 5, Top 5 Songs, Top Ratings, Top Reviews, Top Songs, Top Track, Top Tracks