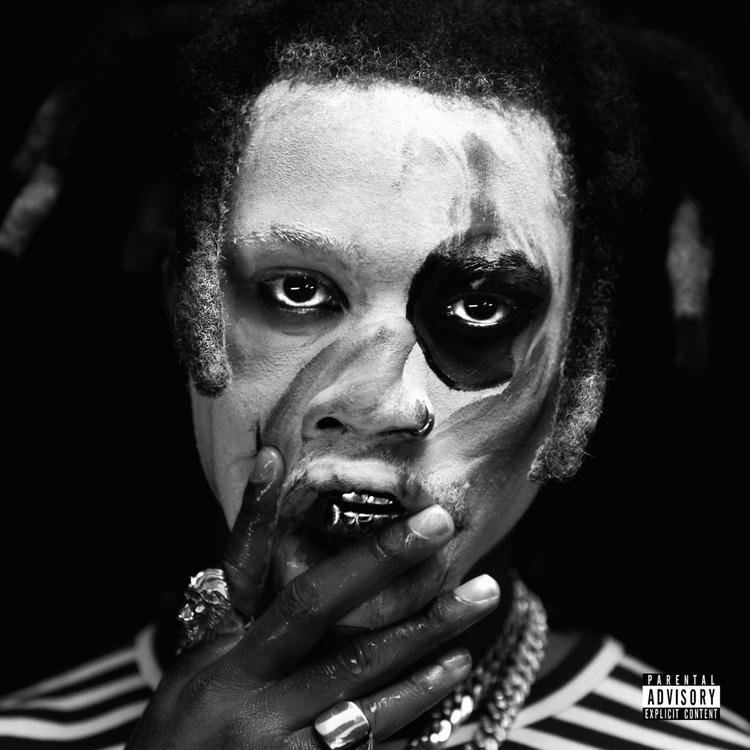 Steph Curry might have the shot, but Denzel Curry has the raps. If you aren't aware of him, I feel sorry for you, because he is one of the most intriguing/dynamic rap acts in the game. With "TA1300," a combination of a three part EP series, Curry looks to make a bunch of us believers in his Lo-fi rap wave, even if that means he has to show sides of his artistry that isn't the most people friendly.
---
STREAM
---
TOP 5
5. PERCS
Denzel Curry spazzes the f**k out on this song! He addresses his disdain for dudes in the industry throughout it, calling out their misguided ways. Every bar he drops is as explosive as a Russell Westbrook interview, while the fast pace instrumental simply plays the rapper's side-kick that gasses him up to give us his aggressive thoughts.
Is screaming a side effect of Percocet consumption? If so, I'm sure that n***a from Bar Rescue is taking that s**t.
4. SUMO | ZUMO
Denzel Curry is clearly a crazy man.
In the beginning of "Sumo," Denzel Curry gets his Jaden Smith on, rapping with the same flow that the young Smith raps with on "Icon." Eventually, he morphs into the Incredible Hulk A$AP Ferg, rapping with the same belligerent style the "Plain Jane" rapper utilizes on his songs. However, one thing that is constant is Denzel's lyrical content — It's braggadocios, cocky, and most importantly, competitive. It's literally the Demarcus Cousins of audio.
If you need a song to get you hyped up to lift some weights, this track is perfect for you.
3. TABOO | TA13OO
For individuals that aren't too fond of Denzel Curry, you literally get an immediate understanding of the type of guy that he is on this introduction track called "TABOO | TA1300." On it, he raps about the highs and lows that this one special individual went through in their life, and how he's determined to lend them a shoulder to lean on whenever they need it (I have a feeling he's talking about himself, and that he's willing to lend a shoulder to lean on to himself). His words come out so easily on his verses, as he switches between aggressive spitter and smooth crooner throughout.
This song sounds like something vintage Outkast would make. Anything that sounds like vintage Outkast is a hit.
2. BLACK BALLOONS | 13LACK 13ALLOONZ
"BLACK BALLOONS | 13LACK 13ALLOONZ" is literally that old school sounding rap track that I never have an issue listening to. It features a version of Denzel that sounds optimistic — something I wasn't sure we will get much of on this album. Anyway, I absolutely love the relentless flow he uses on this track, as he absolutely deciphers the beat with lowkey wisdom, zany thoughts and high doses of pimpadociousness.
GoldLink is featured on this track, and he is starting to stick his chest out like I want him to. On his verse, he proclaims himself to be the king of DC, while discussing the trials and tribulations that come with assuming the title. I love the swagger and confidence he raps with on the track, and as usual, think his tongue-twisting flow has "Ripleys Believe It Or Not" potential.
Man, this song has the vibes I need right now!
1. CASH MANIAC | CAZH MAN1AC
"Maniac" is so f**kin' sly. It features this smooth/old school instrumental that will make you feel like toasting to the good life. Denzel attacks this beat with pure swag, showing some great energy, but at the same time, this coolness that only Stefan from Family Matters can match. Lyrically, you get his best punchlines on this song, as he finds many different ways to describe the big money, success and women he's diving in these days.
---
SONG BY SONG BREAKDOWN
1. TABOO | TA1300 (4.5/5)
2. BLACK BALLOONS | 13LACK 13ALLOONZ (5/5)
3. CASH MANIAC | CAZH MAN1AC (5/5)
4. SUMO | ZUMO (5/5)
1. SUPER SAIYAN SUPERMAN (4/5)
2. SWITCH IT UP | ZWITCH 1T UP (4/5)
3. MAD I GOT IT | MAD 1 GOT 1T (3.5/5)
4. SIRENS | ZIRENS (4.5/5)
5. CLOUT COBAIN | CO13A1N (3.5/5)
1. THE BLACKEST BALLOON (4/5)
2. PERCS | PERCZ (4.5/5)
3. VENGEANCE | VENGEANCE (3.5/5)
4. BLACK METAL TERRORIST | 13 M T (4/5)
---
OVERALL RATING
(B+)
Denzel Curry is a name that a lot of listeners aren't too familiar with, but trust me, after people get hip to this album, they will be. The South Floridian has the capability of rapping with furious aggression, a flow that is unflappable and content that is damn there jaw dropping. In "TA1300" (An album with a bunch of weird ass titles), the South Floridian was able to piece together all those characteristics masterfully, resulting in a body of work that is as riveting as a Marvel movie.
Personally, I'm a laid back guy, so I thought the first portion of this album was awesome. It was smooth, contained Denzel Curry's best bars, and musically, featured the most complete records.
The second portion of the album was a lot more experimental than the other two, as Denzel flirted with sounds that felt both trendy and club-inspired. He wasn't as lyrical on this side, instead, he opted to draw listeners in with appealing raps that I think hip hop fans everywhere can enjoy.
The last portion of the album is nothing short of explosive. Most of the tracks you hear has a version of Denzel that is perturbed, uncontrollable and a bit violent.
When you combine the three EP's, you'll come to realize that Denzel wants to take you on an emotional roller-coaster ride with this album, and can care less if you fly off the side of your seat in the process. Honestly, I've been waiting for months to hear an album as unique, dynamic and fearless as this. Denzel doesn't hold back when it comes to keeping it real, imaginary or trill on any record, which I think results in a body of work that you should have on rotation as long as possible.
Categories: Album, Album Rating, Album Ratings, Album Review, Album Reviews, Best Song, Best Songs, Best Tracks, Denzel Curry, Hottest Songs, New Songs, TA1300, Top 5, Top 5 Songs, Top Ratings, Top Reviews, Top Songs, Top Track, Top Tracks