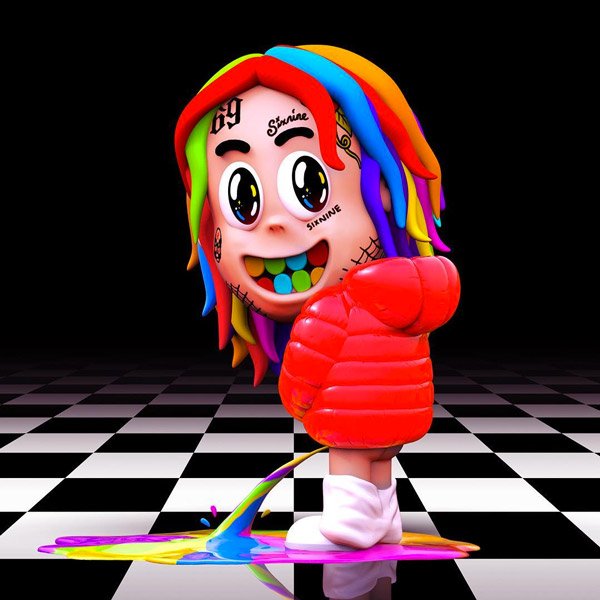 Tekashi 6ix9ine is one of the most outlandish public figures I've seen in years.  Unfortunately, because of this, not much praise has been given to him for having a pretty solid record when it comes to charting on the Billboard 100. Now that it looks likely that the rainbow-haired rapper will see some serious jail-time, DUMMY BOY might very well get its chance to receive credit where credit is due, mainly because it won't have its own maker's distractions getting in the way of its shine.
---
STREAM
---
TOP 5
5. TATI/STOOPID
I f**k with Tekashi 6ix9ine when he forgets to take his meds!
In all seriousness, I enjoy Tekashi when he's uncaged, and on both of these songs, he lets all the way loose! Not only does he provoke his industry enemies (Trippie Redd & Chief Keef) with threatening lyrics, but he also does a s**tload of raw/unapologetic bragging and boasting. In the process, he incriminates the f**k out of himself, too, something that will probably make you cringe knowing that he is now facing the possibility of life in prison.
Even though Bobby Shmurda's part on this song was shorter than Isaiah Thomas on "STOOPID," he killed that s**t!
4. KIKA
"KIKA" is easily a hit. Similar to "RONDO" from DAY69, the song features Tory Lanez on the hook and this explosive club-inspired instrumental. As for Tekashi, he's pretty untamed on his verses, taking aim at his foes and promoting himself as the best thing since sliced bread throughout.
Listeners may have an issue with the fact that Tekashi rhymes "Oh S**t" with "Oh S**t," and "b*tch n***a" with "b*tch n***a" on his verses, but you can't deny the explosive energy he brought to the track. I also really like the performance Tory put up on the hook.
3. KANGA
There are a lot of unique records on DUMMY BOY, but in my humbling opinion, "KANGA" wins the title of most unique. The short gem has Kanye West and 6ix9ine going back and forth about intriguing topics such as f**king b*tches and addressing haters, with both getting addressed unapologetically by each artist. The level of cockiness/brashness both artists show in their raps will certainly stun you, but at the same time, the song's dance-heavy vibes will keep you entertained.
Why do I feel like Kanye and 6ix9ine having a friendship could very well signal the end of mankind?
2. BEBE
"BEBE" is an authentic Latin record that has both Tekashi 6ix9ine and Anuel AA going back and forth on some sensual Spanish s**t that n***as will need google translator to decode. It's vibes are impeccable, and Tekashi's presence is pretty impressive on it.
I fell in love with this song when I heard it in a club down in Vegas a few months ago. when the DJ played it, I shook my ass like it was Carnival!
1. FEFE
Tekashi 6ix9ine's "FEFE" track was one of my favorite this year. It features Nicki Minaj — An artist that is very selective when it comes to who she works with, and honestly, I didn't see a collaboration between her and the controversial 6ix9ine coming at all.
FEFE's biggest draws (Other than Nicki's) are the unorthodox flow that both Nicki and Tekashi use on their verses (Both of them sound like they are being shocked by some jumper cables while they're rapping), and the phenomenal chemistry the two New York artists share. Literally, everything they say on this track catches your attention due to its bizarre appeal, especially when it comes to sex and gun-talk. While Tekashi's lyrical content is beyond amateur on his two verses, I find Nicki's contributions on hers nearly flawless, with her punchlines being on point and her singing getting plugged into places that actually works.
---
SONG BY SONG BREAKDOWN
1. STOOPID (3.5/5)
2. FEFE (4/5)
3. TIC TOC (3.5/5)
4. KIKA (4/5)
5. MAMA (3.5/5)
6. WAKA (3/5)
7. BEBE (4/5)
8. MALA (3.5/5)
9. KANGA (4/5)
10. FEEFA (4/5)
11. TATI (4.5/5)
12. WONDO (3.5/5)
13. DUMMY (4/5)
---
OVERALL RATING
(C)
Man oh man, I sweated like I never sweated before listening to DUMMY BOY. It had so much high-octane energy attached to it, in addition to content that was so explosive that I had to put down my ear phones from time to time to catch my breath. You can tell Tekashi wanted every song to sound like a major hit, but I was surprised at the many different ways he tried to pursue this task.
Here's the thing that is so confusing about this album: Tekashi isn't the best rapper, he isn't the best singer, and he damn sure isn't the most influential dude to listen to, but he somehow gets by. On songs like "FEFE" and "BEBE," he is probably not qualified to be on that s**t, but he uses his charm to carry him to the finish line. On songs like "TATI" and "STOOPID," he's qualified, but delivers perhaps some of the most brain-dead lyrics I've heard in my life. It's almost like Tekashi does exactly the bare minimum we need from him to be successful on each and every song on this album, and at times, that s**t can either be a blessing or a curse.
I thought the features on this album were heavily needed. (I don't think I've ever said that on an album review before) I felt like each and every guest set the tone of the record they were on by doing what they did best, with Tekashi appropriately following suit. In other words, the guests on DUMMY BOY often played star player, and whenever they passed it to Tekashi, dude made his shots. Think about it: As a listener, would you want to hear "FEFE" with just Tekashi? Would you want to hear "BEBE" with just Tekashi? How about "TIC TOC" with just Tekashi? If you say "yes" to all, you are a muthaf**king liar!
How about the production on this album? You got some club bangers, Reggaeton hits, smooth records, dance tracks, and even pop sounding s**t. I applaud each and every artist that was able to hold their own on these songs, but kudos must go to the producers, too (Murda Beatz, Tay Keith and Scott Storch's of the world). They truly challenged Tekashi to step outside of the box, while also providing him with s**t that made him feel like he was in his comfort zone.
As much as you want to call Tekashi 6ix9ine a crazy muthaf**ka, you can't hate on the fact that he takes chances as an artist. On DUMMY BOY, you got a few tracks in which he stayed in his Wild-N-Crazy lane, bullying his peers with some tenacious raps, but he also had a bunch of s**t in which he did some experimenting, diving into situations that were probably not in the best of his interest. I give him major props for this; not only because of the musical outcome, but because he stayed true to his sporadic character. If he does happen to do some major time, I can honestly say I'll miss his artistry more than I'll miss his silly antics.