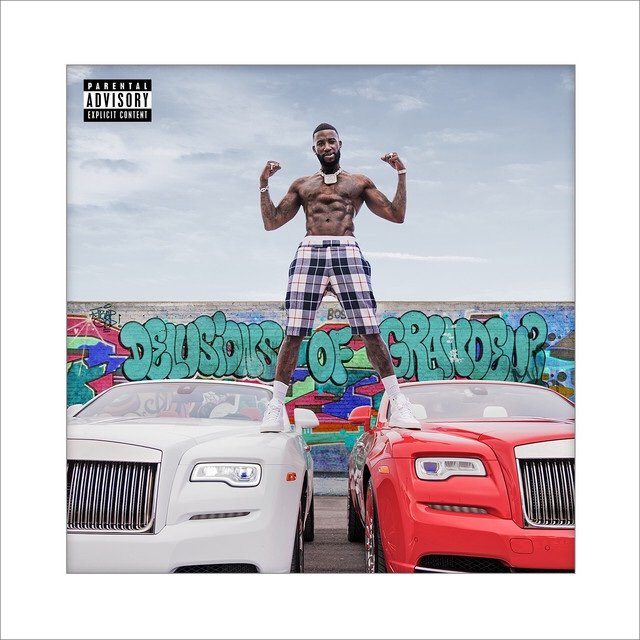 "Delusions of Grandeur" is Gucci Mane's gazillionth project (Isn't that amazing?). Not only should the Zone 6 rapper's longevity in the game be applauded, but his ability to remain his grandiose/trap self should be recognized, too. With that being said, I look for this new album to feature lots of trap hits, but also experimental and vulnerable cuts.
---
STREAM
---
TOP 5
5. LAME
"Lame" is the definition of a tough ass posse cut. On it, you get nothing but carefree/reckless lyrics from Gucci Mane and featured guests Wiz Khalifa & Rick Ross. What I LIKE about the track is the intricate trap instrumental that powers it, each artists unbothered mentality on their verses, and unfortunately, the annoying/catchy hook Gucci delivers. What I LOVE about the track is Rick Ross' energy, especially when he makes light of his seizures.
I really like the combination of Gucci Mane, Wiz Khalifa and Rick Ross!
4. SPECIAL
"Special" really is something special. The track is powered by this riveting/bass boomin' instrumental by Murda Beatz that does everything in its power to test your speakers testosterone. Over this instrumental, Gucci Mane raps about being an individual that's unique, even when you strip down his diamonds, clothes and money. Eventually, Gucci returns to his braggadocios ways on his second verse, reminding the world how trill/blessed he is. (S**t, I knew he couldn't get through a whole song without getting obnoxious)
Anuel AA is on this song, and to be honest with you, I don't know why. Nonetheless, he adds some random ass Latin flare to it — something I find strange and awesome at the same time.
So calling ourselves 'special' is the new thing to do now? C'mon, guys…
3. BACKWARDS
When it comes to rappers that made it out of jail and prospered, Meek Mill and Gucci Mane are two dudes that come to my mind. In "Backwards," the two decided to link up with one another for this trill ass banger that features raw/braggadocios ass bars and grungy vibes that will make you want to do the stank face.
You know what I like most about "Backwards?" It sounds like classic mixtape Gucci Mane. I swear, I got flashbacks to days in which Gucci was fat and inaudible listening to it.
2. LOVE THRU THE COMPUTER
Gucci Mane and Justin Bieber = Odell Beckham Jr. and Eli Manning.
I know what you are thinking: What the f**k is Gucci Mane doing linking up with Justin Bieber for a song? Well, historically, Gucci has been open to working with pop music's finest, so I am not surprised by this collaboration at all. What I am surprised by is the chemistry between the two musicians on the song… While the production behind "Love Thru The Computer" does most of the work (It's high in energy, fast tempo'd and soulful), I thought Justin did a great job of adding some cutesy-wutsey/infectiousness to the track, and Gucci Mane did a great job of playing hood romantic, keeping s**t both raw and gutter every chance he got on his verses. The combination between the two contrasting styles sounded really good, to me.
If this was 2003 Gucci, I'm pretty sure he would've robbed Justin Bieber before collaborating with him.
1. PROUD OF U
"Proud of You" is a homage track by Gucci Mane to himself. On it, the 1017 honcho describes all of the different ways he's improved his life, and that includes him stopping lean, cutting off friends that are detrimental to his growth, and most importantly, leaving his criminal behavior behind (kind-of). No need to worry La Flare fans, he still brags here and there on the track, indulging in women and luxurious items, it just takes a backseat this time around.
As for the musicality that powers "Proud Of U," it falls in line with the grungy bangers Gucci made in the past — it's muddy, gutter and features raw rap.
Gucci is an example that people should be paying a lot more attention to.
---
SONG BY SONG BREAKDOWN
1. BUSSDOWN (3.5/5)
2. BACKWARDS (4/5)
3. SPECIAL (4/5)
4. ICE (4/5)
5. LOVE THRU THE COMPUTER (4/5)
6. PROUD OF U (4.5/5)
7. BOTTOM (3/5)
8. HANDS OFF (3.5/5)
9. BLIND (3/5)
10. SUPERSTAR (4/5)
11. UPGRADE (3/5)
12. LAME (4/5)
13. POTENTIAL (4/5)
14. HUMAN CHANDELIER (3/5)
15. US (3/5)
16. LOOK AT ME NOW (3.5/5)
17. MAKING OF A MURDER (4/5)
18. OUTRO (3.5/5)
---
OVERALL RATING
(C+)
"Delusions Of Grandeur" is an album by a man that knows exactly who he is as a person. From the moment you press play on it, you are greeted to this cold ass track called "Bussdown" in which Gucci Mane reminds us all that he isn't the one to mess with in any hood scenario. From there, you get more of these messages delivered in different ways, in addition to bragging, bragging and more bragging. While these subject-matters would get old if it was delivered by any other artist, Gucci finds a myriad of ways to deliver them on this album, and that can come in tough s**t, commercial s**t or club s**t. OK, I am making excuses for Gucci Mane's poor content, but when you are an OG in the game like him, you can get away with not talking about s**t in your music.
I thought the beats on "Delusions of Grandeur" was really f**king good! A good chunk of them are grungy, gritty and cinematic, while others are authentically trap, featuring vibes that can only be understood in bandos and hood 711s. For the most part, Gucci raps the same over every single beat he's given, opting to come across as gutter/stripped down as opposed to melodic/charming (Thank God).
The features on "Delusions of Grandeur" was another aspect I liked about this album. While nearly half of it has guest appearances, each person truly meant something to the song they were featured on. To get more specific, I enjoyed Anuel AA's Latin contributions on "Special" (Even though it was random as s**t), A Boogie Wit Da Hoodie's melodic appearance on "Blind," and Rick Ross' animated verse on "Lame." Not only did each person provide a change of pace/different sound to the project, they also let the world know that Gucci Mane is more than willing to let someone else shine on a song even though he comes across as a bit self-centered.
"Delusions of Grandeur" is yet another solid album by Gucci Mane. It has its fair-share of experimenting, trap bangers and commercial hits — a combination I definitely expected to hear. In 5-10 years, will you remember the album exists? Probably not, but for the time-being, it is definitely a project you can bump when you need a pregame session to get lit.