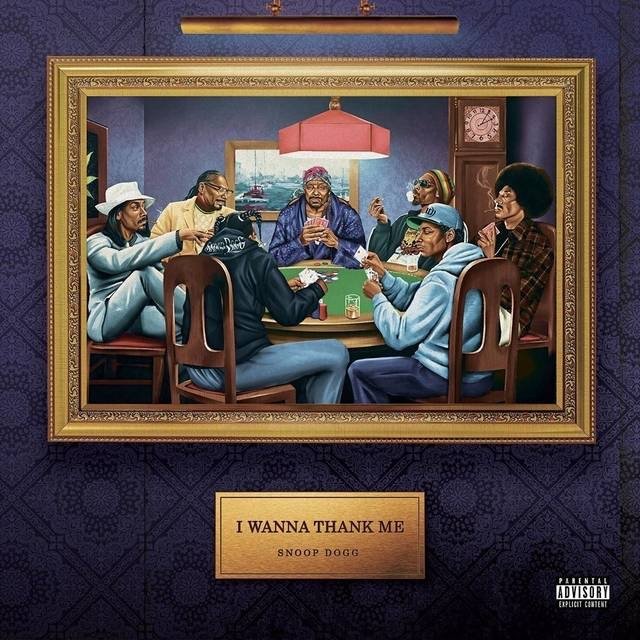 Snoop Dogg pays homage to himself in "I Wanna Thank Me." 
---
STREAM
---
TOP 5
5. LET BYGONES BE BYGONES
Even in 2019, we are supposed to care about Death Row. 
Snoop Dogg and Suge Knight's relationship has gone through more turns than an Uber driver that's trying to pick up a passenger from the middle of Lollapalooza. These days, it seems like the two are on good terms, as Snoop decided to release a homage track towards his former boss called "Let Bygones Be Bygones." On it, the 47-year old rapper lets the world know how he's benefited greatly from Suge's support throughout the years, mentioning their ups-and-downs in the process.
Despite Suge Knight coming across like a video game boss, he still gets lots of love from real ones in the industry. In my opinion, when you change a n***a's life, it's easy to ignore all the crazy s**t you've done.
4. SO MISINFORMED
When I took a look at this album's track-listing two weeks ago, never in a million years did I imagine that one of my favorite songs would be "So Misinformed" with Slick Rick.
"So Misinformed" is about being properly informed when it comes to our history. What I love about the song is that it doesn't try to shove messages down your throat; instead, it comes across as a heads-up to folks, as Snoop Dogg smoothly raps about the things he believes in, while Slick Rick delivers a cool ass hook that effortlessly spews out knowledge to listeners. I love when lessons are delivered naturally like it is on this song.
3. ONE BLOOD, ONE CUZZ
"One Blood, One Cuzz" is a very meaningful track. The subject-matter behind it revolves around finding peace between gang-members.
What I believe makes "One Blood, One Cuzz" great is a few things: The vibrant instrumental that powers the song, how Snoop talks about lost ones and fake friends on his verses, and most importantly, the urgency the Boss Dogg raps with throughout. On the real, nothing about this song feels plastic.
After Nipsey's passing, this song hits harder!
2. VENTILATION
"Ventilation" is fire! It is powered by this authentic west coast instrumental, and over this instrumental, RJmrLA, $tupid Young, Azjah and Snoop gift us with verses and a hook that are nonchalantly gangsta, low-key clever, and unbelievably infectious. In any setting that needs a boost of energy, this song will have a job offer.
Snoop isn't what makes this song great, but since he's the OG, I'll say his influence on west coast rap is what makes it great.
1. FOCUSED
Snoop Dogg spits so f**king hard in "Focused!" With the beat behind the song giving off this soulful sound, Snoop raps like his life depends on it, hurling out real n***a bars through a consistent flow and impregnable confidence.
I get it, there are a lot of watered-down songs on this album, but nothing about "Focused" is watered-down.
---
SONG BY SONG BREAKDOWN
1. WHAT U TALKIN' BOUT (3.5/5)
2. SO MISINFORMED (4.5/5)
3. LET BYGONES BE BYGONES (4/5)
4. ONE BLOOD, ONE CUZZ (4.5/5)
5. COUNTDOWN (4/5)
6. I C YOUR B******T (2.5/5)
7. TURN ME ON (3.5/5)
8. BLUE FACE HUNNIDS (3/5)
9. NEW BOOTY (3/5)
10. TAKE ME AWAY (3.5/5)
11. DO IT WHEN I'M IN IT (4/5)
12. FIRST PLACE (3/5)
13. FOCUSED (5/5)
14. RISE TO THE TOP (3.5/5)
15. WINTERTIME IN JUNE (3/5)
16. DOO WOP THANK ME (N/A)
17. MAIN PHONE (2/5)
18. DO YOU LIKE I DO (2.5/5)
19. I'VE BEEN LOOKING FOR YOU (3/5)
20. LITTLE SQUARE UBITCHU (1.5/5)
21. VENTILATION (4.5/5)
22. I WANNA THANK ME (3.5/5)
---
OVERALL RATING
(C+)
The level of growth Snoop has gone through throughout the years is amazing! I remember back in the day when he was as thuggish as anyone else in the game, and now he's promoting unity, education and peace. With that being said, "I Wanna Thank Me" feels like a way for the Boss Dogg to show the world that anyone is capable of growing.
While I liked most of the hard-hitting songs on "I Wanna Thank Me," I liked the knowledgeable ones like "So Misinformed" and "One Blood, One Cuzz" a bit more. With so many negative songs on the radio these days, it's refreshing hearing an OG like Snoop enlighten and teach valuable lessons in their music.
I haven't been a fan of Snoop's rapping these last 10-15 years, but on the real, he spits hard as s**t on "I Wanna Thank Me!" No, he doesn't rap fast like Kendrick or deliver crazy punchlines like Cole, but he demands real respect on his verses, smartly outlining his agendas, and showing a level of passion I haven't heard from him in a while. I don't know if Snoop has taken a sip of the fountain of youth, but he sounds like his old self on this album!
I really didn't like when Snoop tried to experiment on "I Wanna Thank Me." With a good chunk of the album featuring some pretty tough ass bars (On both the songs that were peaceful and hard), I was locked-in to rappity-rap Snoop. When i heard him sing his ass off on "Winter In June," or do whatever the f**k he was doing on "Little Square UBitchU," i was not trying to hear it. Don't get me wrong, sometimes when Snoop experiments he's OK (i.e. Sexual Eruption), but this time around, it was forced and pointless.
The production on "I Wanna Thank Me" was all over the place. Plenty of the beats Snoop rapped over were old school-sounding, while others gave off present-day vibes. I thought Snoop was never given a beat that went over his head — which is an aspect about this album I thought made him sound clearer and more precise.
There were hella features on this album: You got Chris Brown, YG, Slick Rick, Russ, Wiz Khalifa, Trey Songz, Nate Dogg, Lil Duval, Rick Rock, Ozuna and more! Each person felt like helpers for Snoop, giving him that last nudge he needed to be taken seriously as an artist. Thank GOD for features!
Snoop is still ticking, even though I thought he kicked the rap can years ago. Should he retire after this pretty solid album? I think so, but knowing him, he might drop a Latin project in the near future that makes us forget how hard of a spitter he can be when he's actually trying.