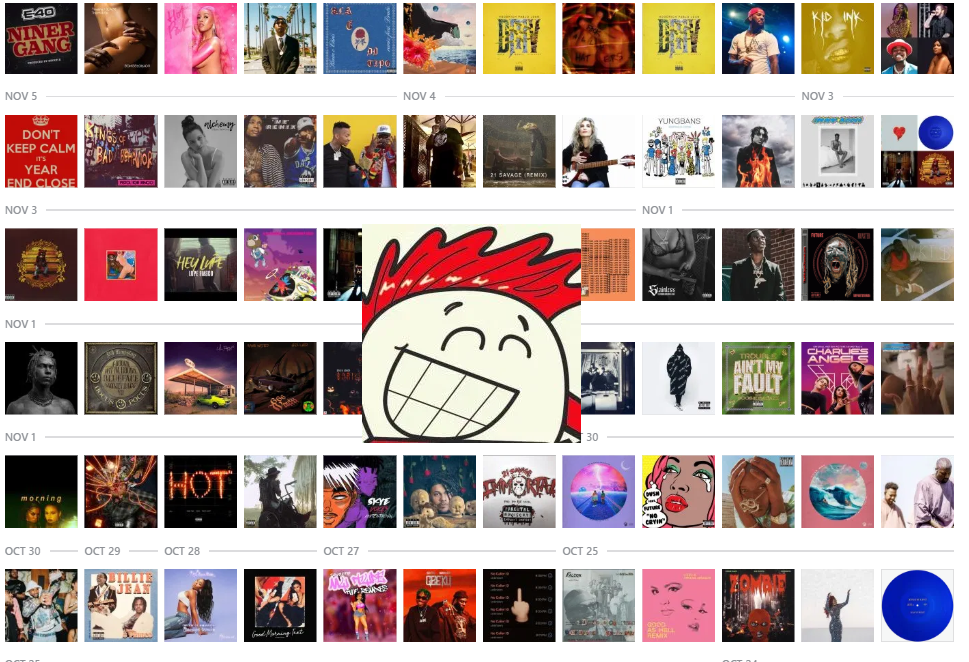 Dec 8: The Top Album I Overrated Is…

---
TOP ALBUM I OVERRATED
Initially, I thought "Confessions Of A Dangerous Mind" was a pretty dope album (I thought the songs on it were very fun to listen to). However, the more and more I play it, the more and more I think it's corny as s**t. While Logic's rapping on the album is decent, I think his wacky/cheesy style of hit-making is pretty annoying. To make a long story short, I feel like Logic's career-long identity issues manifested itself into a full-out f**k boy body of work in "Confessions Of A Dangerous Mind." 
---
TOP ALBUM I UNDERRATED
I didn't want to rate this album so bad that when it first came out I posted a wrong link to it. Can you blame me, though? The artwork to it looks bad, the name of the album sucks (what the f**k is a "Some Rap Songs?), Earl Sweatshirt sounds grossly offbeat on every single song on the album, and the beats on the album sound like when Nintendo games f**k up and you have to blow it. But at the end of the day, there is a level of beauty to what Earl did with this album; he gave us an unadulterated version of himself that refused to succumb to social norms. He also spit out bars that were so wisdom-filled on the album, it took weeks for me to fully understand some of the things he said. 
Shoutout to my boy Tommy Monroe! His words in his article about "Some Rap Songs" definitely made me appreciate it even more!
---
TOP SONG I OVERRATED
Initially, I thought "Best Friend" was the best song off of "Baby On Baby" — Not "Suge," not "Baby Sitter," not even "Walker Texas Ranger." Maybe it's my love for XXXTENTACION that drove me to overrate "Best Friend" (The song flips XXXTENTACION's 'sad' track), or perhaps I drank way too many f**king IPA's that day; whatever the case may be, I got my top 5 songs off of the "Baby on Baby" album pretty wrong (Don't get me wrong, I still f**k with "Best Friend" a lot)…
---
TOP SONG I UNDERRATED
Listen to Richard Mille Plain either at a late night drive or going out for a swim at night. The song too good i'm sorry.

-Rorito
Up top is a comment left by Rorito regarding Gunna's "Richard Millie Plan" song (aka the greatest song ever assembled). While many on my site agreed with Rorito's assessment of the song, I did not, as I gave it a 2.5/5 stars. I guess I have to illegally jump into somebody's dusty ass swimming pool to fully understand RMP's greatness! (BTW, thanks Rorito for reading and commenting!)
---
TOP COMMENT ON THE SITE
DEC 9
---
WORST SONG
DEC 10
---
WORST ALBUM
DEC 11
---
MOST SLEPT ON ALBUM
DEC 12
---
WORST VERSE
DEC 13
---
BEST VERSE
DEC 14
---
BEST ADLIBS
DEC 15
---
BEST HOOK
DEC 16
---
BEST FEATURE
DEC 17
---
BEST BEAT
DEC 18
---
CHEESIEST SONG
DEC 19
---
BEST INTERNATIONAL SONG
DEC 20
---
BEST INDIE SONG
DEC 21
---
BEST INDIE ALBUM
DEC 22
---
SONG WE'RE AFRAID TO ADMIT WE LIKE
DEC 23
---
QD'S PERSONAL FAVORITE ALBUM
DEC 24
---
QD'S PERSONAL FAVORITE SONG
DEC 26
---
TOP MIXTAPE
DEC 27
---
TOP SONG
DEC 28
---
TOP ALBUM
DEC 29
---
THANK YOU!
Once again, I want to thank you all for the support you've given this site this year! 2019 was bigger than 2018 for us. Not only did we eek out 2018 in views, but we also grew our site to levels that I never imagined we would grow it to. As usual, it's you guys that keeps this site going, and in 2020, expect more and more growth!